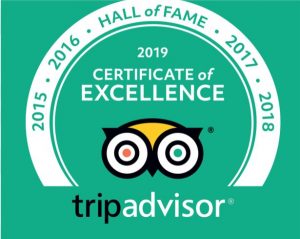 Heage – a derivation of 'High Edge' – comes from the Anglo-Saxon Heegge meaning high, lofty and sublime.  It perfectly describes Heage Windmill.  Presiding over spectacular views towards the Derwent Valley Mills World Heritage Site, the windmill was lovingly restored in 2002 and looks as good as when first built in 1797.  A Grade II* listed building, it is now a major Derbyshire attraction with a TripAdvisor Certificate of Excellence Award and the only working six-sailed stone tower windmill in England.  Heage Windmill is usually open to the public every Saturday and Sunday from Easter to the end of October, but is currently closed because of Covid-19 (see Update below).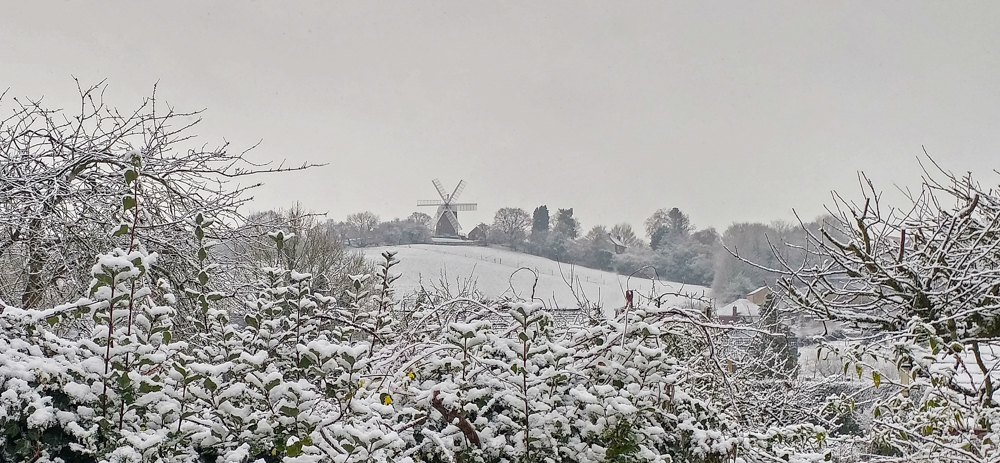 Winter comes to Heage Windmill… all photos taken by Anthony Sharp on January 23rd
A message from the Trustees at Heage Windmill
Due to Covid 19, it was with regret that we decided to cancel all Heage Windmill activities in 2020. 
Financially, you'll be pleased to know that we are in a secure position, thanks to money from flour sales, bric-a-brac and tool sales, donations and, especially, grants from Amber Valley District Council and the George Storer Foundation. There is also the possibility of further grants.
We will start planning now for the restart of our normal activities this Easter, on the assumption that restrictions will be easier than they are now.
Thank you all for your continued support for Heage Windmill and I hope you all stay safe and well.
Tale of Two Sails
Click on the arrow to see a trailer of the film made by Amber Valley Movie Makers.  The full 30-minute DVD tells the admirable story of how the friends of the windmill came to the rescue of this historic mill when two sails were found to have wet rot and needed replacing.  The cost of this work and the waiting time for the millwright meant that an alternative solution had to be found.
A Milestone in Milling
Heage Windmill has just had delivered its 50th ton of grain.  To read more, click here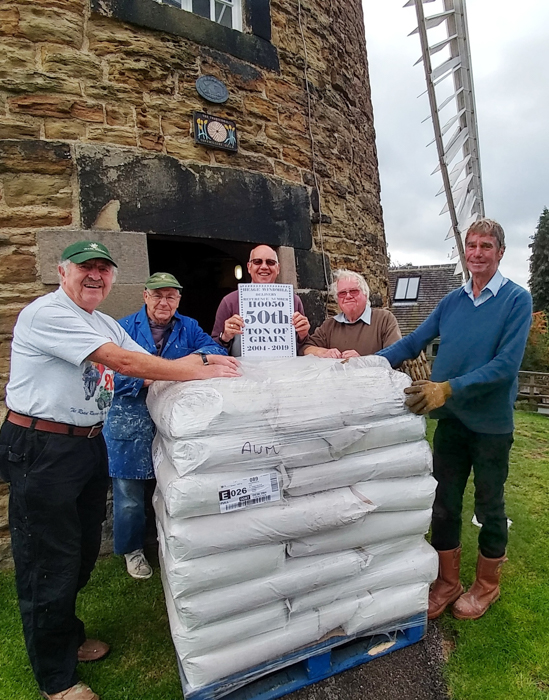 Six Sails Again at Heage Windmill

Yes, at last our windmill has all its sails.  Wednesday November 6th was a poignant day, the culmination of 750 hours of volunteer labour.  BBC East Midlands Today filmed the event, and Andrew Evans of f22 Aerial Images provided dramatic images with his drone.  To read about the day and see more photos, click here.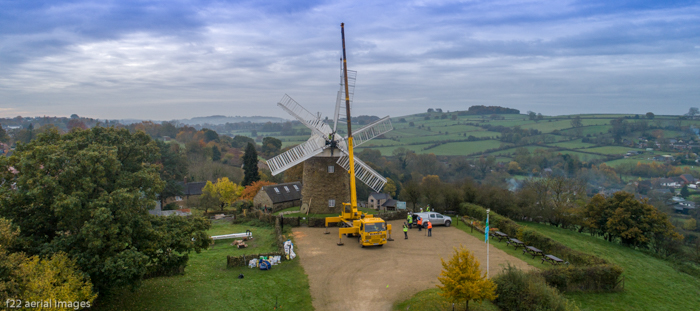 Cobweb Day puts Windmill to Bed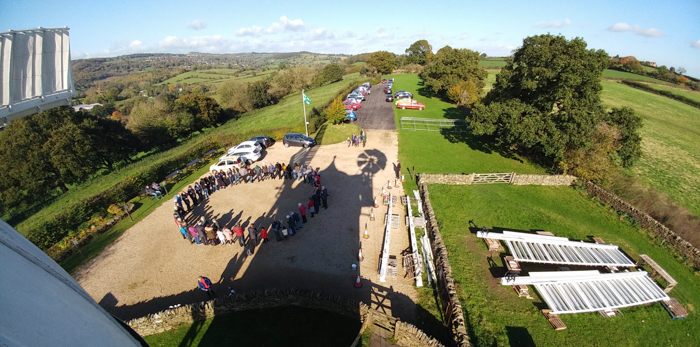 Heage Windmill's 2019 season has ended with the ceremonial spinning of a web.  Read all about it – and see more photos – by clicking here
HEAGE WINDMILL AWARDED TRIP ADVISOR CERTIFICATE OF EXCELLENCE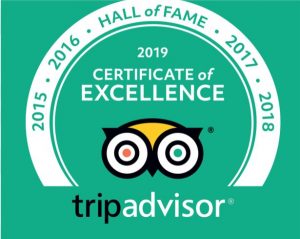 We are delighted to learn that for the fifth consecutive year, as a result of the many reports from satisfied visitors, Heage Windmill has been awarded the Trip Advisor Certificate of Excellence for 2019.  Having achieved five years of Excellence the windmill now enters into the hard-won Trip Advisor 'Hall of Fame' and we are delighted to be able to display our new logo.  Alan Eccleston, Chairman of the Heage Windmill Trust said: 'The award recognises that this was only achieved as a result of the commitment of our team of dedicated volunteers and we offer them our thanks for making such consistent awards possible'.

Did you know that if you shop online, you can raise funds for Heage Windmill?  Click here for more details.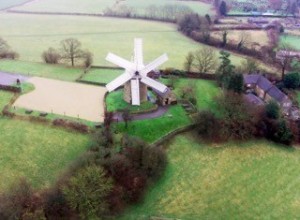 Trevor Connelly-Haywood of TCH Air Photos has made a short aerial video of Heage Windmill. Trevor lives in Scotland but has friends in the village who worked on the windmill 5 years ago.  To view his video click here 
A dramatic new aerial shot of Heage Windmill, taken by Dave Tindall. Thanks Dave!  To see two more – also taken by Dave – click here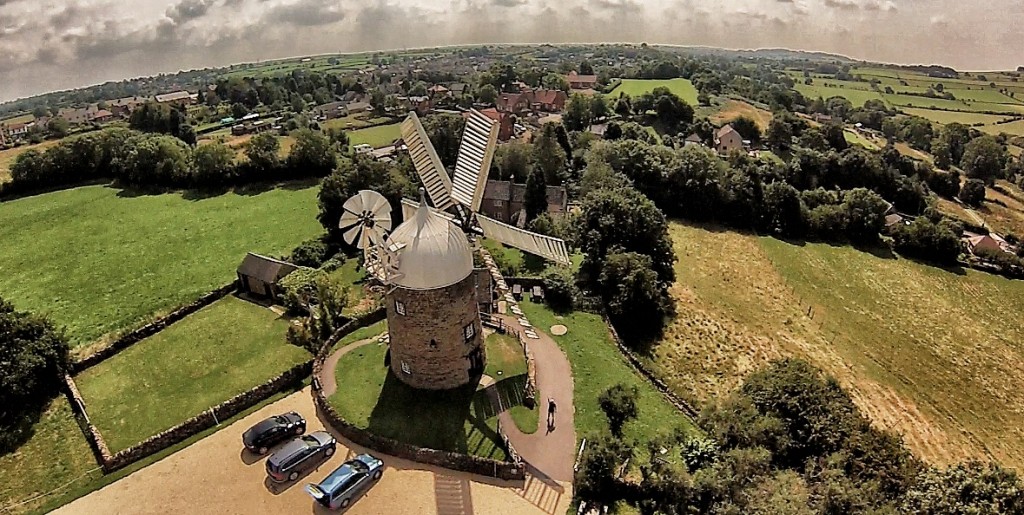 Friends of Heage Windmill
Friends of Heage Windmill is a voluntary organisation providing volunteers who operate the mill, conduct guided tours for visitors, carry out mill maintenance and raise funds, etc. If you are interested in becoming a Friend, click on Join Us to find out more.
Where To Find Us
The mill is located off Chesterfield Road just to the north of the Derbyshire village of Heage inbetween the towns of Belper and Ripley. The entrance road is opposite the Bowmer and Kirkland offices.
If you are a Sat Nav user, our Post Code is DE56 2BH.
Car parking is available free on site.  For more details on where to find us, go to the Information page.

Please click on the map to find us on Google Maps
Take a Drive to the Mill
Andy Savage of Derby Photos has created a driving route from Belper to Heage Windmill in HD Time Lapse.  Click here and fasten your safety belt.
Virtual Tour
To whet the appetite for your visit to us, why not take a Virtual Tour?  This was specially done for Heage Windmill by Andy Savage.  Just click here