Heage – a derivation of 'High Edge' – comes from the Anglo-Saxon Heegge meaning high, lofty and sublime.  It perfectly describes Heage Windmill.  Presiding over spectacular views towards the Derwent Valley Mills World Heritage Site, the windmill was lovingly restored in 2002 and looks as good as when first built in 1797.  A Grade II* listed building, it is now a major Derbyshire attraction with a TripAdvisor Certificate of Excellence Award and the only working six-sailed stone tower windmill in England.  
VINTAGE TRACTOR DAY – SUNDAY, SEPTEMBER 4th 

MORE TROUBLE AT MILL – MAJOR REPAIRS REQUIRED
Our historic mill is in trouble.  Recent inspection reports have identified wet rot in key structural timbers known as sheers – see diagram below. They run through the cap of the mill and cannot be replaced in situ.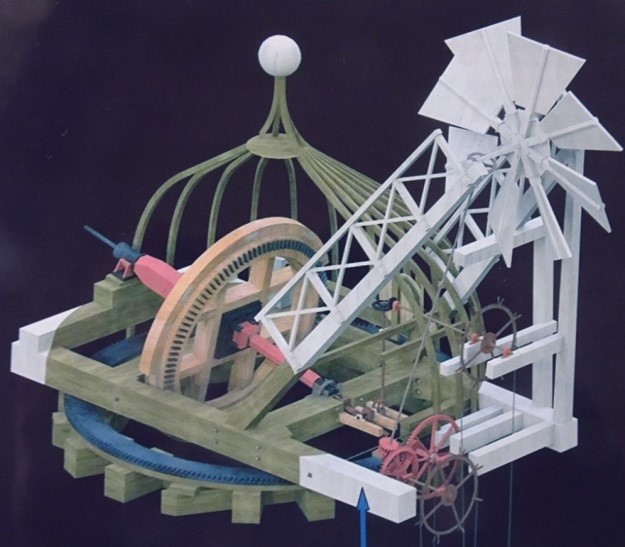 The sheers, marked by a blue arrow in this diagram, run from the front to the back of the cap.
These huge pieces of timber each some 8 metres long and 300 mm square, and which support all the main mechanisms of the windmill, were NOT replaced in the restoration completed in 2002.  Replacement involves removing the sails, fantail and cap – complex specialist work. The estimated cost is well in excess of £150, 000.
Temporary repairs mean that the windmill can operate safely continuing to mill flour for sale and welcome visitors for tours and other events.
Heage Windmill Society is working closely with Historic England and have agreed that the Grade 2* listed building will be placed on their Heritage At Risk Register (HAR).
The Society will use its available funds to cover some of the costs whilst further grants and funding will be sought to continue with the repairs. As the windmill is not directly funded, public support and donations are important. Should you wish to make a donation you can do so in the following ways:
Credit/Debit card or PayPal via the GoFundMe page at:
tinyurl.com/keepthesailsturning   (Please Gift Aid if eligible)
Or use the QR Code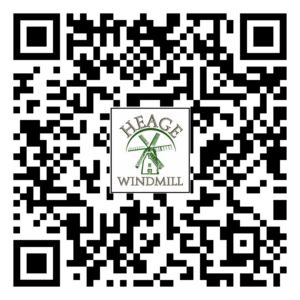 By cheque (payable to The Friends of Heage Windmill) sent to: The Secretary, Heage Windmill Society, 3 Elmwood Drive, Alfreton DE55 7QJ
Cash or card payment at the windmill when open.
BACS: Account Name:       The Friends of Heage WindmillSort Code:  401715 / Account Number: 31884980 / Reference:  SHEERS
CLASSIC CARS EVENT – APRIL 24th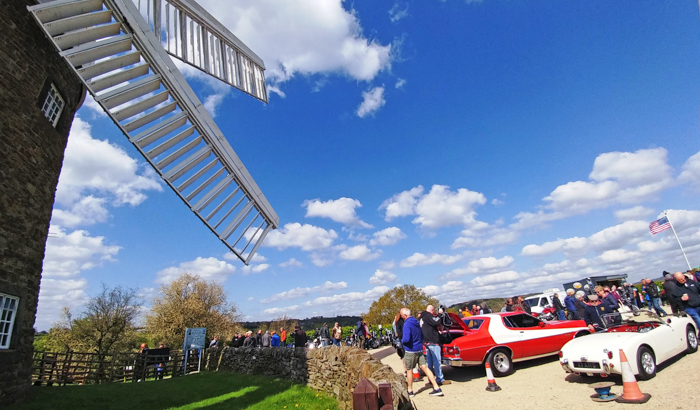 A Classic Cars & Bikes Day, organised by Coffee 'n' Cars, was a great success.  To see full report and more photos, click here
CHARLES HANSON OPENS 2022 SEASON
On Saturday April 16th, Heage Windmill's 20th season as a visitor attraction was officially opened by TV auctioneer Charles Hanson.   For full report and a gallery of photos, click here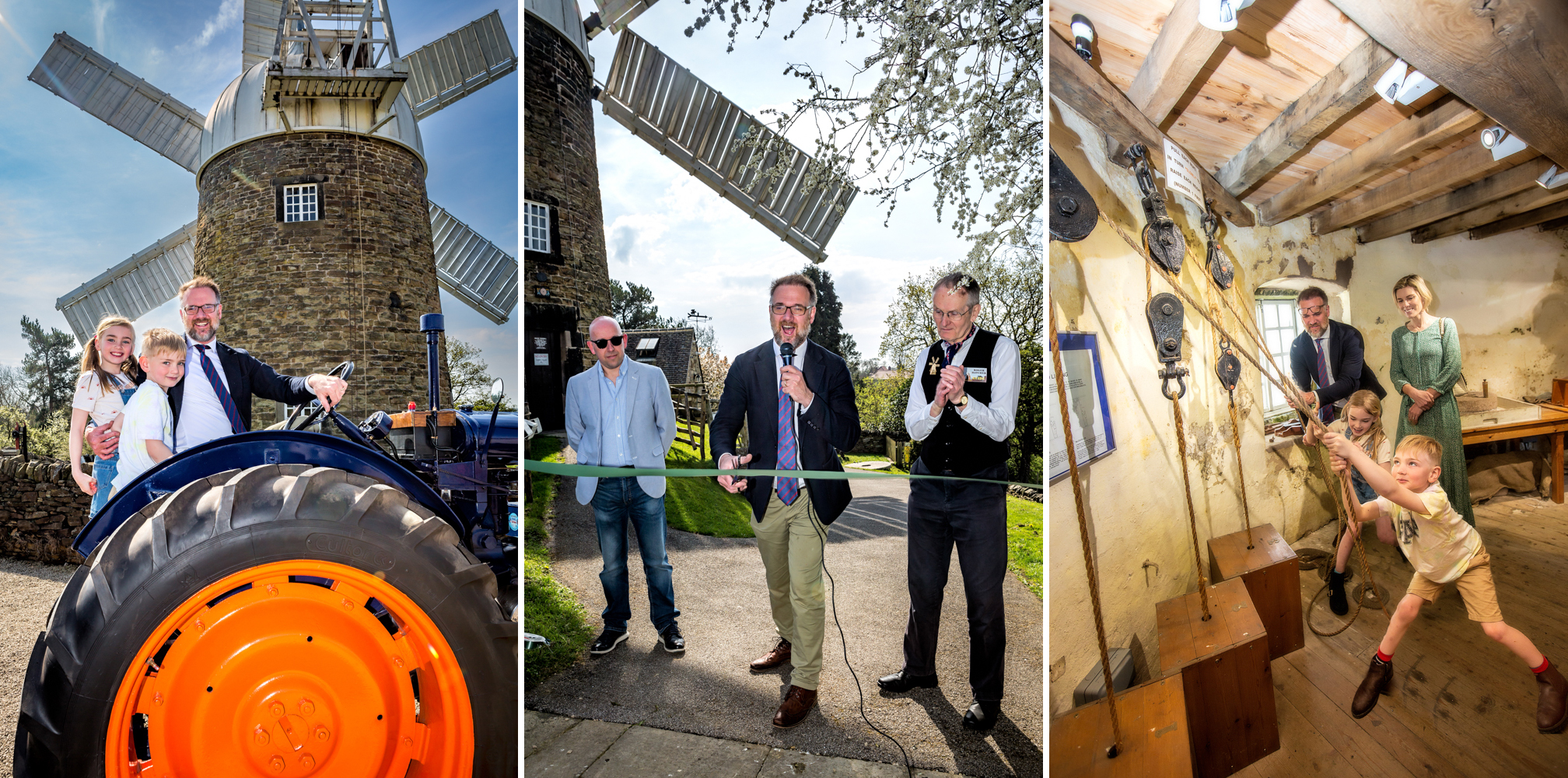 Heage Windmill is celebrating its 225th year as a local landmark and its 20th year as a visitor attraction.  We are open every weekend and Bank Holiday Monday from 11.00 am until 4 pm pm through until the end of October.
Here are our first visitors to the windmill, on a tour guided by Tim Ludlam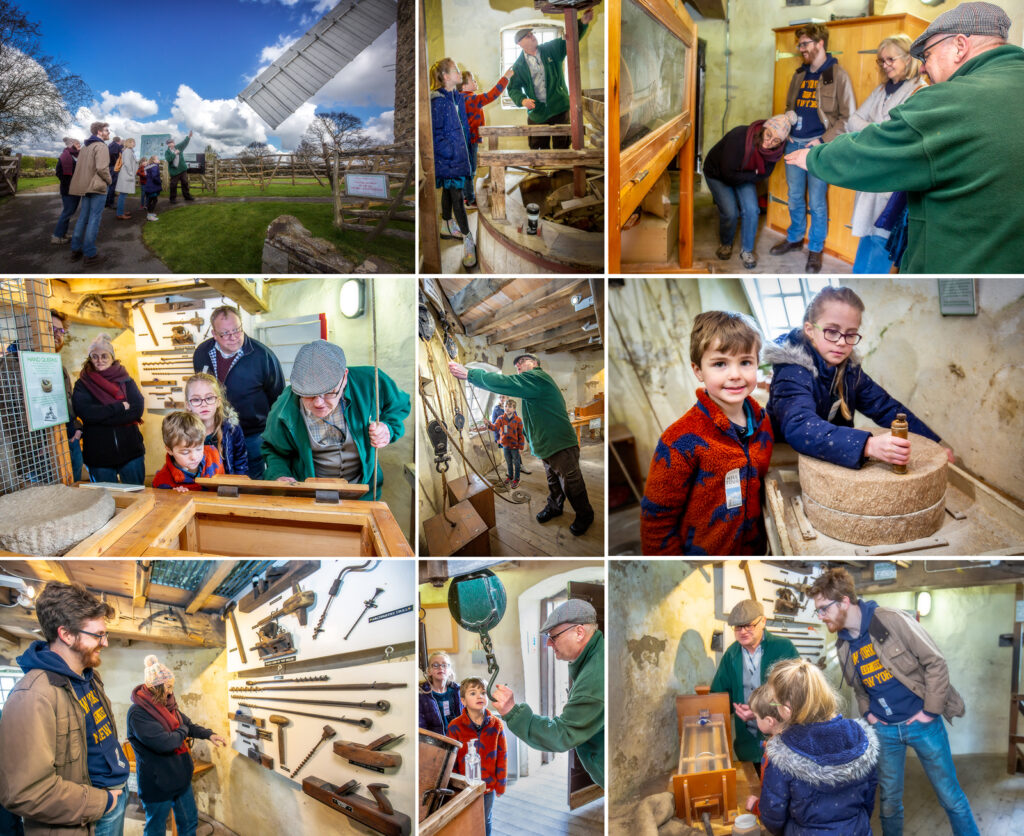 2022 SEASON EVENTS 
Sunday July 3rd – American Cars
Sunday September 11th – Classic Bikes
Sunday October 30th  – Cobweb Day
Sunday December 11th – Santa Day
HEAGE WINDMILL – DERBYSHIRE LIFE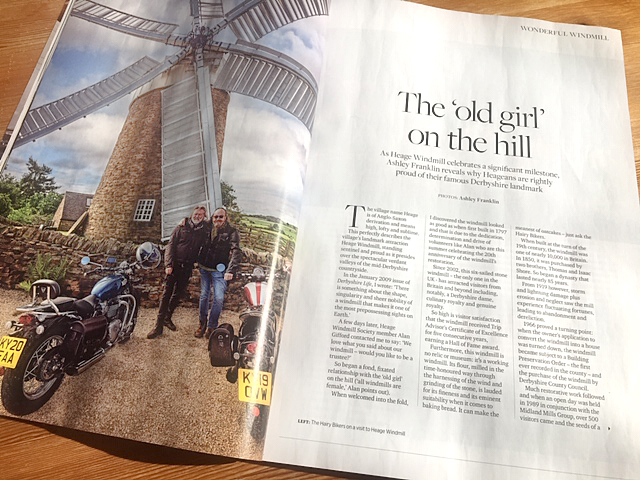 The April issue of Derbyshire Life includes an article Trustee Ashley Franklin has written about the 20th anniversary of Heage Windmill's full restoration.  'As a Trustee of the windmill,' says Ashley, 'I'm proud to be associated with the "old girl on the hill".'
Read the article and discover what the Hairy Bikers said about the windmill, what Ellen MacArthur revealed when she opened the windmill and why Prince Edward still thinks about the windmill 11 years after making a Royal visit.
THE HAIRY BIKERS VISIT HEAGE WINDMILL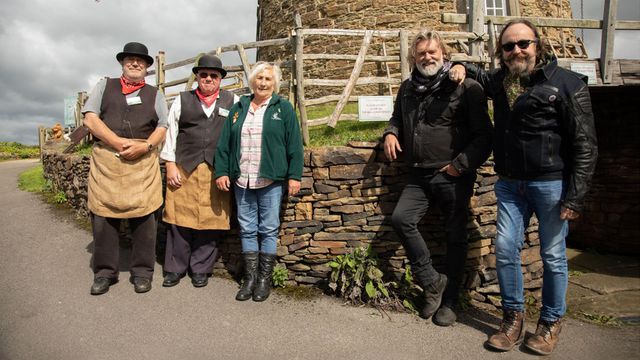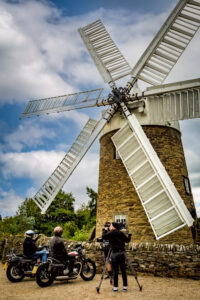 After zooming across the globe on two wheels for almost 15 years, the UK's most popular culinary duo have been on a nostalgic trip enjoying foodie delights of the northern counties of England, including Derbyshire.  Dave and Si visited our windmill in Episode 7 of the 8-part series The Hairy Bikers Go North .
'This series is all about the food producers and their connection with local communities,' says Si.
'You see our mushes on the telly all the time, but it's the people that are important — their stories, their journeys, their produce.'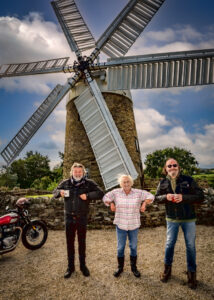 BBC TV recorded Dave and Si's visit to the windmill at the end of August last year and included a drone shot of the windmill's six sails turning as Dave and Si biked down the long lane that leads to the windmill.
Once they arrived, Dave and Si were taken on a tour of the windmill to view the milling process.  The guys complimented us on the quality of our stone ground flour which they had already used for making Derbyshire oatcakes.
Here is that oatcake recipe Hairy Biker Recipes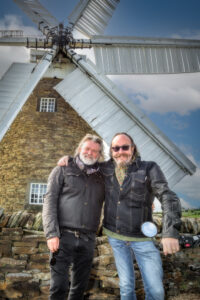 Dave and Si also learnt all about the running of the windmill and how our operation is so dependent on volunteers. 
It's to be hoped that the BBC programme will encourage younger generations to get involved with the windmill and help safeguard its future.
Dave and Si made a big impression on all who met them on the day of their visit.  Trustee Ashley Franklin, who took photos of the guys, commented:  'The Hairy Bikers are as warm and genuine as they appear on screen.  Their Go North series has been utterly compelling because these guys have such a passion for traditional, locally produced food.  So, it's little  wonder Dave and Si were so drawn to our windmill, enabling them to see our flour being milled in the time-honoured way.'
If you missed the show, it's available to view here: https://www.bbc.co.uk/iplayer/episode/m001187b/the-hairy-bikers-go-north-series-1-7-the-peak-district
Tale of Two Sails
Click on the arrow to see a trailer of the film made by Amber Valley Movie Makers.  The full 30-minute DVD tells the admirable story of how the friends of the windmill came to the rescue of this historic mill when two sails were found to have wet rot and needed replacing.  The cost of this work and the waiting time for the millwright meant that an alternative solution had to be found.

If you sign up with Easyfunding they make a donation to Heage Windmill on most  your web purchases (e.g. Amazon).  So far we have raised over £500 by this means, so please sign in and help  the windmill.   Click here for more details.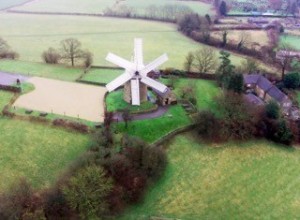 Trevor Connelly-Haywood of TCH Air Photos has made a short aerial video of Heage Windmill. Trevor lives in Scotland but has friends in the village who worked on the windmill 5 years ago.  To view his video click here 
A dramatic new aerial shot of Heage Windmill, taken by Dave Tindall. Thanks Dave!  To see two more – also taken by Dave – click here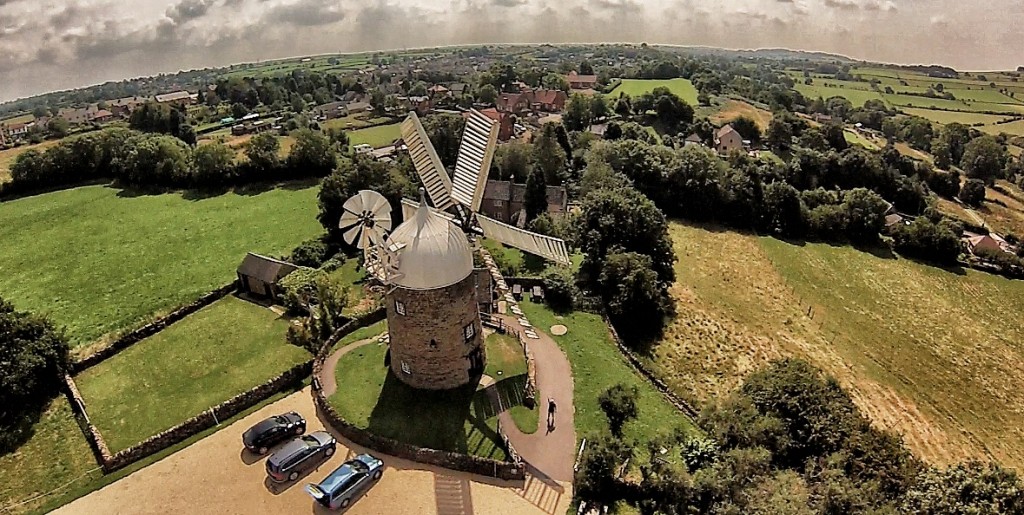 Friends of Heage Windmill
Friends of Heage Windmill is a voluntary organisation providing volunteers who operate the mill, conduct guided tours for visitors, carry out mill maintenance and raise funds, etc. If you are interested in becoming a Friend, click on Join Us to find out more.
Where To Find Us
The mill is located off Chesterfield Road just to the north of the Derbyshire village of Heage inbetween the towns of Belper and Ripley. The entrance road is opposite the Bowmer and Kirkland offices.
If you are a Sat Nav user, our Post Code is DE56 2BH.
Car parking is available free on site.  For more details on where to find us, go to the Information page.

Please click on the map to find us on Google Maps
Take a Drive to the Mill
Andy Savage of Derby Photos has created a driving route from Belper to Heage Windmill in HD Time Lapse.  Click here and fasten your safety belt.