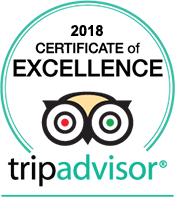 Built in 1797 and restored in 2002, Heage Windmill, a Grade II* listed building, is the only working six-sailed stone tower windmill in England. She is set in the Derbyshire countryside, providing spectacular views towards the Derwent Valley Mills World Heritage Site. Car parking is available on site. Visitors can go on tours with guides normally in costume. There is also an Interpretation Centre and a shop selling souvenirs, light refreshments and the windmill's own flour.  Groups are welcome by prior arrangement.  Look out for special events throughout the year.
WINDMILL VISITOR CENTRE OPEN EVERY SECOND SATURDAY OF THE MONTH FOR FLOUR & SOUVENIR SALES
NEXT OPENING: SATURDAY, DECEMBER 8th:  10 am – 1 pm
SANTA DAY GREAT SUCCESS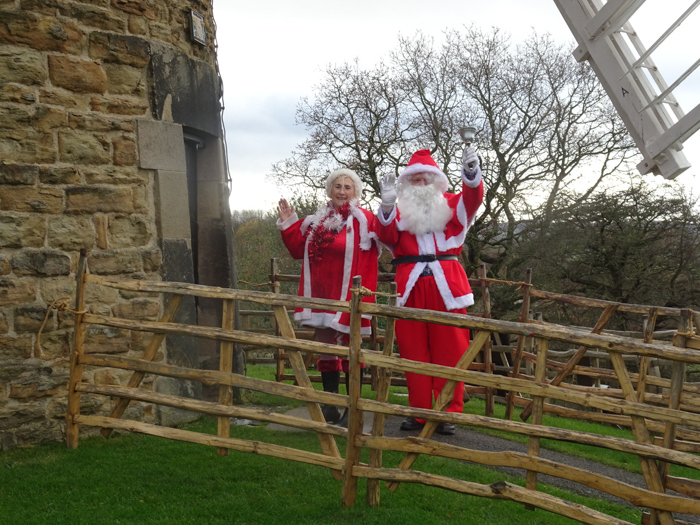 Click here to read more about Santa's special visit to our windmill when he saw over 150 children.
THE WINDMILL GOES TO BED
It was a cold but bright Sunday the 28th, when nearly 50 people of all ages  assembled  in a circle on the mill apron while the sails of the mill turned steadily round behind them. Guided by master spider Lynn Allen, they wove the now traditional cobweb which brings to a close the regular openings of the windmill for another season.  A single strand of narrow elastic tape first linked everyone together and helped by Attila Tilldogg Csorba (from the group who brought us American Cars) over the next 30 minutes, by a series of clever moves, added ring after ring to form the web. The whole group then moved across to the paddock area where the web was gently laid down on and pegged to the grass. The proceedings were   watched by another 50 people, many of whom went on guided tours of the mill.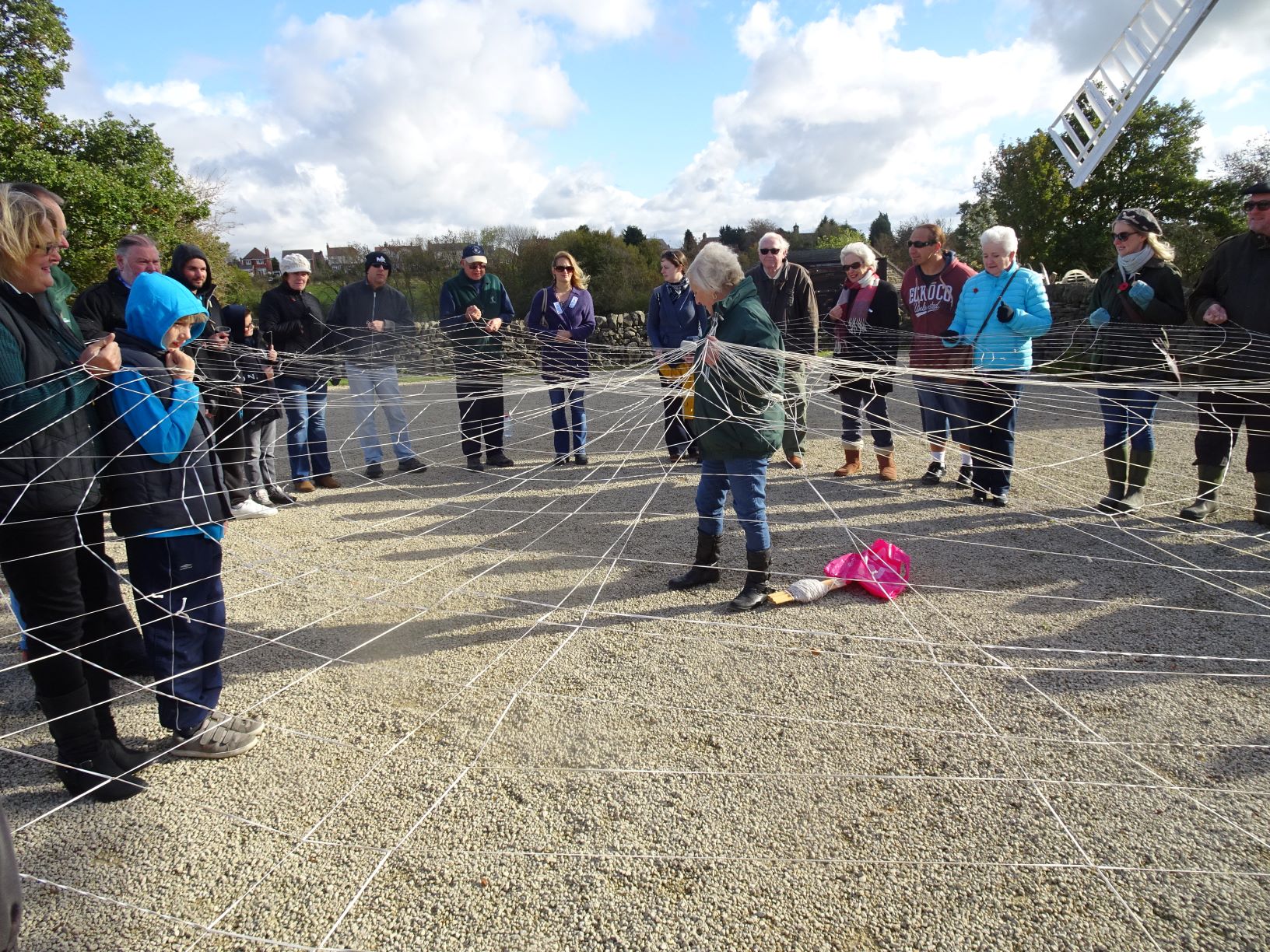 The mill is now formally closed  for regular openings until Easter 2019.
NEIL OATES – MILLER FOR THE DAY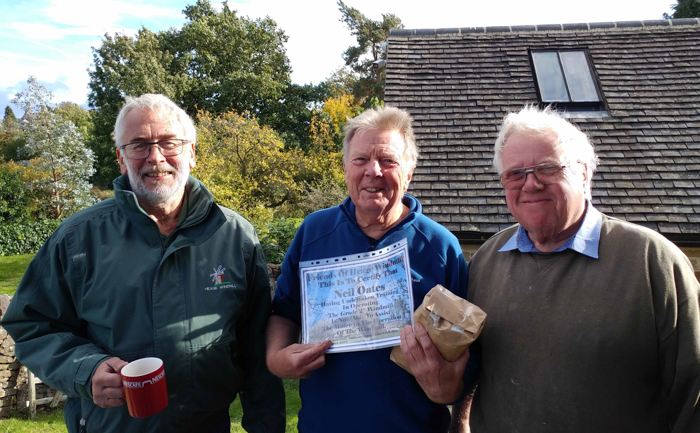 To read more about Neil's day and how YOU can become Miller for the Day, click here
TRACTOR DAY GREAT SUCCESS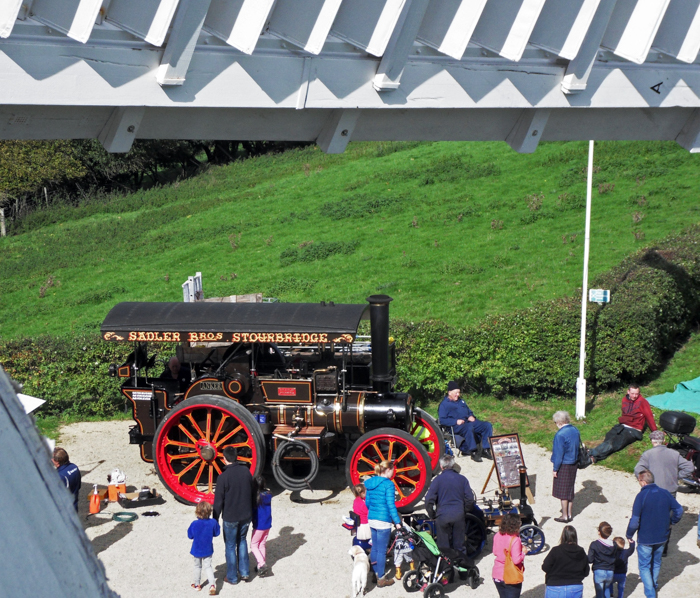 To read all about it and see more photos, click here
THE WINDMILL'S NEW SPIN QUIZ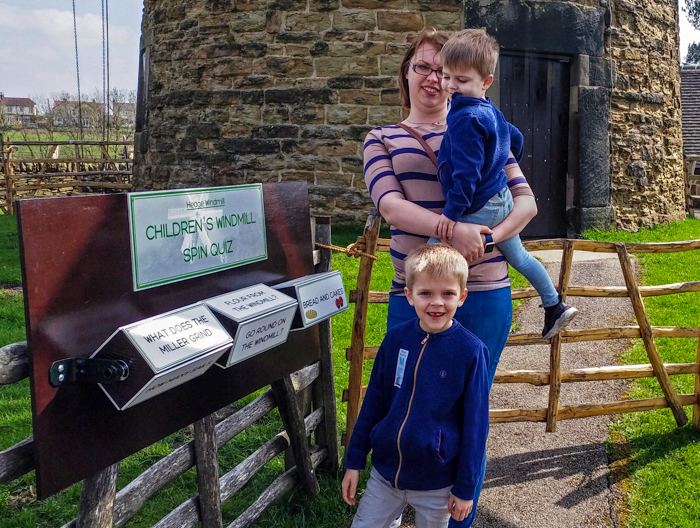 Bradley Slater from Ripley is the first youngster to try out the brand new Spin Quiz at Heage Windmill. His Aunty Becky is looking on with Callum, the younger nephew.  Great fun! and the family went on to tour the mill with Guide Roger.  The Spin Quiz was devised and erected by Miller and Maintenance Manager David Land.  The children set the first 'question' block and then have to turn the other blocks until they end up with the correct answer. After setting the first block there are 16 combinations but only 1 correct one.  The Spin Quiz is an example of Heage Windmill's continuing efforts to engage youngsters and make any visit enjoyable. It is situated right next to the Time Line Information Board which is so loved by the older visitors.
 
One of our volunteers Anthony Sharp has a privileged view of Heage Windmill from his home window.  Look what he saw recently.  Magical…

Why not buy a voucher as a gift for someone?  For more details, contact Lynn Allen.  To find out more about being Miller for the Day, click here.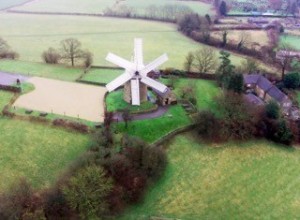 Trevor Connelly-Haywood of TCH Air Photos has made a short aerial video of Heage Windmill. Trevor lives in Scotland but has friends in the village who worked on the windmill 5 years ago.  To view his video click here 
CHECK OUT A NEW YOU TUBE VIDEO OF THE WINDMILL. Many thanks to Matthew House. Click here
A dramatic new aerial shot of Heage Windmill, taken by Dave Tindall. Thanks Dave!  To see two more – also taken by Dave – click here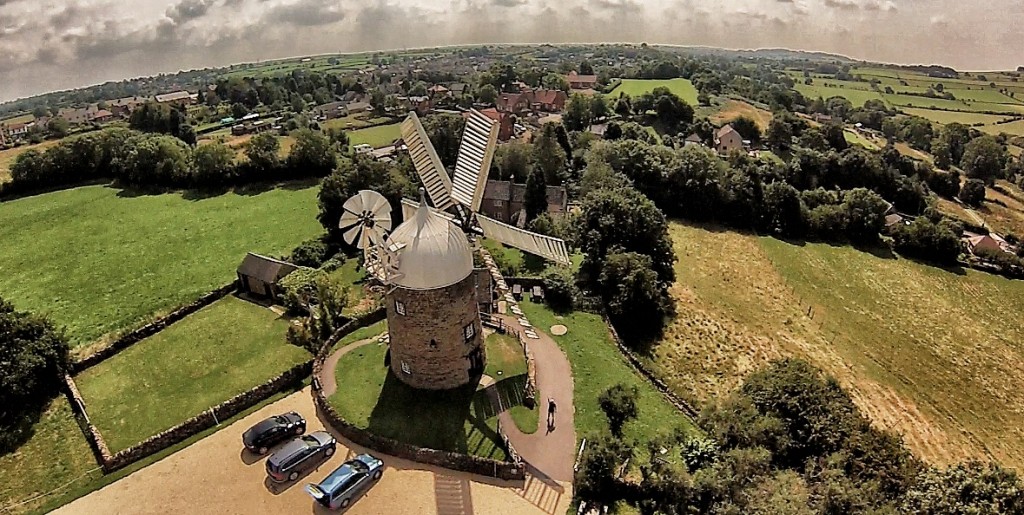 Friends of Heage Windmill
Friends of Heage Windmill is a voluntary organisation providing volunteers who operate the mill, conduct guided tours for visitors, carry out mill maintenance and raise funds, etc. If you are interested in becoming a Friend, click on Join Us to find out more.
Where To Find Us
The mill is located off Chesterfield Road just to the north of the Derbyshire village of Heage inbetween the towns of Belper and Ripley. The entrance road is opposite the Bowmer and Kirkland offices.
If you are a Sat Nav user, our Post Code is DE56 2BH.
Car parking is available free on site.  For more details on where to find us, go to the Information page.

Please click on the map to find us on Google Maps
Take a Drive to the Mill
Andy Savage of Derby Photos has created a driving route from Belper to Heage Windmill in HD Time Lapse.  Click here and fasten your safety belt.
Virtual Tour
To whet the appetite for your visit to us, why not take a Virtual Tour?  This was specially done for Heage Windmill by Andy Savage.  Just click here