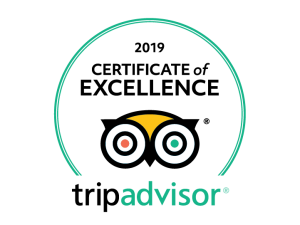 Built in 1797 and restored in 2002, Heage Windmill, a Grade II* listed building, is the only working six-sailed stone tower windmill in England. She is set in the Derbyshire countryside, providing spectacular views towards the Derwent Valley Mills World Heritage Site. Car parking is available on site. Visitors can go on tours with guides normally in costume. There is also an Interpretation Centre and a shop selling souvenirs, light refreshments and the windmill's own flour.  Groups are welcome by prior arrangement.  Look out for special events throughout the year.
Click here to see our Events Schedule for 2019
American Cars Visit – September 22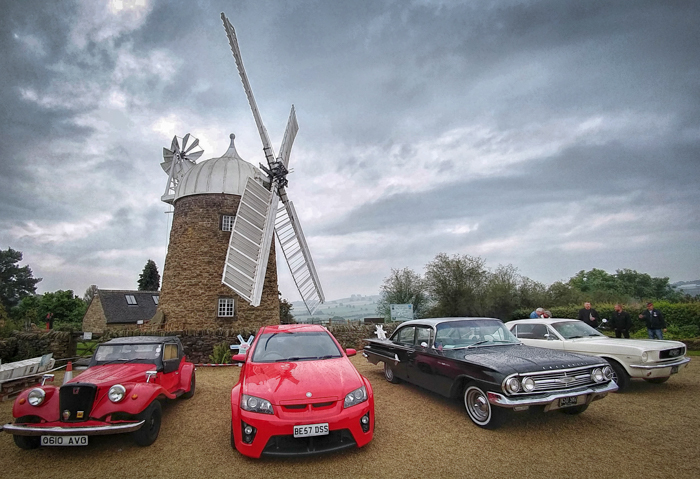 In spite of the damp weather, the windmill welcomed a wide assortment of American Classic cars, trucks and bikes, including Fords, Buicks and Chryslers. The 'Best Car' was, unusually, a 'home made' car, a 1987 Spartan kit car owned by Shane Hill and his young son Logan, who received a certificate to mark their success. Attila Csorba, organiser of the owners group, said: 'Despite the rather inclement weather we have enjoyed our day at the windmill and will be back next year'.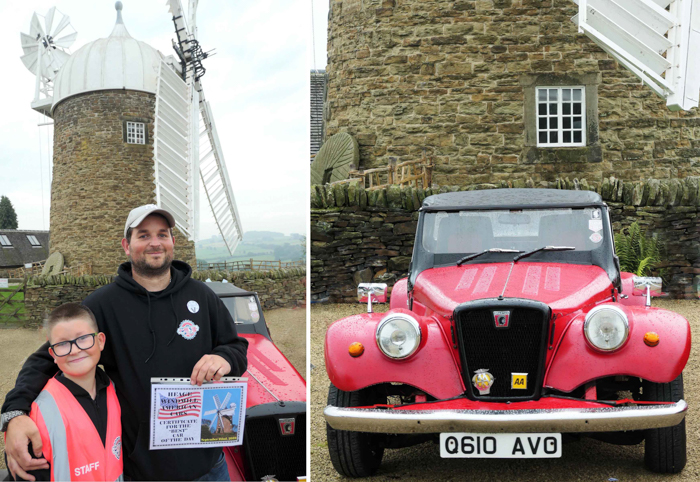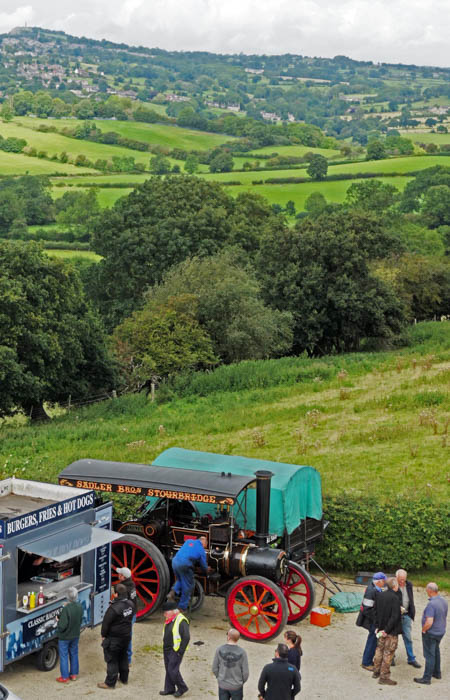 Another great Tractor Day – for a report and photos, click here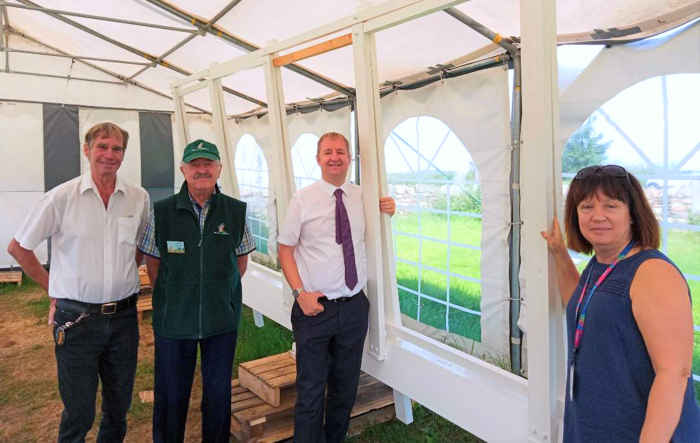 Amber Valley MP Nigel Mills visited our windmill recently to see the work being done on the two new sails and said he was 'impressed by the complexity and skills involved' in the Sails On project. Nigel (2nd right) is pictured with maintenance manager David Land, miller Brian Naylor and Cllr Angela Ward, Chair of the Friends
HEAGE WINDMILL SAILS ON!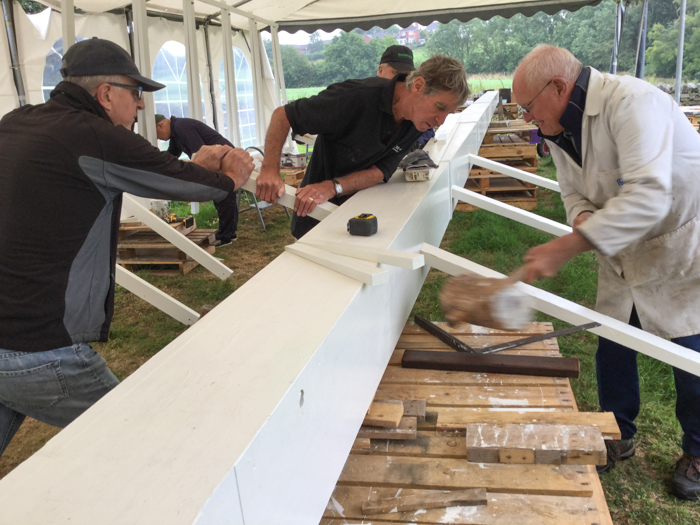 After 20 years, rot found in two sails has led to their removal.  However, if you know our windmill, you'll know that still leaves us with four sails, in common with most windmills!  The new sails should be in place by the end of September.  To read more about this and to see lots of photos, click here.
HEAGE WINDMILL AWARDED TRIP ADVISOR CERTIFICATE OF EXCELLENCE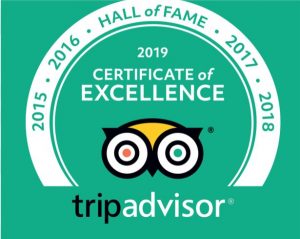 We are delighted to learn that for the fifth consecutive year, as a result of the many reports from satisfied visitors, Heage Windmill has been awarded the Trip Advisor Certificate of Excellence for 2019.  Having achieved five years of Excellence the windmill now enters into the hard-won Trip Advisor 'Hall of Fame' and we are delighted to be able to display our new logo.  Alan Eccleston, Chairman of the Heage Windmill Trust said: 'The award recognises that this was only achieved as a result of the commitment of our team of dedicated volunteers and we offer them our thanks for making such consistent awards possible'.

Did you know that if you shop online, you can raise funds for Heage Windmill?  Click here for more details.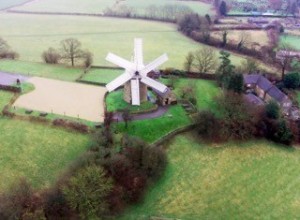 Trevor Connelly-Haywood of TCH Air Photos has made a short aerial video of Heage Windmill. Trevor lives in Scotland but has friends in the village who worked on the windmill 5 years ago.  To view his video click here 
CHECK OUT A NEW YOU TUBE VIDEO OF THE WINDMILL. Many thanks to Matthew House. Click here
A dramatic new aerial shot of Heage Windmill, taken by Dave Tindall. Thanks Dave!  To see two more – also taken by Dave – click here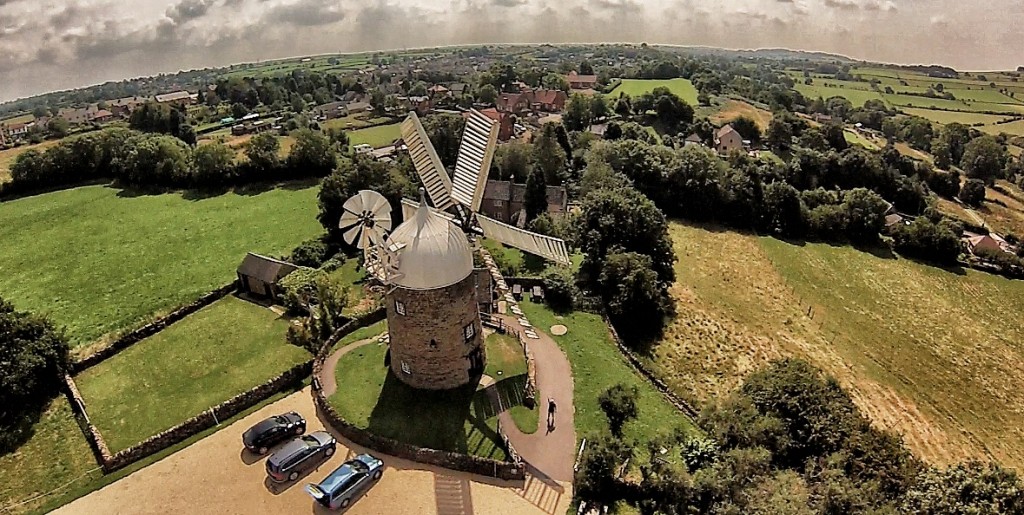 Friends of Heage Windmill
Friends of Heage Windmill is a voluntary organisation providing volunteers who operate the mill, conduct guided tours for visitors, carry out mill maintenance and raise funds, etc. If you are interested in becoming a Friend, click on Join Us to find out more.
Where To Find Us
The mill is located off Chesterfield Road just to the north of the Derbyshire village of Heage inbetween the towns of Belper and Ripley. The entrance road is opposite the Bowmer and Kirkland offices.
If you are a Sat Nav user, our Post Code is DE56 2BH.
Car parking is available free on site.  For more details on where to find us, go to the Information page.

Please click on the map to find us on Google Maps
Take a Drive to the Mill
Andy Savage of Derby Photos has created a driving route from Belper to Heage Windmill in HD Time Lapse.  Click here and fasten your safety belt.
Virtual Tour
To whet the appetite for your visit to us, why not take a Virtual Tour?  This was specially done for Heage Windmill by Andy Savage.  Just click here