Built in 1797 and restored in 2002, Heage Windmill, a Grade II* listed building, is the only working six-sailed stone tower windmill in England. She is set in the Derbyshire countryside, providing spectacular views towards the Derwent Valley Mills World Heritage Site. Car parking is available on site. Visitors can go on tours with guides normally in costume. There is also an Interpretation Centre and a shop selling souvenirs, light refreshments and the windmill's own flour.  Groups are welcome by prior arrangement.  Look out for special events throughout the year.
A display of American vehicles drew a sizeable crowd to our windmill last Sunday.  See more here.
THANK YOU for your support…
We are delighted to report that only a day after hooligans broke into the windmill, the police have returned the mill bill that was stolen during the break-in.  Heage Windmill Society Chairman Piers Bostock said 'it has been amazing how local people have rallied round our much-loved windmill, thus enabling the bill to be recovered within 24 hours.
We would like to thank all who have shared our problems this week .  Social media has been a great help and  in fact led directly  to those who were responsible. The support we have received has been exceptional and makes us know there are decent folks out there. Now we just have to complete the work to make good the damage done by the hooligans, especially to doors.
To see how much support we had, click on to our Facebook page.
E-Type Jags came the Windmill last Sunday, August 6th.  To read more and see some cracking photos, click here.
Thanks to Mike Swain who took a photo of Heage Windmill and sent it to BBC TV East Midlands. They used the photo that very evening as louring clouds were very much the theme of that day.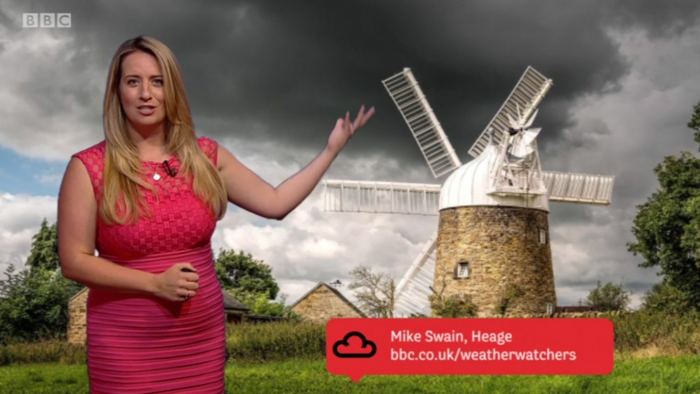 Mat and Hollie – both from Heage – decided that their wedding day would be made complete by having a few photos taken at Heage Windmill.  In one of the photos, our miller Tim is presenting the couple with a special wedding spoon.  Want to make your wedding day memorable by doing the same as Mat and Hollie?  Click here for more details.
 
Why not buy a voucher as a gift for someone?  For more details, contact Lynn Allen.  To find out more about being Miller for the Day, click here.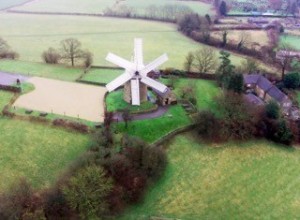 Trevor Connelly-Haywood of TCH Air Photos has made a short aerial video of Heage Windmill. Trevor lives in Scotland but has friends in the village who worked on the windmill 5 years ago.  To view his video click here 
CHECK OUT A NEW YOU TUBE VIDEO OF THE WINDMILL. Many thanks to Matthew House. Click here
A dramatic new aerial shot of Heage Windmill, taken by Dave Tindall. Thanks Dave!  To see two more – also taken by Dave – click here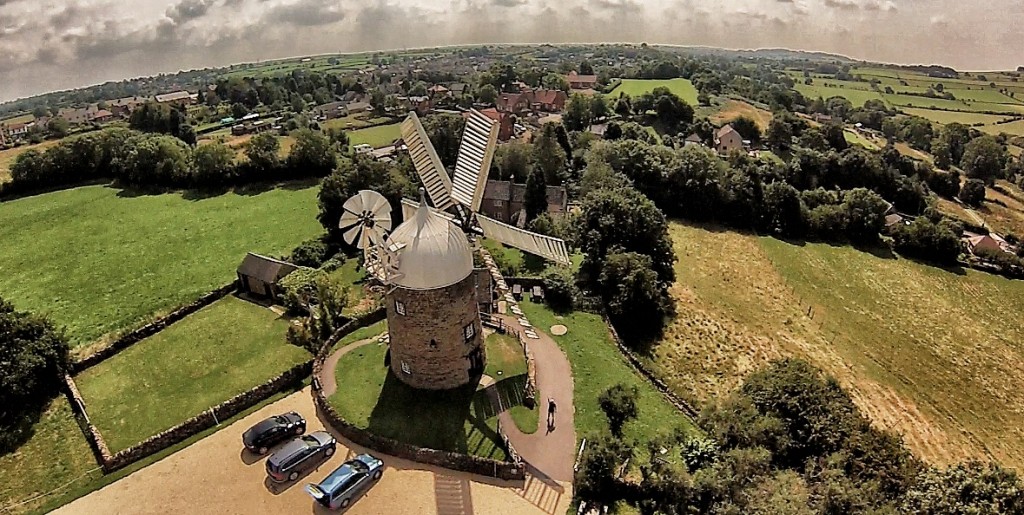 Friends of Heage Windmill
Friends of Heage Windmill is a voluntary organisation providing volunteers who operate the mill, conduct guided tours for visitors, carry out mill maintenance and raise funds, etc. If you are interested in becoming a Friend, click on Join Us to find out more.
Where To Find Us
The mill is located off Chesterfield Road just to the north of the Derbyshire village of Heage inbetween the towns of Belper and Ripley. The entrance road is opposite the Bowmer and Kirkland offices.
If you are a Sat Nav user, our Post Code is DE56 2BH.
Car parking is available free on site.  For more details on where to find us, go to the Information page.

Please click on the map to find us on Google Maps
Take a Drive to the Mill
Andy Savage of Derby Photos has created a driving route from Belper to Heage Windmill in HD Time Lapse.  Click here and fasten your safety belt.
Virtual Tour
To whet the appetite for your visit to us, why not take a Virtual Tour?  This was specially done for Heage Windmill by Andy Savage.  Just click here