Built in 1797 and restored in 2002, Heage Windmill, a Grade II* listed building, is the only working six-sailed stone tower windmill in England. She is set in the Derbyshire countryside, providing spectacular views towards the Derwent Valley Mills World Heritage Site. Car parking is available on site. Visitors can go on tours with guides normally in costume. There is also an Interpretation Centre and a shop selling souvenirs, light refreshments and the windmill's own flour.  Groups are welcome by prior arrangement.  Look out for special events throughout the year.
Tractor Day this Sunday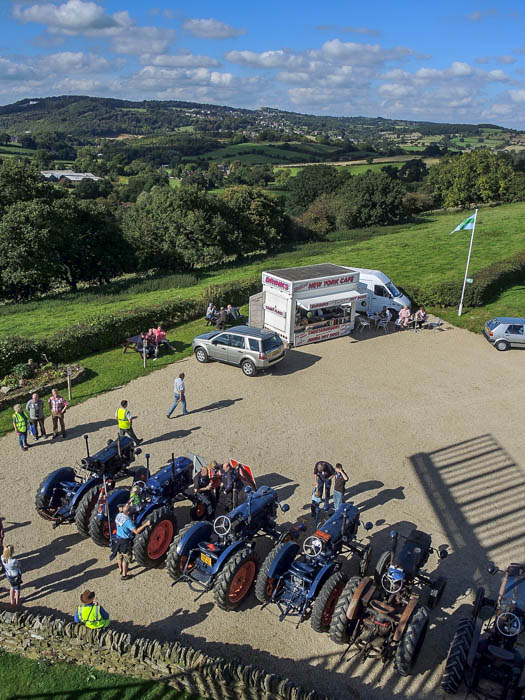 To read more and see more photos, click here
Stop Press: American Classic Cars coming on Sunday August 13th.  for full list of special events, click here
Aleena Naylor of BBC Radio Derby officially opened our windmill for the 2017 season.  For a report and to see more pictures, click here
The celebration was mixed with poignancy at the sight of the Derbyshire flag flying at half-mast, in memory of Aleena's fellow Radio Derby presenter Andy Potter, who opened the mill back in 2014 and died only a few months ago.
For other special events – including Tractor Day and Classic Bikes – for our 2017 season, click here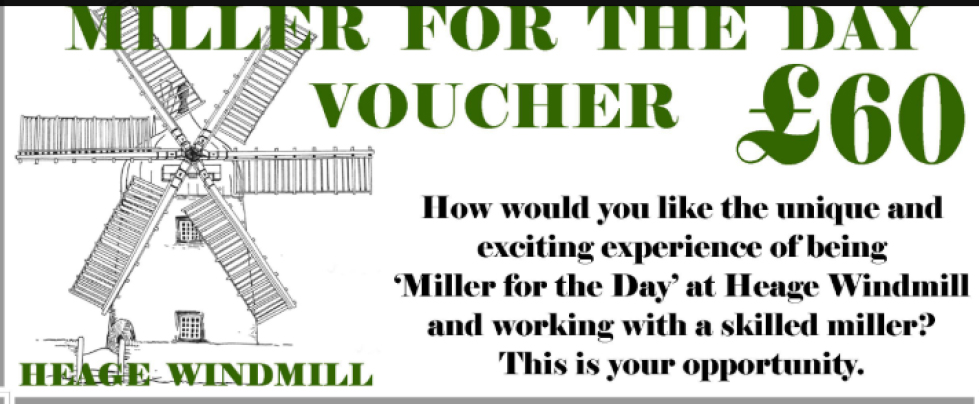 Why not buy a voucher as a gift for someone?  For more details, contact Lynn Allen.  To find out more about being Miller for the Day, click here.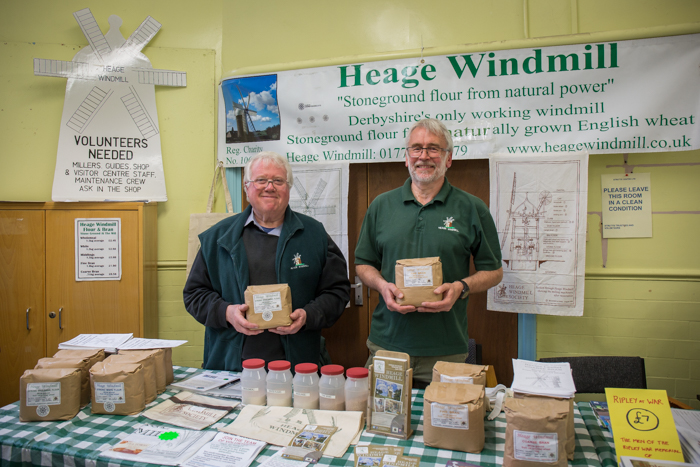 Heage Windmill was a presence at the Strutts Centre in Belper to celebrate the 15th anniversary of the Derwent Valley Mills World Heritage Site.  Tim and Alan mounted our stall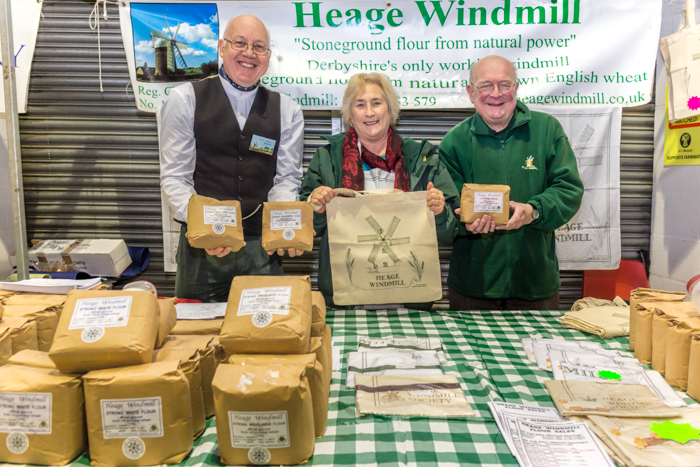 Heage Windmill – represented here by Piers, Lynn and Chris – pictured at the Bakewell Farmers' Market which takes place on the last Saturday of every month.  This photo will appear in a special feature about Bakewell in the April issue of Derbyshire Life.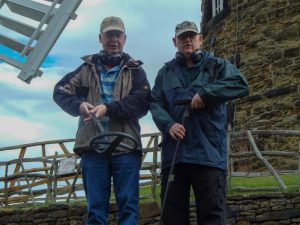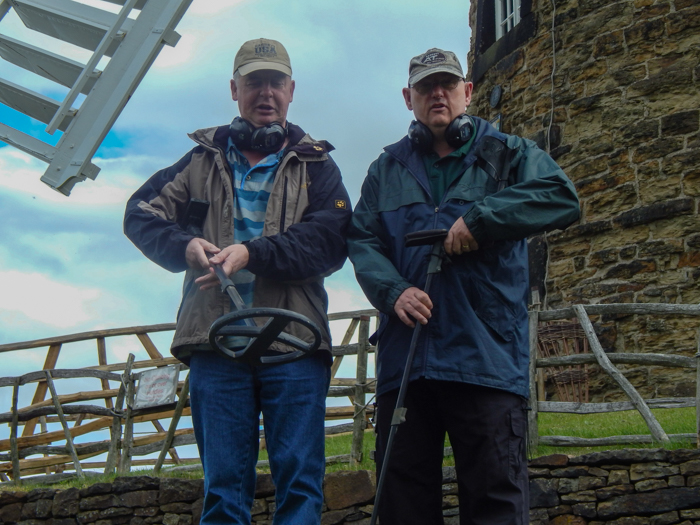 Our website has a new page – under the History tab – which provides the background to a display at the mill of artefacts found nearby by metal detectorist Rob Johnson.  Click here for more details and to be directed to the page about Rob.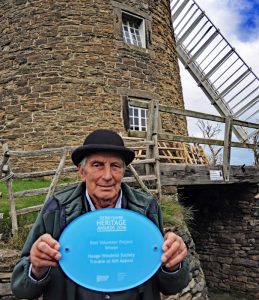 Heage Windmill has won 'Best Volunteer Project' in the Derbyshire Heritage Awards 2016 for the Trouble at Mill Appeal which successfully saw our damaged sails turning again after a magnificent volunteer effort. Congratulations to all concerned. Read more here
THE SAILS TURN AGAIN IN CELEBRATION
Sunday August 7th saw an official, celebratory 'Thank You' to the donors, fundraisers and volunteers who, after nine months, brought Heage Windmill back to life.  The new sails are now turning, flour is being milled, and visitors can once again discover and enjoy this fascinating, historic mill.
For the full story of the day with lots of photos to view, click here 
  TRIP ADVISOR AWARD 
For the second year running, Heage Windmill has been awarded a Certificate of Excellence.  This is wonderful news considering that the windmill was only partially operational for part of the year due to  wet rot and the subsequent removal of the sails for repair.  Piers Bostock, Chairman of Heage Windmill Society, said that: ' This is a rewarding reflection of the  hard work put in by our very dedicated team of volunteers'.
TROUBLE AT MILL APPEAL
We have now raised nearly £57,000
We are delighted that the sails are back on and the windmill is in operation again. We are also thankful for the fundraising support we have received. Donations to keep our windmill operating will always be welcome and we have other improvement projects being developed. Thank you to all of you who have already supported us.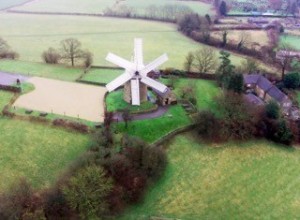 Trevor Connelly-Haywood of TCH Air Photos has made a short aerial video of Heage Windmill. Trevor lives in Scotland but has friends in the village who worked on the windmill 5 years ago.  To view his video click here 
CHECK OUT A NEW YOU TUBE VIDEO OF THE WINDMILL. Many thanks to Matthew House. Click here
A dramatic new aerial shot of Heage Windmill, taken by Dave Tindall. Thanks Dave!  To see two more – also taken by Dave – click here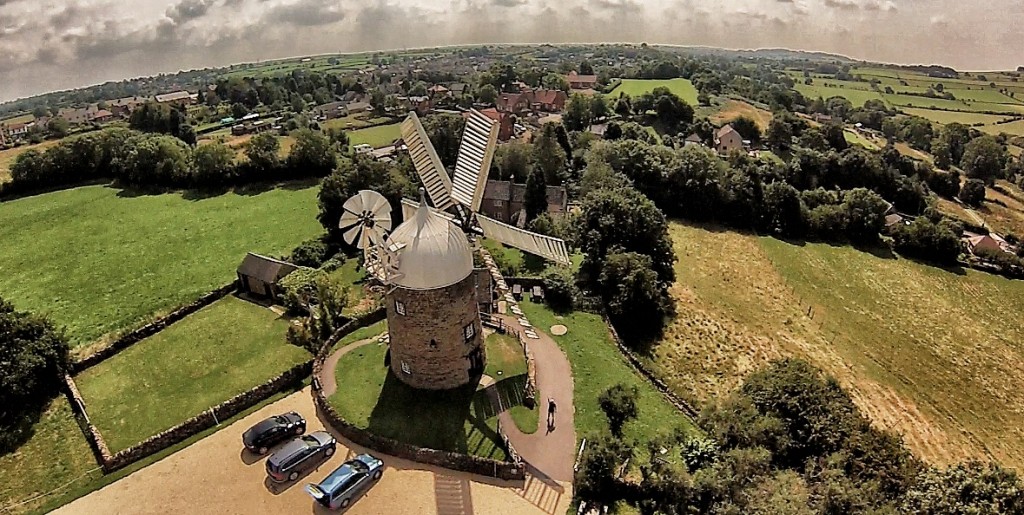 Friends of Heage Windmill
Friends of Heage Windmill is a voluntary organisation providing volunteers who operate the mill, conduct guided tours for visitors, carry out mill maintenance and raise funds, etc. If you are interested in becoming a Friend, click on Join Us to find out more.
Where To Find Us
The mill is located off Chesterfield Road just to the north of the Derbyshire village of Heage inbetween the towns of Belper and Ripley. The entrance road is opposite the Bowmer and Kirkland offices.
If you are a Sat Nav user, our Post Code is DE56 2BH.
Car parking is available free on site.  For more details on where to find us, go to the Information page.

Please click on the map to find us on Google Maps
Take a Drive to the Mill
Andy Savage of Derby Photos has created a driving route from Belper to Heage Windmill in HD Time Lapse.  Click here and fasten your safety belt.
Virtual Tour
To whet the appetite for your visit to us, why not take a Virtual Tour?  This was specially done for Heage Windmill by Andy Savage.  Just click here