Heage Windmill will be open for its 2016 season on Easter Saturday, March 26th
Official opener will be Adrian Farmer, Co-ordinator of the Derwent Valley Mills World Heritage Site
Already confirmed: Tractor Day on Sunday May 15th along with a giant Bric-a-Brac Sale


Book Sale & Coffee Morning – February 20 – read more here
Latest Fundraising: Amber Valley CAMRA raised £348 at its annual beer festival in Belper.  Read more here
Santa Day a great success.  Click here to read more and see photos.
Christmas Quiz Answers from Santa Day.  Click here
The Sails have now been removed, ready for repair.  See below how you can make the sails turn again next spring.  To read about the sails removal and see more photos, click here

TROUBLE AT MILL
Click here to view a special film appeal by renowned musician/actor and Heage resident JOHN TAMS.
We have now raised £27,000
YOU CAN NOW DONATE ONLINE. Click here to go to our BT Donate page.
Click here to view the recent BBC East Midlands Today report
You can also pay via BACS direct into our Trouble At Mill fund (details below)
Many thanks to those of you who have already rallied round to help our windmill, either through dropping coins in our collection box at the mill or by sending a cheque in the post.  
There is more money due to banked soon, including £500 from the collections at Amber Valley Beer Festival and Derby Folk Festival. Singer/songwriter and Heage resident John Tams actively promoted the Mill during his appearance at the Folk Festival. 
Lots of you have donated both time, skills, money, bric-a-brac, raffle prizes, and much more and continue to do so.  We have had donations from Heage Carnival Committee, Derby Heritage Group, Holgate Windmill and Ripley Heritage Trust.  There are collections being held at various locations in and around Heage, including just over £60 from collections at the Black Boy Public House.
Unless you missed the media coverage of the last month, Heage Windmill is facing a repair bill of over £90,000 after a maintenance check revealed severe wet rot in major structural components.  The mill will remain open for the rest of this season but we will have to stop turning the sails or milling flour until the issue is resolved. 
For the full story and update on progress with the repairs, click here
Donations which would help enable the repair work to proceed can presently be sent as cheques made payable to HWS Trouble at Mill to:
Danny Ashley, Treasurer, Heage Windmill Society, 12 Woodland Way, Old Tupton, Chesterfield, Derbyshire S42 6JA
OR You can pay direct via BACs.  Here are the Account details:
Account Number: 20356006
Sort Code: 60 – 83 – 01
N.B. Here is a Gift Aid form you can fill in to send in with your cheque Gift Aid A5 Final2 pdf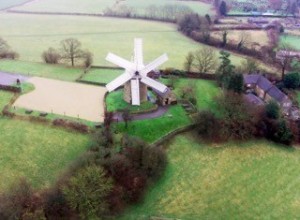 Trevor Connelly-Haywood of TCH Air Photos has made a short aerial video of Heage Windmill. Trevor lives in Scotland but has friends in the village who worked on the windmill 5 years ago.  To view his video click here 
CHECK OUT A NEW YOU TUBE VIDEO OF THE WINDMILL. Many thanks to Matthew House. Click here
A dramatic new aerial shot of Heage Windmill, taken by Dave Tindall. Thanks Dave!  To see two more – also taken by Dave – click here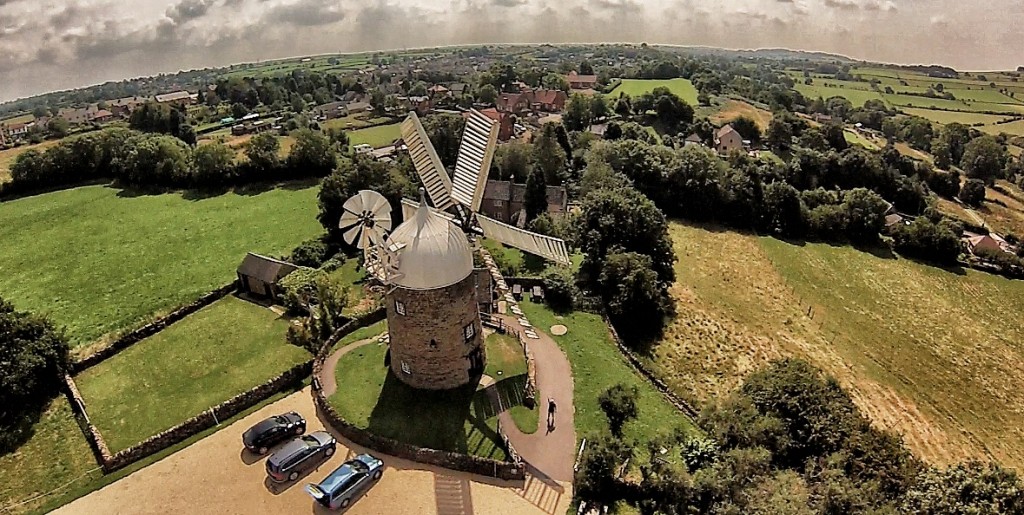 Friends of Heage Windmill
Friends of Heage Windmill is a voluntary organisation providing volunteers who operate the mill, conduct guided tours for visitors, carry out mill maintenance and raise funds, etc. If you are interested in becoming a Friend, click on Join Us to find out more.
Where To Find Us
The mill is located off Chesterfield Road just to the north of the Derbyshire village of Heage inbetween the towns of Belper and Ripley. The entrance road is opposite the Bowmer and Kirkland offices.
If you are a Sat Nav user, our Post Code is DE56 2BH.
Car parking is available free on site.  For more details on where to find us, go to the Information page.

Please click on the map to find us on Google Maps
Take a Drive to the Mill
Andy Savage of Derby Photos has created a driving route from Belper to Heage Windmill in HD Time Lapse.  Click here and fasten your safety belt.
Virtual Tour
To whet the appetite for your visit to us, why not take a Virtual Tour?  This was specially done for Heage Windmill by Andy Savage.  Just click here