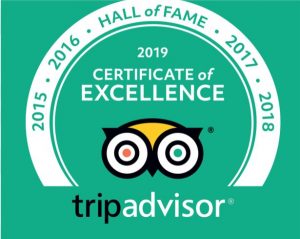 Heage – a derivation of 'High Edge' – comes from the Anglo-Saxon Heegge meaning high, lofty and sublime.  It perfectly describes Heage Windmill.  Presiding over spectacular views towards the Derwent Valley Mills World Heritage Site, the windmill was lovingly restored in 2002 and looks as good as when first built in 1797.  A Grade II* listed building, it is now a major Derbyshire attraction with a TripAdvisor Certificate of Excellence Award and the only working six-sailed stone tower windmill in England.  Heage Windmill is usually open to the public every weekend  from Easter to the end of October but, due to Covid, is open only on Sunday.
FLOUR SALE
Heage Windmill Shop will next be open on SATURDAY, FEBRUARY 12th  – 10.00 am to 1.00 pm.  Hopefully all our types of flour and bran will be on sale
THE HAIRY BIKERS VISIT HEAGE WINDMILL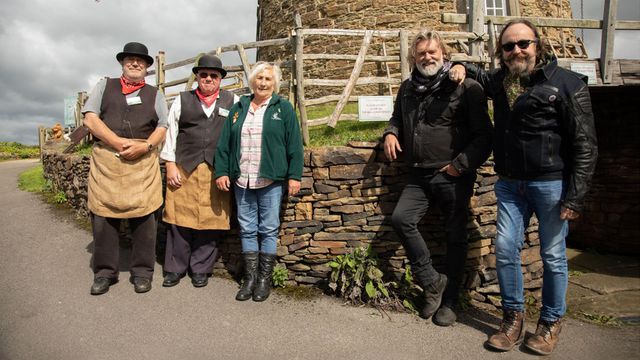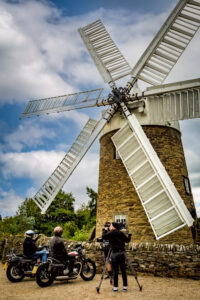 After zooming across the globe on two wheels for almost 15 years, the UK's most popular culinary duo have been on a nostalgic trip enjoying foodie delights of the northern counties of England, including Derbyshire.  Dave and Si visited our windmill in Episode 7 of the 8-part series The Hairy Bikers Go North .
'This series is all about the food producers and their connection with local communities,' says Si.
'You see our mushes on the telly all the time, but it's the people that are important — their stories, their journeys, their produce.'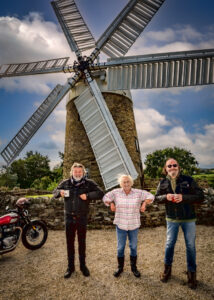 BBC TV recorded Dave and Si's visit to the windmill at the end of August last year and included a drone shot of the windmill's six sails turning as Dave and Si biked down the long lane that leads to the windmill.
Once they arrived, Dave and Si were taken on a tour of the windmill to view the milling process.  The guys complimented us on the quality of our stone ground flour which they had already used for making Derbyshire oatcakes.
Here is that oatcake recipe Hairy Biker Recipes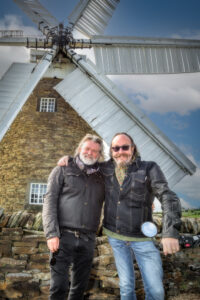 Dave and Si also learnt all about the running of the windmill and how our operation is so dependent on volunteers. 
It's to be hoped that the BBC programme will encourage younger generations to get involved with the windmill and help safeguard its future.
Dave and Si made a big impression on all who met them on the day of their visit.  Trustee Ashley Franklin, who took photos of the guys, commented:  'The Hairy Bikers are as warm and genuine as they appear on screen.  Their Go North series has been utterly compelling because these guys have such a passion for traditional, locally produced food.  So, it's little  wonder Dave and Si were so drawn to our windmill, enabling them to see our flour being milled in the time-honoured way.'
If you missed the show, it's available to view on BBC iPlayer.  
JOHN KIRKLAND OBE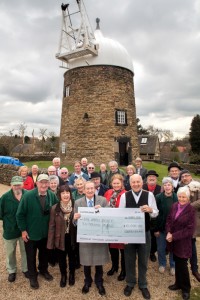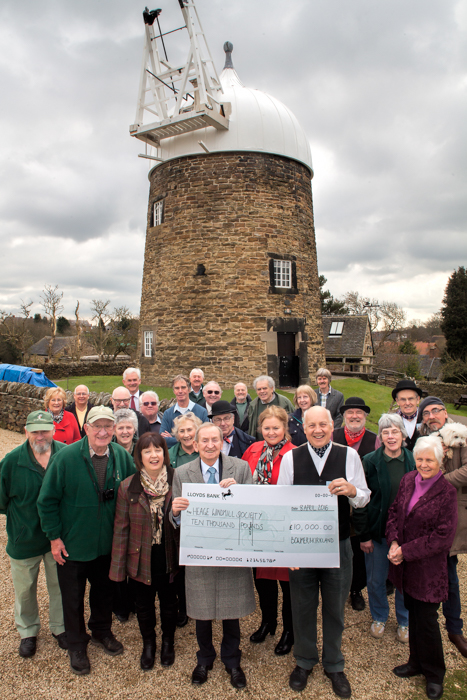 It was with great sadness that we learned of the passing of John Kirkland, Life President and former Chairman of Bowmer & Kirkland plc.
Mr Kirkland, who received an OBE in 1999 for services to Derbyshire, was a long standing supporter of Heage Windmill over two decades and served as Mill Patron for over 10 years.
Heage Windmill has benefited from his generosity in many ways including a very handsome donation towards our Trouble at Mill appeal five years ago (John is pictured left at the cheque presentation).
COBWEB DAY SEES WINDMILL 'PUT TO BED'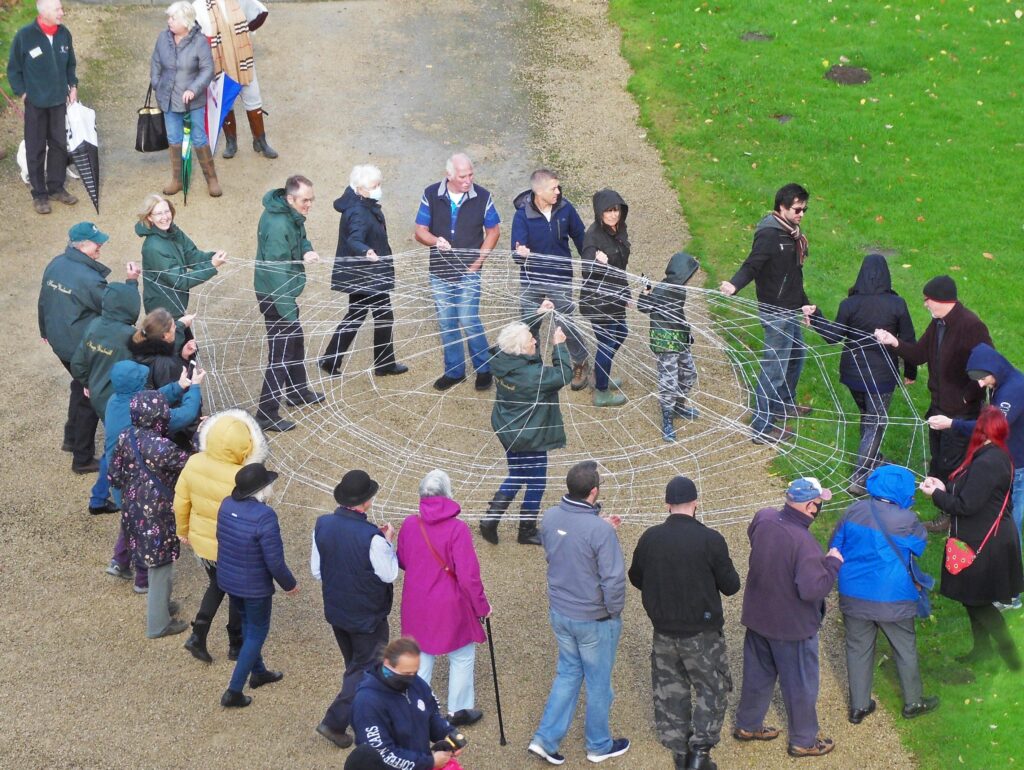 The annual spinning of the cobweb was ceremoniously carried out under beautiful blue skies on Sunday, October 31st and provided a very satisfying end to our season.
For a full report and more pictures, click here.
AMERICAN CARS – ANOTHER GREAT EVENT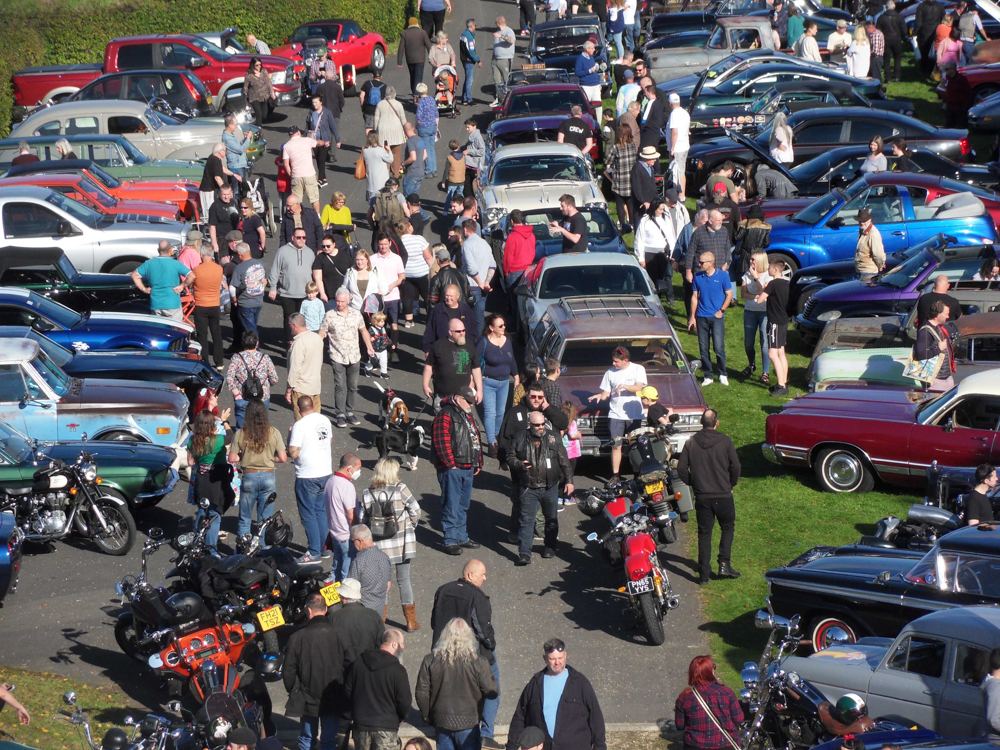 For our last major event of the season we were delighted to welcome a large collection of vintage American vehicles.  To read all about the day – and see more photos – click here
TRACTOR DAY A GREAT SUCCESS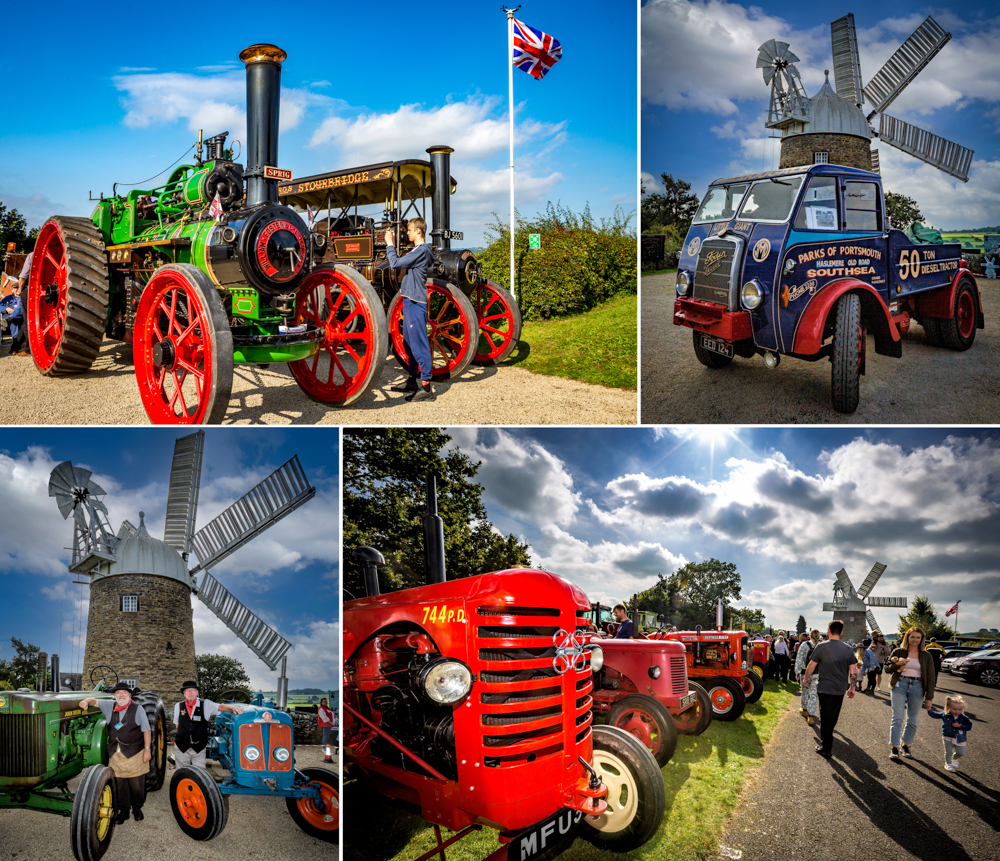 On a warm, sunny September Sunday, visitors thronged to Heage Windmill for the first Tractor Day since lockdown.  46 multi-coloured tractors and steam engines of all types assembled at the windmill.  Despite  their pristine condition, many of the machines on display were over 60 years old.  A lot of happy children achieved their dream by being allowed to sit on a tractor seat and to 'work' the steering wheel!  To add to the wonderful atmosphere, the 'butty' van and bric a brac stall were very popular.  Many families also found time to leave the tractors and go on a guided tour of the windmill, learning how flour was made over 200 years ago, and were then able to purchase recently milled flour.  To  make the day even better, the wind speed was occasionally enough to gently turn the windmill sails.  John Allsop, who organises the tractors' arrival at the site said: 'We all love coming to the windmill and Tractor Day is always a great event'.  All profits from a memorable day will go to the mill maintenance funds.
You can enjoy a gallery of photos by clicking here.
CLASSIC BIKE DAY 'MOST SUCCESSFUL DAY AT THE MILL IN 20 YEARS'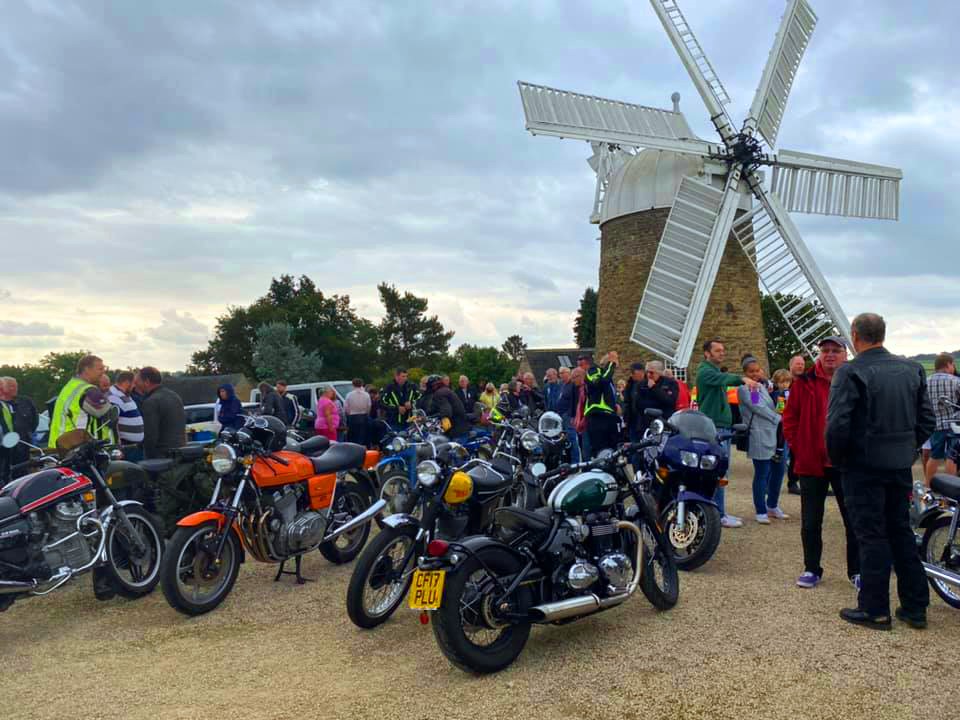 It was a poignant return to live events at Heage Windmill last Sunday (September 12th) with a record turnout for Classic Bike Day.  Having missed out in 2020 due to Covid, this year it seemed that all the bikes in  Derbyshire wanted to make up for this as it was estimated that at least 500 bikes and their riders dropped in throughout the day.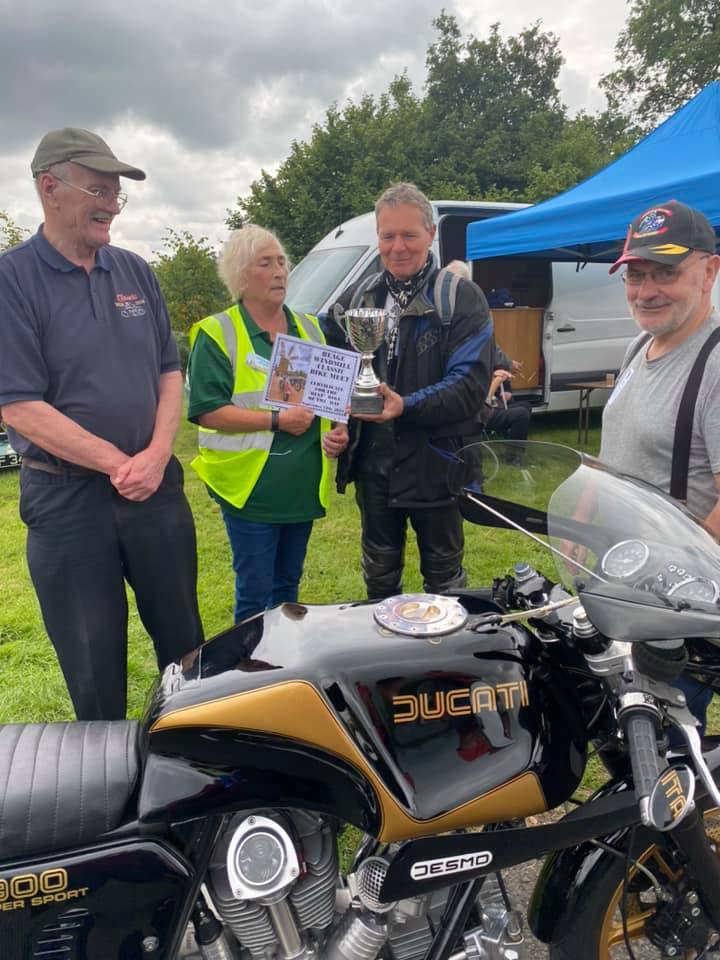 Bikers and visitors met and mingled amongst the Hondas, Harleys, Ducatis and Kawasakis in  a day of great motorcycling nostalgia.
The Best Bike of the Day was won by Terry Kendrew from Barnsley with his Ducati 900 Super Sport.  Terry (pictured right) was presented with the Dave Cleaver Memorial Trophy by Colin Clemens and Les Cross along with a Heage Windmill Certificate to mark his success.
Lynn Allen, Event organiser, said it was the most successful day the mill had experienced in over 20years.
Along with the bikes, the bric a brac stall was kept busy and a large number of people also  enjoyed tours of the windmill.
Tale of Two Sails
Click on the arrow to see a trailer of the film made by Amber Valley Movie Makers.  The full 30-minute DVD tells the admirable story of how the friends of the windmill came to the rescue of this historic mill when two sails were found to have wet rot and needed replacing.  The cost of this work and the waiting time for the millwright meant that an alternative solution had to be found.

If you sign up with Easyfunding they make a donation to Heage Windmill on most  your web purchases (e.g. Amazon).  So far we have raised over £500 by this means, so please sign in and help  the windmill.   Click here for more details.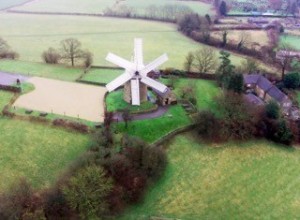 Trevor Connelly-Haywood of TCH Air Photos has made a short aerial video of Heage Windmill. Trevor lives in Scotland but has friends in the village who worked on the windmill 5 years ago.  To view his video click here 
A dramatic new aerial shot of Heage Windmill, taken by Dave Tindall. Thanks Dave!  To see two more – also taken by Dave – click here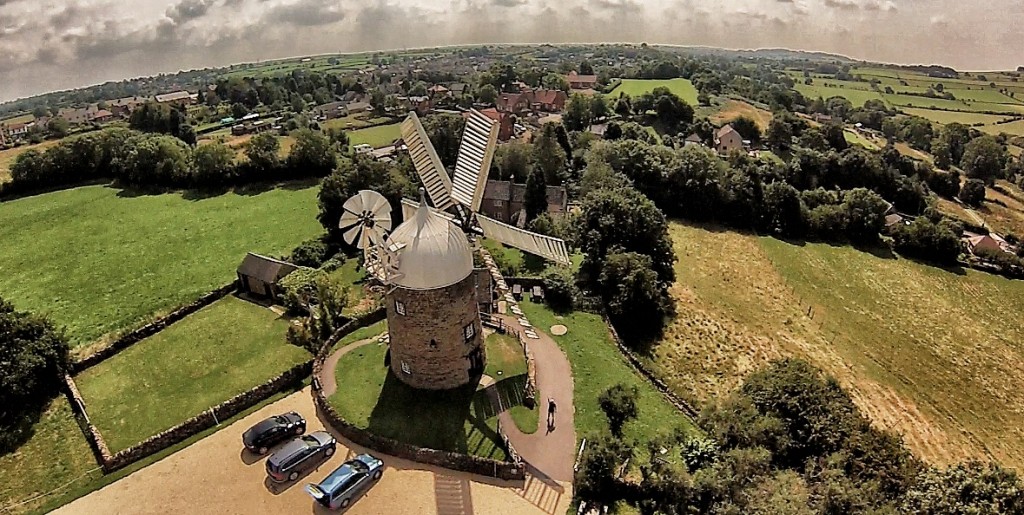 Friends of Heage Windmill
Friends of Heage Windmill is a voluntary organisation providing volunteers who operate the mill, conduct guided tours for visitors, carry out mill maintenance and raise funds, etc. If you are interested in becoming a Friend, click on Join Us to find out more.
Where To Find Us
The mill is located off Chesterfield Road just to the north of the Derbyshire village of Heage inbetween the towns of Belper and Ripley. The entrance road is opposite the Bowmer and Kirkland offices.
If you are a Sat Nav user, our Post Code is DE56 2BH.
Car parking is available free on site.  For more details on where to find us, go to the Information page.

Please click on the map to find us on Google Maps
Take a Drive to the Mill
Andy Savage of Derby Photos has created a driving route from Belper to Heage Windmill in HD Time Lapse.  Click here and fasten your safety belt.
Virtual Tour
To whet the appetite for your visit to us, why not take a Virtual Tour?  This was specially done for Heage Windmill by Andy Savage.  Just click here