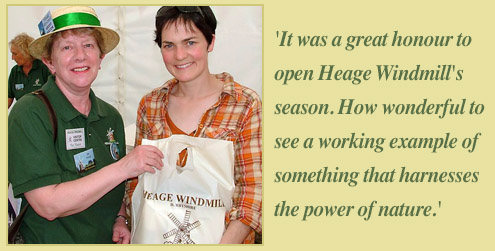 To see the video of Dame Ellen MacArthur's visit, filmed by Andy Savage of Derby Photos, click here
OUR WINDMILL IS NOW CLOSED.  However, as you'll see from the poster below, we re-open for one special day, as always, just before Christmas:
FLOUR SALES.  Once again, the windmill we be open every second Saturday in the month – from 10 am until 1.00 pm – to sell flour.  Here are those dates:
DECEMBER 13th / JANUARY 10th / FEBRUARY 14th / MARCH 14th
To know more about our flour, click here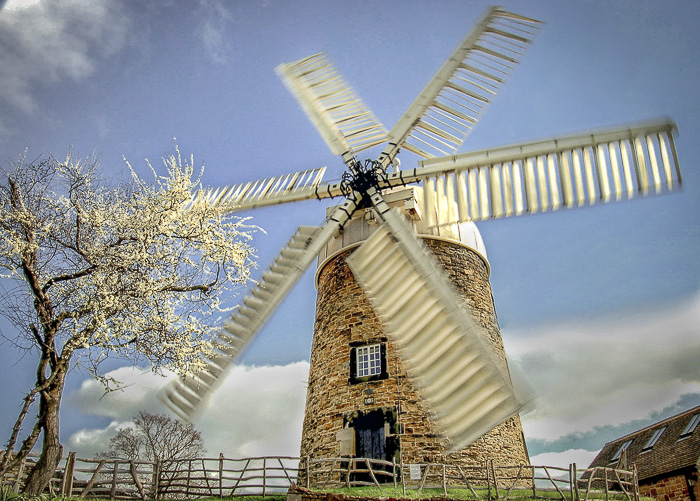 'AS LONG AS THE WINDMILL'S SAILS TURN, THERE IS A BALANCE IN MY WORLD'… so says Agnieszka Rzepka who enjoyed her visit to our windmill recently and sent us the photo above.  Here are her words in full:
'While living in the Netherlands for 6 years, I totally fell in love with windmills over there. Now living on this small island, I'm trying to visit as many of the windmills as I can – they make me a bit less home-sick. Heage Windmill – with its unique 6 sails structure, well preserved mechanism and hilarious guide (thanks, Tim) definitely put a smile on my face. It seems that as long as the windmill's sails turn, there is a balance in my world.'
CHECK OUT A NEW YOU TUBE VIDEO OF THE WINDMILL.  Many thanks to Matthew House. Click here
A dramatic new aerial shot of Heage Windmill, taken by Dave Tindall. Thanks Dave!  To see two more – also taken by Dave – click here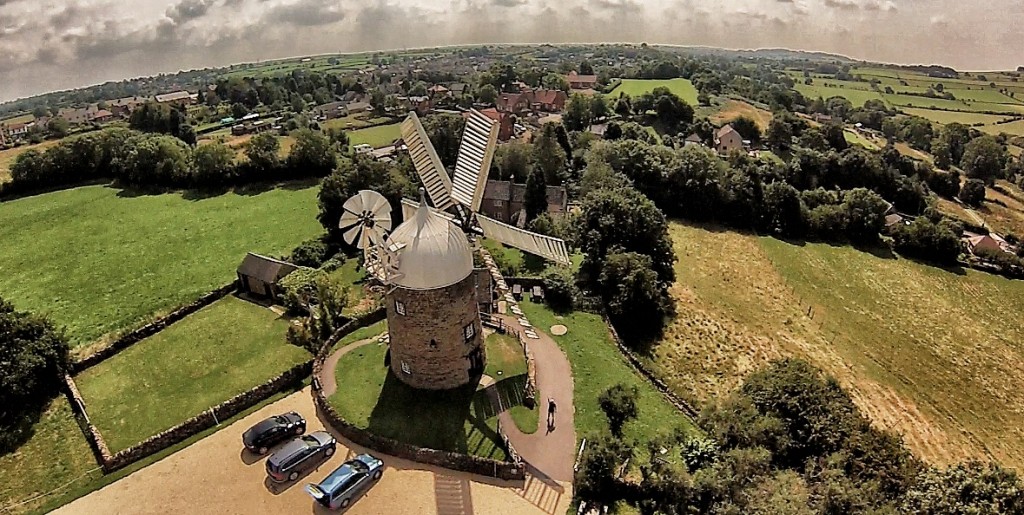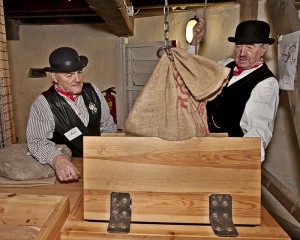 HOW WOULD YOU LIKE TO BE A MILLER FOR THE DAY?  What about making a relative or friend a Miller for the Day as a birthday or Christmas gift?  For more details about this fascinating, unique experience, click here
Heage Windmill – a glowing example of how to run a community trust.  As featured in the Guardian
Friends of Heage Windmill
Friends of Heage Windmill is a voluntary organisation providing volunteers who operate the mill, conduct guided tours for visitors, carry out mill maintenance and raise funds, etc. If you are interested in becoming a Friend, click on Join Us to find out more.
Where To Find Us
The mill is located off Chesterfield Road just to the north of the Derbyshire village of Heage inbetween the towns of Belper and Ripley. The entrance road is opposite the Bowmer and Kirkland offices.
If you are a Sat Nav user, our Post Code is DE56 2BH.
Car parking is available free on site.  For more details on where to find us, go to the Information page.

Please click on the map to find us on Google Maps
Take a Drive to the Mill
Andy Savage of Derby Photos has created a driving route from Belper to Heage Windmill in HD Time Lapse.  Click here and fasten your safety belt.
Virtual Tour
To whet the appetite for your visit to us, why not take a Virtual Tour?  This was specially done for Heage Windmill by Andy Savage.  Just click here