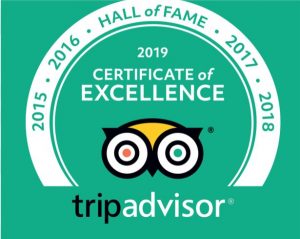 Heage – a derivation of 'High Edge' – comes from the Anglo-Saxon Heegge meaning high, lofty and sublime.  It perfectly describes Heage Windmill.  Presiding over spectacular views towards the Derwent Valley Mills World Heritage Site, the windmill was lovingly restored in 2002 and looks as good as when first built in 1797.  A Grade II* listed building, it is now a major Derbyshire attraction with a TripAdvisor Certificate of Excellence Award and the only working six-sailed stone tower windmill in England.  Heage Windmill is usually open to the public every Saturday and Sunday from Easter to the end of October, but has been closed because of Covid-19 (see Update below).
COMING SOON… TO A TV NEAR YOU

Yes, the Hairy Bikers.  Watch this space…
AMERICAN CARS – ANOTHER GREAT EVENT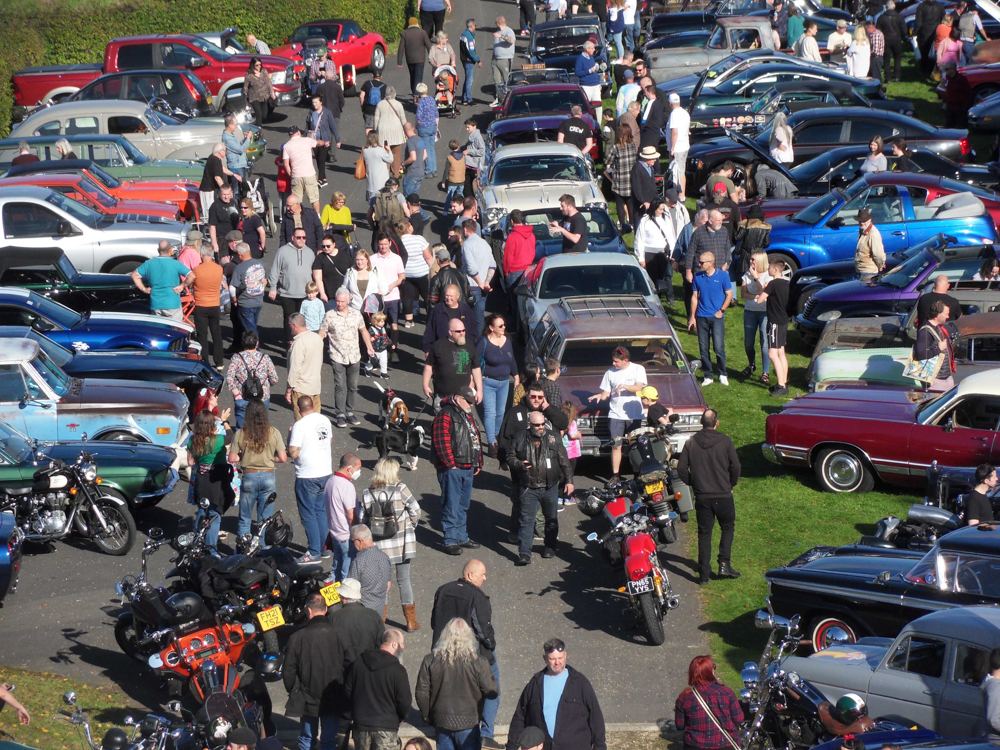 For our last major event of the season we were delighted to welcome a large collection of vintage American vehicles.  To read all about the day – and see more photos – click here
TRACTOR DAY A GREAT SUCCESS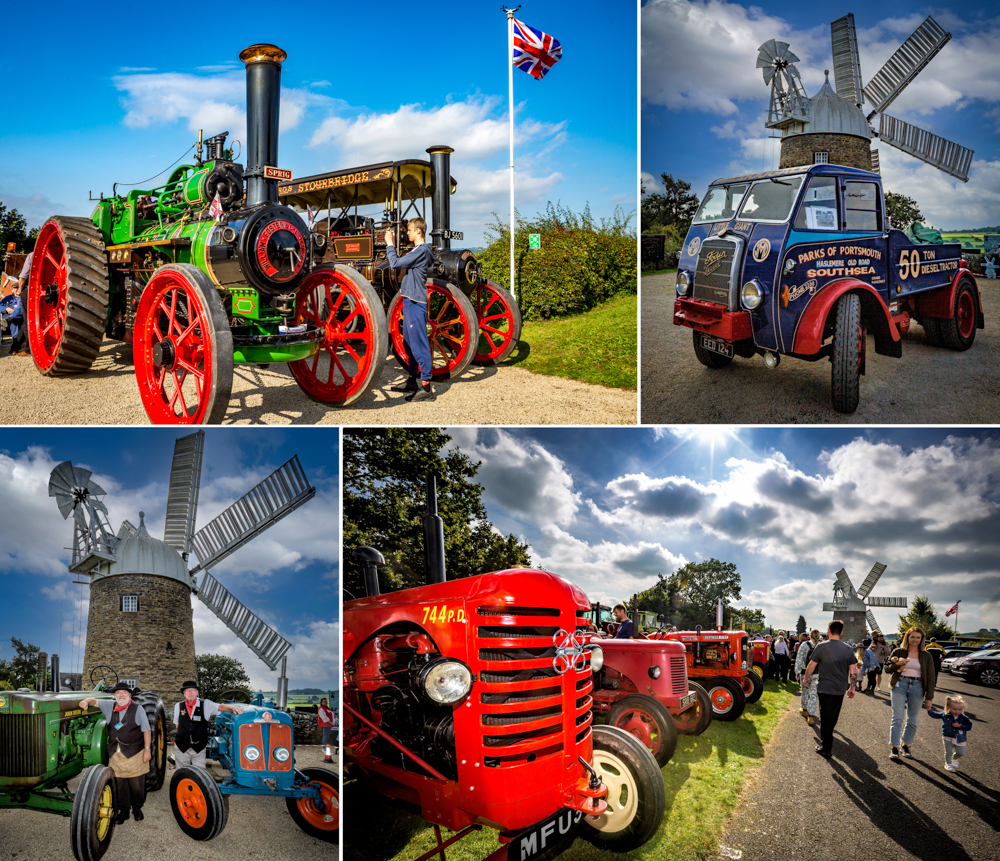 On a warm, sunny September Sunday, visitors thronged to Heage Windmill for the first Tractor Day since lockdown.  46 multi-coloured tractors and steam engines of all types assembled at the windmill.  Despite  their pristine condition, many of the machines on display were over 60 years old.  A lot of happy children achieved their dream by being allowed to sit on a tractor seat and to 'work' the steering wheel!  To add to the wonderful atmosphere, the 'butty' van and bric a brac stall were very popular.  Many families also found time to leave the tractors and go on a guided tour of the windmill, learning how flour was made over 200 years ago, and were then able to purchase recently milled flour.  To  make the day even better, the wind speed was occasionally enough to gently turn the windmill sails.  John Allsop, who organises the tractors' arrival at the site said: 'We all love coming to the windmill and Tractor Day is always a great event'.  All profits from a memorable day will go to the mill maintenance funds.
You can enjoy a gallery of photos by clicking here.
CLASSIC BIKE DAY 'MOST SUCCESSFUL DAY AT THE MILL IN 20 YEARS'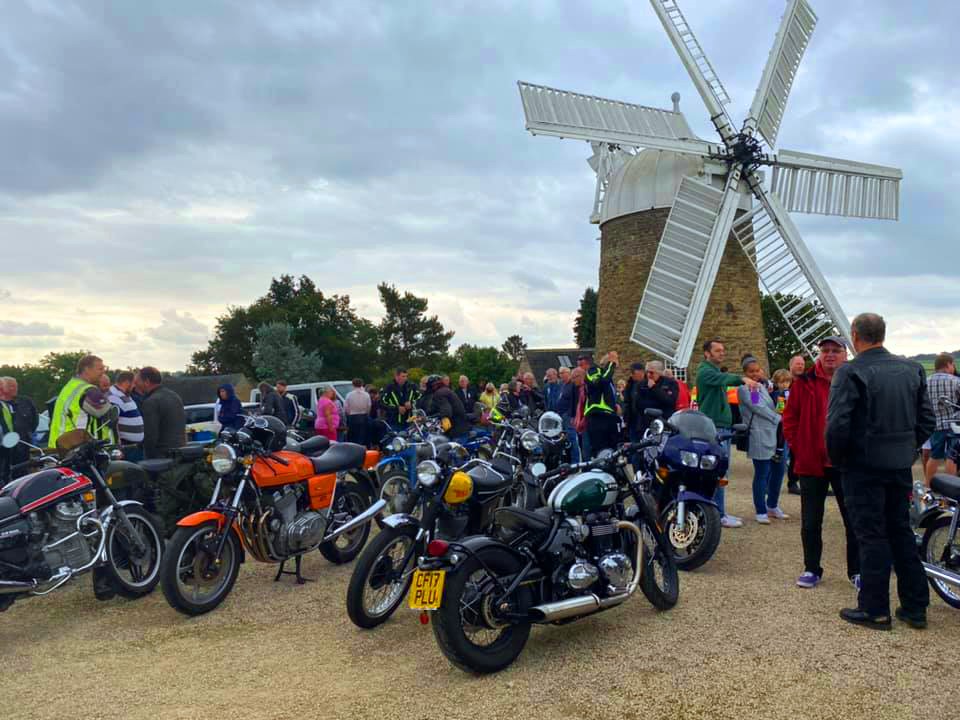 It was a poignant return to live events at Heage Windmill last Sunday (September 12th) with a record turnout for Classic Bike Day.  Having missed out in 2020 due to Covid, this year it seemed that all the bikes in  Derbyshire wanted to make up for this as it was estimated that at least 500 bikes and their riders dropped in throughout the day.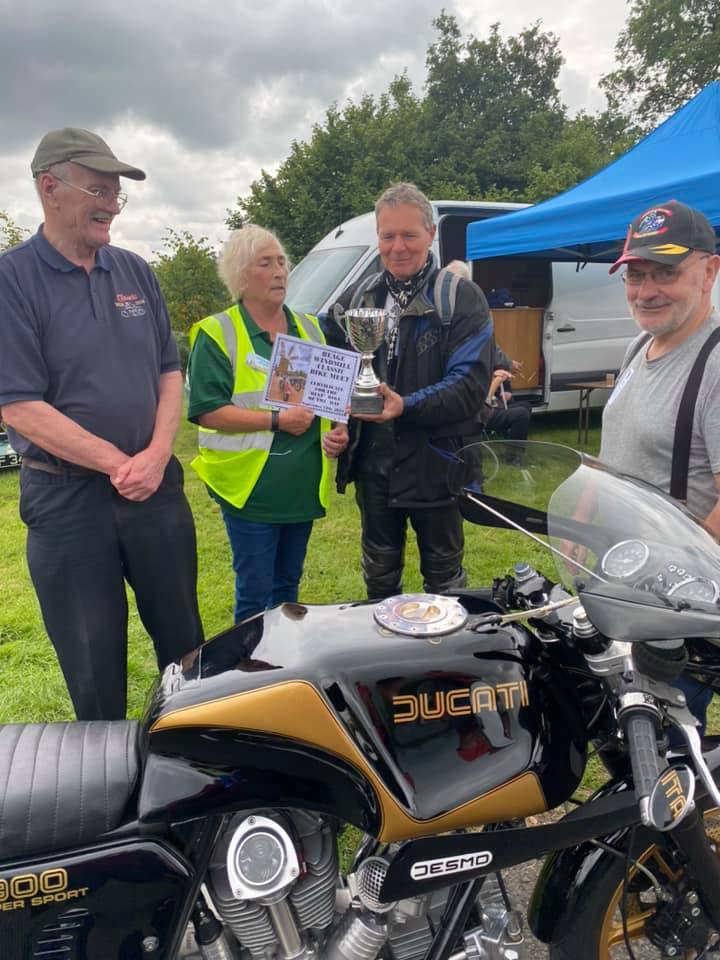 Bikers and visitors met and mingled amongst the Hondas, Harleys, Ducatis and Kawasakis in  a day of great motorcycling nostalgia.
The Best Bike of the Day was won by Terry Kendrew from Barnsley with his Ducati 900 Super Sport.  Terry (pictured right) was presented with the Dave Cleaver Memorial Trophy by Colin Clemens and Les Cross along with a Heage Windmill Certificate to mark his success.
Lynn Allen, Event organiser, said it was the most successful day the mill had experienced in over 20years.
Along with the bikes, the bric a brac stall was kept busy and a large number of people also  enjoyed tours of the windmill.
SUNDAY TOURS NOW UNDERWAY 
We are delighted to announce that Heage Windmill has resumed its popular guided tours.
Since the end of May, the windmill has opened each Sunday and Bank Holiday so visitors can take a picnic whilst enjoying the wonderful view over the beautiful Derbyshire countryside.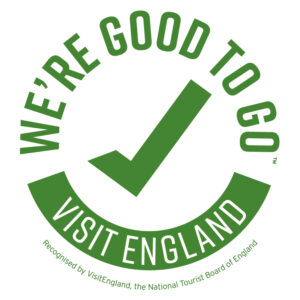 You are still welcome to join us for a picnic on Sundays and Bank Holidays throughout August (for which there is no charge) but we will remain closed on Saturdays.
As for our windmill tours, we welcome small groups willing and able to climb through the three storeys of the only working windmill in Derbyshire. Our friendly guides will provide a fascinating insight into the mill's history and how the milling process works.
There is a small charge for the tour and donations are always gratefully received. We do ask that face coverings are worn by adults in the windmill and Visitor Centre (unless exempt) and hands are sanitised to protect yourselves and our volunteers.
We are hoping to restart our Event Days in September. Please check this website for regular updates.
PICNIC AT THE MILL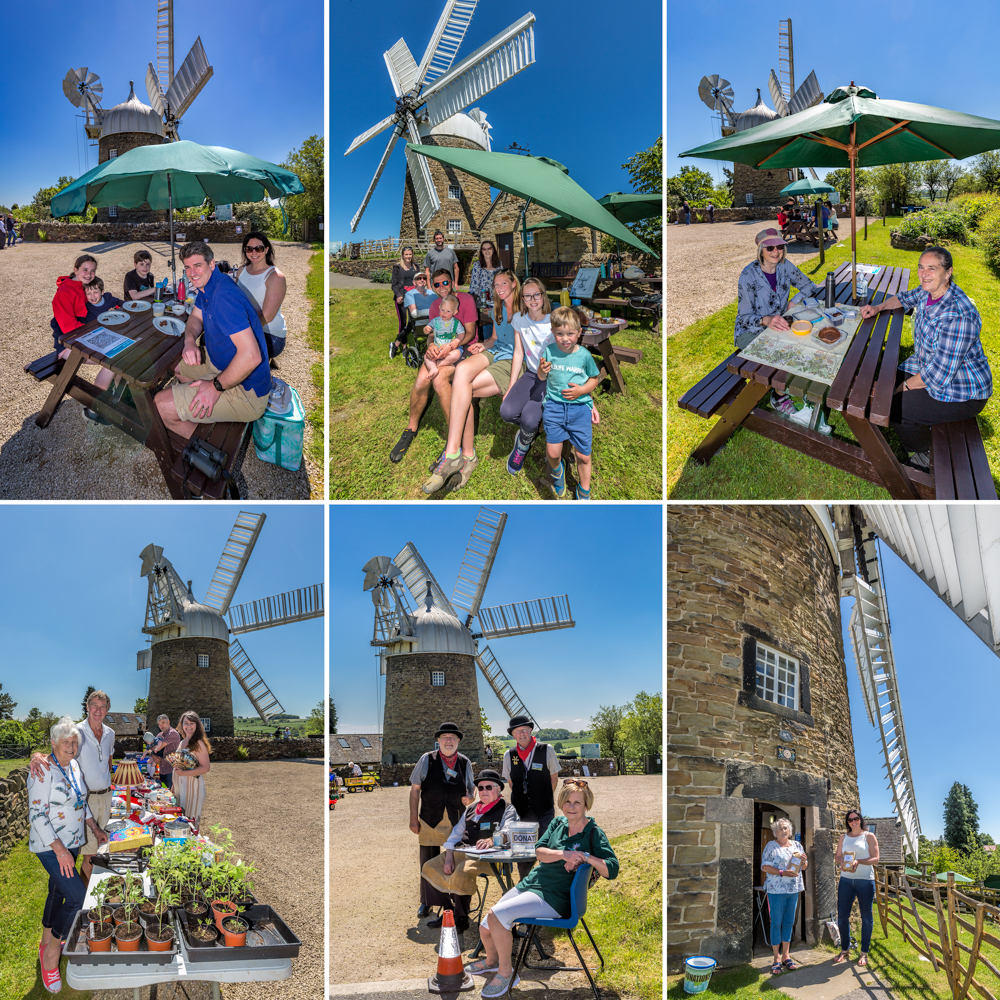 Pictured are some of the visitors who came to the windmill on our first picnic day, Sunday, May 30th.  Also pictured are our volunteers who greeted our visitors and made the day such a special occasion.
Our picnic events are free. We have six picnic tables available which comfortably seat four with additional chairs if required. Limited refreshments such as drinks and ice cream will be available on site.  Our friendly and knowledgeable guides will be available to answer your questions, our wonderful stoneground flour will be on sale and, if dry, a Bric-a-Brac stall will invite your perusal. Donations for the windmill's upkeep (we get no direct funding) will be gratefully received on the day.
Tale of Two Sails
Click on the arrow to see a trailer of the film made by Amber Valley Movie Makers.  The full 30-minute DVD tells the admirable story of how the friends of the windmill came to the rescue of this historic mill when two sails were found to have wet rot and needed replacing.  The cost of this work and the waiting time for the millwright meant that an alternative solution had to be found.

If you sign up with Easyfunding they make a donation to Heage Windmill on most  your web purchases (e.g. Amazon).  So far we have raised over £500 by this means, so please sign in and help  the windmill.   Click here for more details.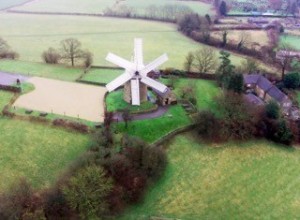 Trevor Connelly-Haywood of TCH Air Photos has made a short aerial video of Heage Windmill. Trevor lives in Scotland but has friends in the village who worked on the windmill 5 years ago.  To view his video click here 
A dramatic new aerial shot of Heage Windmill, taken by Dave Tindall. Thanks Dave!  To see two more – also taken by Dave – click here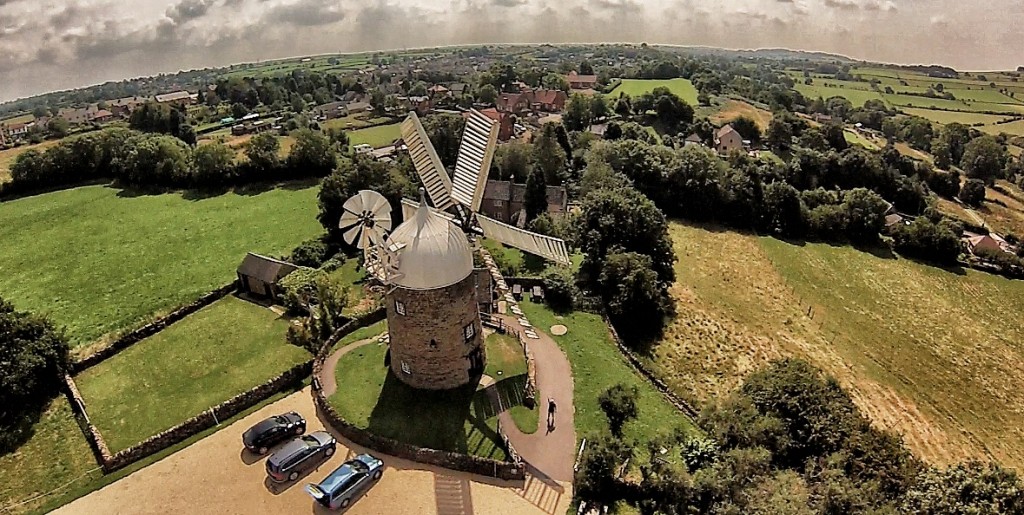 Friends of Heage Windmill
Friends of Heage Windmill is a voluntary organisation providing volunteers who operate the mill, conduct guided tours for visitors, carry out mill maintenance and raise funds, etc. If you are interested in becoming a Friend, click on Join Us to find out more.
Where To Find Us
The mill is located off Chesterfield Road just to the north of the Derbyshire village of Heage inbetween the towns of Belper and Ripley. The entrance road is opposite the Bowmer and Kirkland offices.
If you are a Sat Nav user, our Post Code is DE56 2BH.
Car parking is available free on site.  For more details on where to find us, go to the Information page.

Please click on the map to find us on Google Maps
Take a Drive to the Mill
Andy Savage of Derby Photos has created a driving route from Belper to Heage Windmill in HD Time Lapse.  Click here and fasten your safety belt.
Virtual Tour
To whet the appetite for your visit to us, why not take a Virtual Tour?  This was specially done for Heage Windmill by Andy Savage.  Just click here