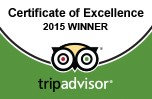 Heage Windmill's visitors have recognised the windmill's wonderful customer experience, gaining us a TripAdvisor® Certificate of Excellence award.
Now in its fifth year, the award celebrates excellence in hospitality and is given only to establishments that consistently achieve great  reviews on TripAdvisor.
When selecting Certificate of Excellence winners, TripAdvisor takes into account the quality, quantity and current nature of reviews and opinions submitted by travellers on TripAdvisor over a 12-month period.  To qualify, an attraction must maintain an overall TripAdvisor bubble rating of at least four out of five over a 12-month period.
Piers Bostock, Chairman of Heage Windmill Society said: 'There is no greater seal of approval than being recognised by one's visitors. We always have tried to offer a great experience but this is the crust on our loaf when our visitors themselves declare how well we perform. I congratulate all of our team of volunteers for their tremendous and consistent  efforts.'