Two of Heage Windmills six sails have had to be removed owing to signs of rot.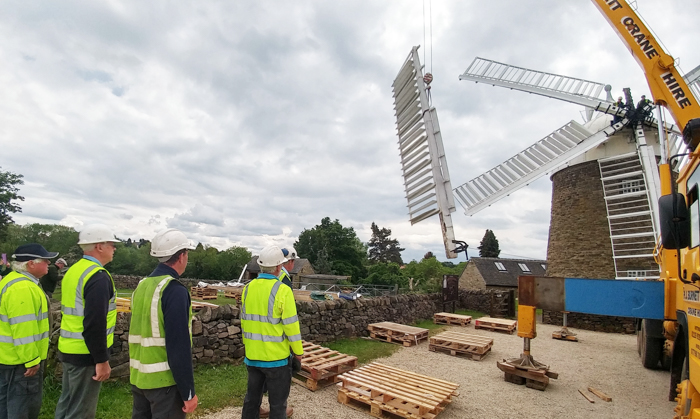 Last year the Windmill Trust had a report from our millwright that two sails, both over 20 years old, were deemed to be safe for further immediate use but it was recommended we should replace them.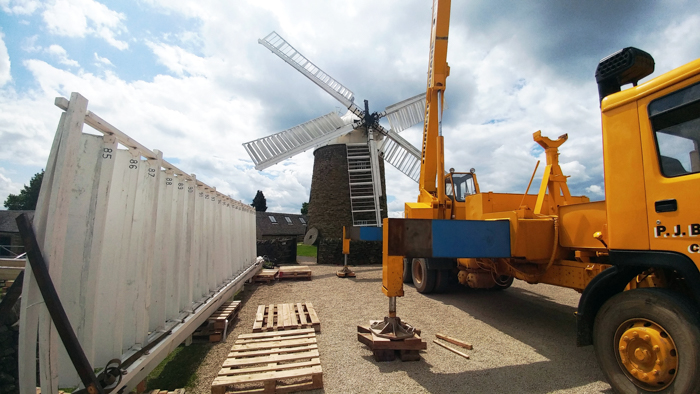 Enquires to the few millwrights that could undertake the construction of sails indicated that it would be about two years before the work could be started.  After a careful investigation we have decided to construct them ourselves!
We placed an order with Constructional Timber of Barnsley to supply the whip (the main timber) from laminated Siberian larch and a 'kit of parts' for wood required for the sail frames.
We have now removed the existing two sails, which weigh about 1 ton each, and then took off the shutters and other fittings which will be fitted to the new sails being assembled alongside.
This means the mill will be working for up to two to three months with only four sails, the timescale being determined by the availability of our volunteers.
We will however still be able to mill flour using a lower power input with the four sails – this being one of the great benefits of having six sails!