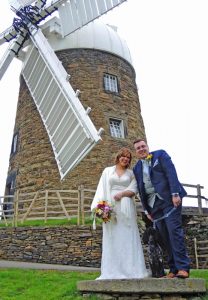 Shortly after getting married in the Heage area, Jack and Mary Evans – along with dog Geoff – visited Heage Windmill for an extra photo memory of their special day.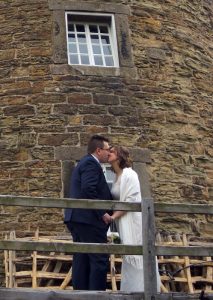 Jack originates from Brook Street, Heage and was an active volunteer at the mill before moving away.
Their special wedding spoon was decorated by Freda Stallerbrass of Nether Heage, a current volunteer, and presented by Lynn Allen on behalf of the windmill.
If you are getting married locally – or know of someone who is – the Friends of Heage Windmill offer the opportunity of using our Derbyshire attraction as a backdrop for wedding photos.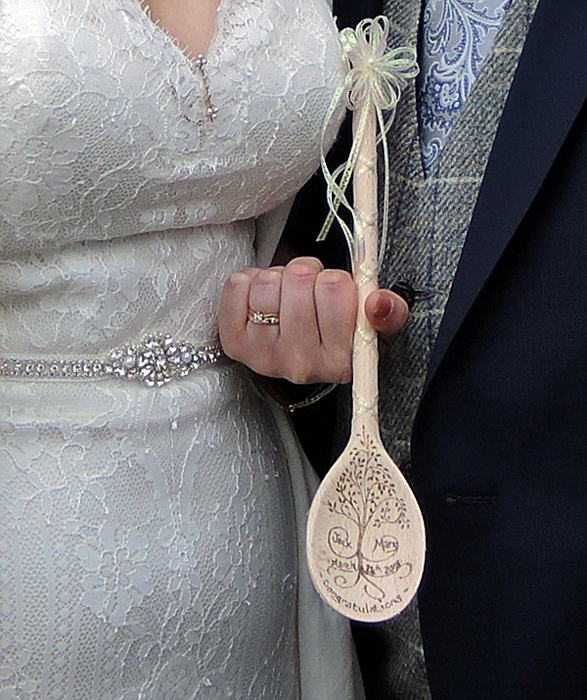 Furthermore, every bride photographed at the windmill will be presented with a hand pyrographed and decorated wedding spoon.
All we ask for is a minimum donation of £25 for weekend photos (£50 midweek) which covers the cost of the wedding spoon and helps towards the upkeep of the mill.
If you are interested in booking a photo session, please contact Lynn Allen  01773 715 177 (mob 07973 548 551) or email her at lynnallen13@hotmail.com
Alternatively, you can fill out a registration form which you can download by clicking here – Weddings bookings