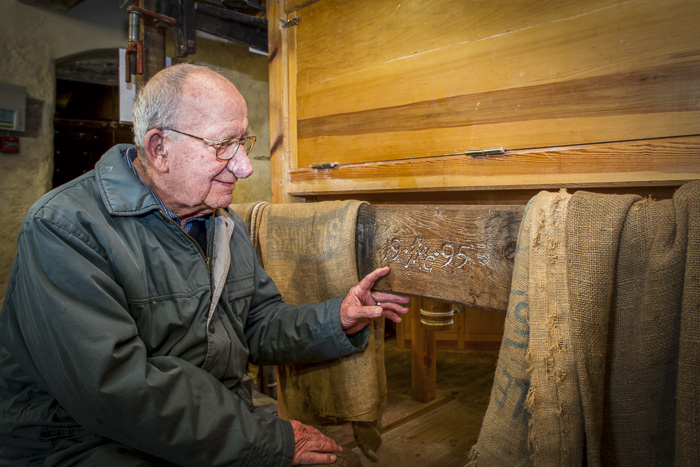 ALAN GIFFORD – Founder Trustee
With my strong engineering background, I became fascinated by the workings of windmills and so developed the windmill 'bug.'  This led me to join the MMG – Midlands Mills Group – in 1974.  I made my first visit to Heage Windmill in 1978.  Frustratingly, I couldn't get in!  Although the mill had been partially restored by Derbyshire County Council in 1972, it was rarely open to the public.
In the 80's, MMG were invited to act as guides for few planned opening days. We were overcome: we had about 500 visitors one day.  However, we realised that the mill seriously needed TLC!  At the same time, Amber Valley Borough Council's Tourism Officer  told us the windmill could become a great tourist attraction. Together, these  acted as a spur to do something;  but I never realised 'doing something' would nearly take over my life!
We formed Heage Windmill Society in 1996, sought grants and had her restored by 2002. Since then, my life has revolved around the mill through writing books, giving talks and handling all the publicity.  I am proud to have seen her rise from its 'ashes' to become a real Derbyshire gem!
COUNCILLOR ANGELA WARD – Chair of The Friends
I have lived in Heage all my life and have followed our mill being transformed from her dilapidated state to a magnificent working mill which can be viewed from most points of our village.  When I first became Ripley Town Council's representative on the Trust, little did I know how fascinating the journey of the mill's restoration would prove.
It was an honour and a privilege in my year as Mayor of Amber Valley Borough Council to be able to promote Heage Windmill, the work of our loyal volunteers and encourage visitors to come along to enjoy the numerous events, sample our flour and also encourage new volunteers.
ALAN ECCLESTON – Miller / Chair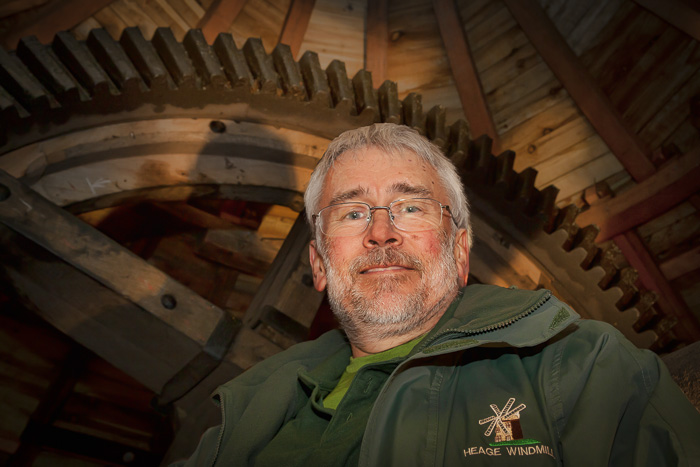 When we moved to Nether Heage in 1976, the view out of our back window was up to Heage Windmill. I think I fell in love then with the mill and it has been part of my life ever since. I have spent most of my working life around rotating machines as an engineer at Rolls-Royce and at the windmill you actually get the opportunity to be inside a machine when it is working! I just love the vibrations, sound and smell of the windmill when she is running 'balls out'.  When I retired, I got involved in doing some of the maintenance at the mill, and soon realised I wanted to train to be a miller, to learn to drive this beautiful old machine. So I qualified as a 'freewheeling' miller and have just completed my training as a flour miller.  Where else do you get the chance to work in a 200 year old food factory?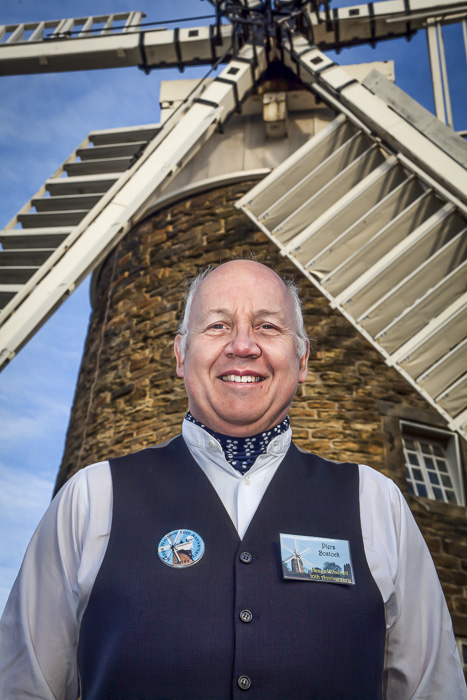 PIERS BOSTOCK – Vice Chair / Guide
My interest in Heage Windmill arose when we moved from Lincolnshire to a house about 200 metres from the windmill. In 1998, I lent my support to the restoration in progress. My food engineering background in the sugar industry was useful in developing the food safety aspects of milling grain and I developed the HACCP system that is in use today at the windmill.
When the windmill opened, I became a guide. I also helped to start the farmers' market venture for the windmill which continues to be an important part of the windmill income stream.
In 2007, I became chairman of Heage Windmill Society and worked to move the management and operation forward to meet the challenges.
I am honoured to be a part of Heage Windmill and humbled by the massive work carried out by our volunteers and their enthusiasm and determination to keep her working and open. I will do all I can to help that.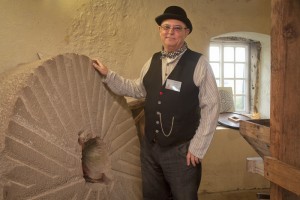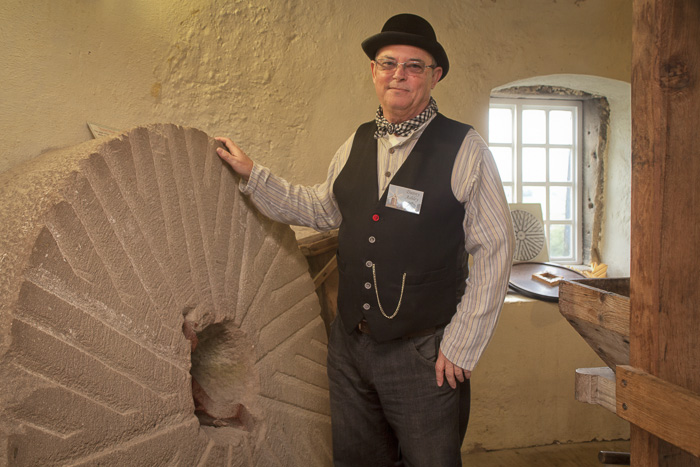 DANNY ASHLEY – Guide
I originally visited Heage Windmill to buy bread flour following a recommendation by our central heating repair man.  I was impressed by the appearance of both the mill and the site and stopped to chat to some of the volunteers.  I found their enthusiasm infective and before I knew what was happening, Lynn had handed me a volunteer leaflet and I agreed to call back.  Now a few years later, I am an experienced guide and Treasurer for the Friends of Heage Windmill.
Heage Windmill has given me some wonderful friends and some very happy memories that I wouldn't have missed for the world.  I find guiding mentally stimulating and enjoy meeting the wide variety of visitors coming to the mill.  Their varied backgrounds mean that I often learn something new from them whilst taking them round the mill. I am also a volunteer guide at Stainsby Watermill on the Hardwick estate but am more involved with Heage Windmill and its volunteers.
TONY COOPER – Trustee
When we moved to Nether Heage in 1997, my work commitments in Derby kept me from getting involved in the early volunteering activity, but I knew I would be drawn in eventually. The sight of that mill on the hill was so appealing. 
In 2002, a few months before the Grand Opening,  and not wanting to miss the boat entirely,  I went to a recruitment meeting and made the mistake of asking innocently what the Friends' Treasurer's job involved.  What a price to pay for getting in on the ground floor!  but despite all the hard work I wouldn't have missed those early pioneering years for the world.
I spent several years as Treasurer of the Trustees and am also a qualified Flour Miller (a role which, I have to admit, is somewhat more satisfying!).  Even after 13 years I still get a buzz out of going up to the mill, whatever I'm doing up there.  Anyone who has been involved as a regular volunteer will know how much pleasure the mill gives to visitors and how often their expectations are exceeded.
Thanks to everyone's efforts over the years we have been tremendously successful,  and are now maturing as an organisation.  I look forward to welcoming a new generation of enthusiasts keen to take us forward from this solid base with the same pioneering spirit we veterans demonstrated in abundance in the early years.
NIGEL VARDY – Trustee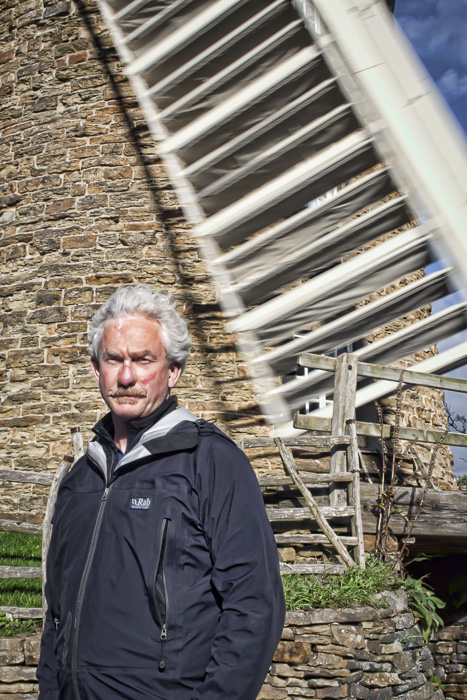 Anyone who knows me will probably ask "why is an international mountaineer interested in a windmill?'  Though I climb across the world, my background is in engineering and I love nothing more than the sounds of cogs turning and the wind doing its work.  Harnessing the power of nature is something I'm truly passionate about as an environmentalist, and there are huge opportunities to learn about the power of the wind at Heage.  I'm also an avid historian and enjoy seeing the sails turning as they did on the day the mill was first commissioned.  In fact I can see them from my house!  Growing up in the industrial revolution town of Belper (now part of a UNESCO World Heritage Site) has engrained within me a sense of preserving the past, but I believe in more than that.  I believe we can learn a huge amount from our ancestors about harnessing the power of nature to help preserve our planet.  In Engineering, I'm involved in many projects where wind turbines are being constructed to generate electricity.  Some think this a new invention, but the windmill has been using wind since 1797!
ASHLEY FRANKLIN – Trustee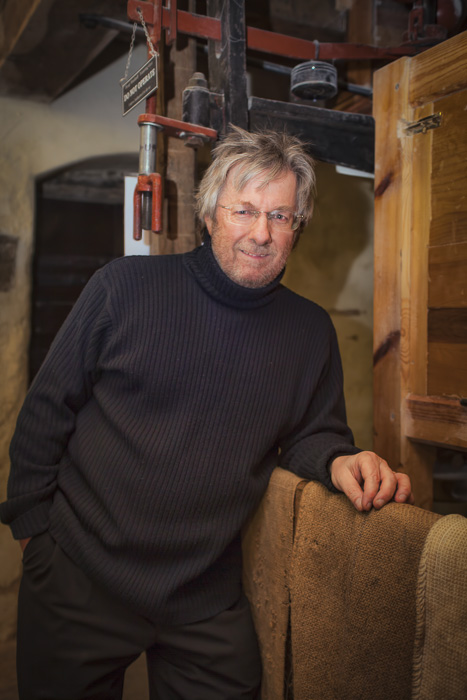 As a chief writer and photographer for Derbyshire Life magazine, it was my pleasure to feature the village of Heage in 2009.  It was an even greater pleasure to then be invited to become a Trustee of the windmill.  My glowing write-up about the windmill had clearly been noticed!  But who wouldn't love this windmill?   There is something about the shape, lines, singularity and sheer nobility of a windmill that makes it one of the most prepossessing sights on earth.  Better still, this windmill looks as good as when first operated in 1797.
As someone with media experience – I spent 22 years at Radio Derby – I have also been able to help promote the windmill, especially through revitalising and managing the website.  Publicising the mill comes easy…  one can't fail to be fascinated by all those cogs, levers, pulleys, weights and trapdoors which enable the mill to produce its own flour.  I feel privileged to be a part of one of the finest visitor attractions in the East Midlands.