BRIAN NAYLOR – Miller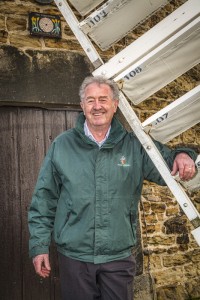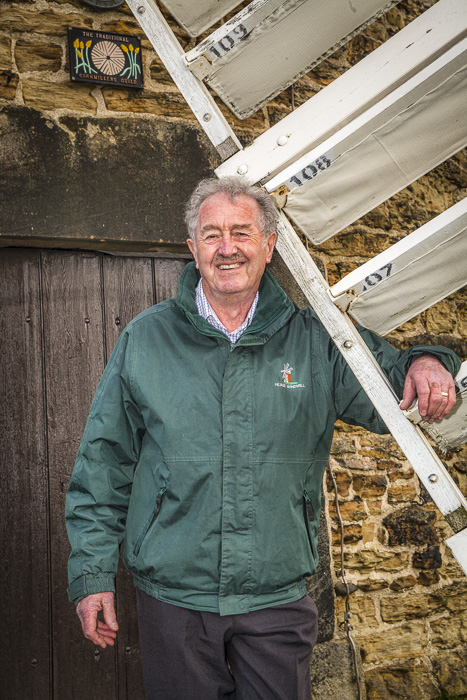 I first became involved with Heage Windmill in the year 2000 after answering an advert in a local paper appealing for volunteers with engineering skills.  As I was born within sight of the Mill it seemed a good idea to volunteer to keep the old lady in working order. I joined a team of volunteers at weekends helping to build the drystone walls,
followed by laying the floor in the undercroft.
After we opened to the public in 2002, I trained to be a guide then a freewheeling miller. After gaining experience I then trained as a flour miller.
Since the early days I have done numerous tasks with a good team to ensure the Windmill runs trouble free. I now use my knowledge and experience to go out and give illustrated talks to various groups and societies.
ANTHONY SHARP – Miller & Guide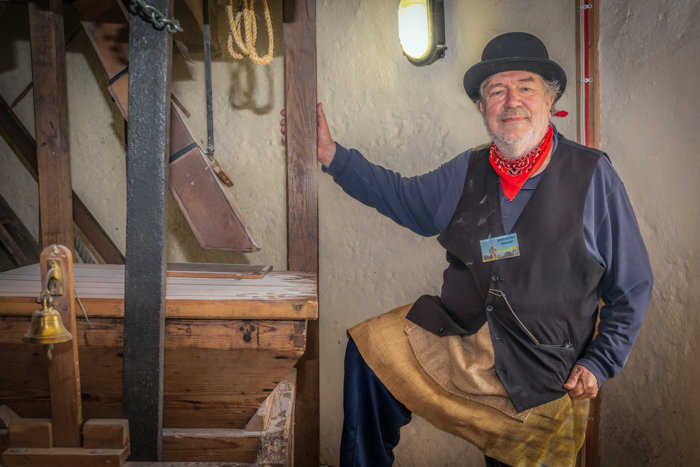 I became involved with the mill in 1996 when the restoration was still a dream.
I became membership secretary and started the newsletter Grist, then just two-sided A4.
However, the real joys of working at the mill came when it was fully operational again.
It remains a glorious place to visit and being a volunteer here brings me into contact with a fine group of interesting people, all now good friends. I have learned new skills and developed existing ones. A day at the mill is very rewarding, and the visitors are delightful. I love it here.
TIM LUDLAN – Guide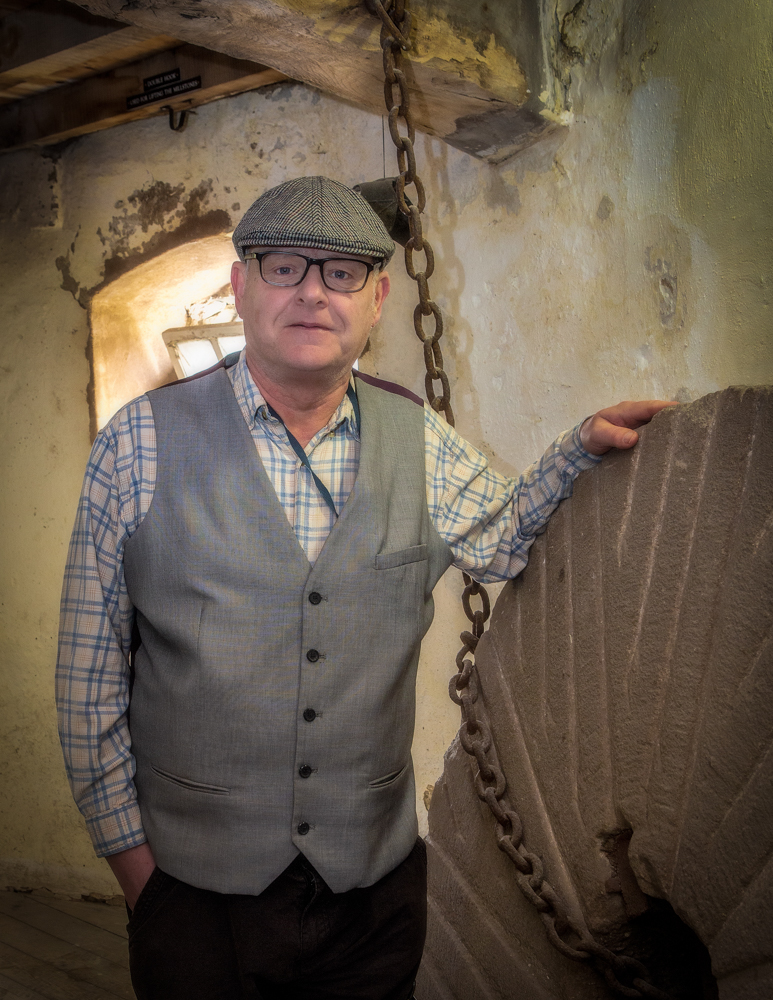 The main reason I got involved with Heage Windmill is down to my passion for history.
This comes from the fact that my own family has quite a history: from the  age of eight, I would regale people with stories of a grandfather many years down the line – Isaac Ludlam, who was one of the three leaders of the Pentrich Revolution of 1817; and about my great grandfather 'Sinker' Sam (he sank pits) – his wife was the sister of William Booth, founder of the Salvation Army.
I first came across Heage Windmill when, as a young lad, our family visited my father's auntie who lived in Heage.  My first impression was not a good one – I thought it was haunted!
Eventually my family moved to Nether Heage and my love of history drew me back to the windmill.  As a guide, I simply love the fact that I'm bringing that history alive.
JOHN WARD – Trustee, Vice-Chair of the Friends, Miller and Maintenance Volunteer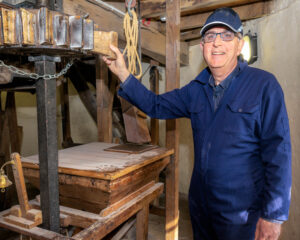 I used to pass the windmill twice a day on my journey to and from work, where I was in the agricultural supply industry as a Poultry Nutritionist.  When I retired, I checked out the windmill website and discovered that volunteers were always needed, so I signed up for maintenance duties mid-2016.
Since then, I have trained as a Freewheeling Miller and help out on visitor days.  In time, I hope to progress and become one of the windmill's Flour Millers.
I thoroughly enjoy the company of my fellow volunteers, have learnt new skills and would recommend the volunteer programme to anyone who has an interest in our industrial history.
TIM CASTLEDINE – Miller, Guide & Maintenance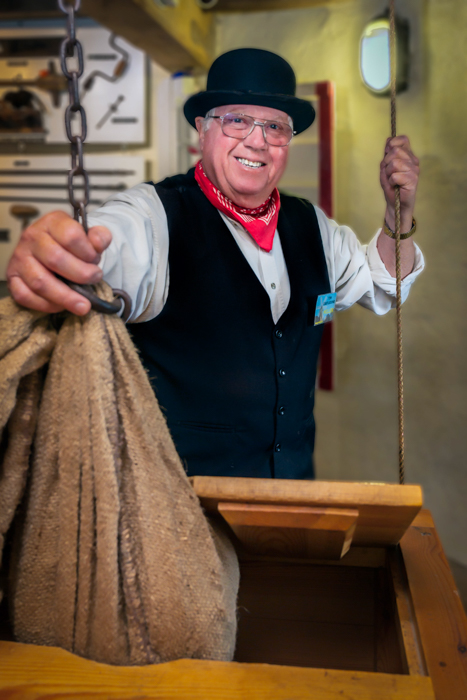 My association with the windmill began in 2014 when I was asked to use my experience as a foundryman to make a metallurgical examination of steel mill bills (the tools used for dressing the millstones). After completing this work it seemed only natural to get involved at the mill, initially with the maintenance volunteers. As a retired foundryman I found this work extremely interesting and gained immense satisfaction working with many like-minded people, all of whom have individual practical talents. My expertise as a foundryman has now been called upon on several occasions when replacement cast iron gears have been required for repair work in the mill's cap.
After a few months I volunteered for training as a guide which, again, I found very interesting, the knowledge gained working on maintenance being very useful in explaining the operation of the mill to the visitors. However, it was not long before I was coerced into training as a freewheeling miller. After a lifelong interest in sailing and flying light aircraft, the challenge of handling another wind-dependant machine was too strong to resist. The natural progression to becoming a qualified flour miller was also somewhat unavoidable and it gave me much personal satisfaction that I achieved my guiding and milling qualifications after 21 months since starting with the maintenance team. I am now mainly involved in maintenance and milling but I am also very happy to do guiding duties if the need arises.
The mill's volunteers come from all walks of life and are dedicated to the continued success of the mill. It gives me immense satisfaction to be part of such a friendly and helpful group of people. I would strongly recommend to anyone even slightly interested in our activities to come along and find out what it means to volunteer at the mill. You may well be very pleasantly surprised!!
ANGELA WARD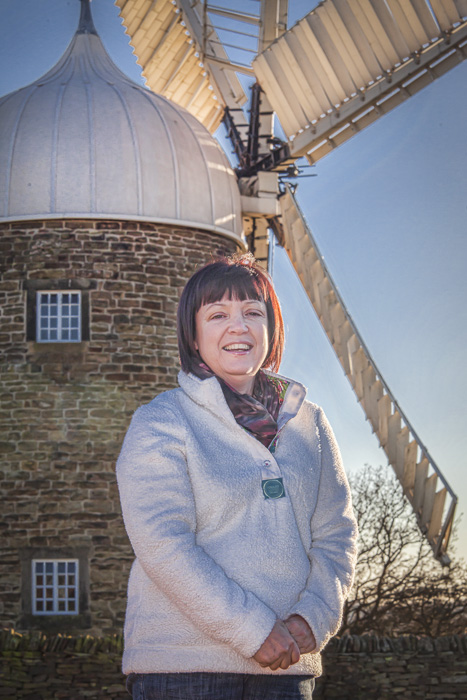 I have lived in Heage all my life and have followed our mill being transformed from her dilapidated state to a magnificent working mill which can be viewed from most points of our village. When I first became Ripley Town Council's representative on the Trust, little did I know how fascinating the journey of the mill's restoration would prove.
It was an honour and a privilege in my year as Mayor of Amber Valley Borough Council to be able to promote Heage Windmill, the work of our loyal volunteers and encourage visitors to come along to enjoy the numerous events, sample our flour and also encourage new volunteers.
JENNY LAND – Maintenance Team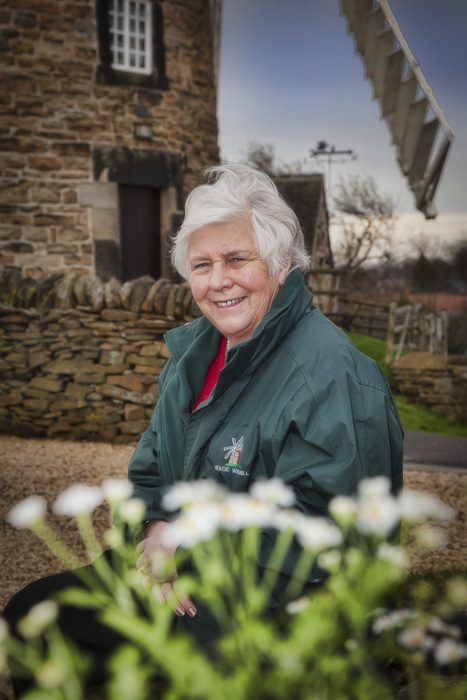 I joined as an active volunteer, with my husband, David, in February 2013 and was welcomed into the Maintenance Team.
I was asked to create a garden from a neglected area near to the Mill, which I achieved and thoroughly enjoyed doing.
I enjoy the involvement of generally assisting to keep the Windmill neat and tidy for the benefit of visitors.
This gives me a lovely sense of reward and satisfaction.
DAVID LAND- Miller (Freewheeling) / Maintenance Manager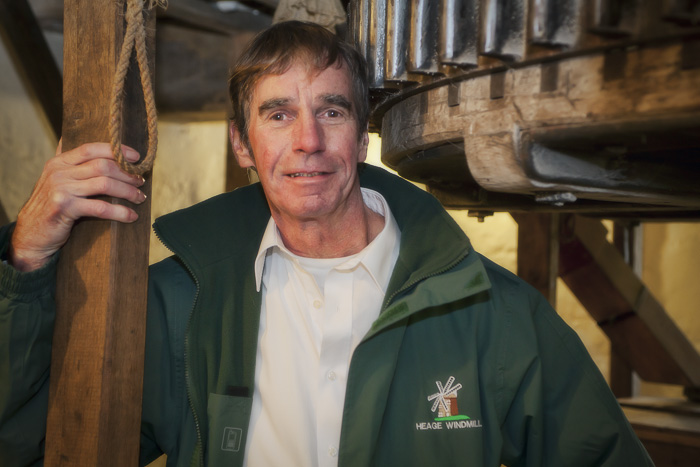 I joined the Friends of Heage Windmill in its early days, in 1997.  This was mainly due to my lifelong involvement in Engineering, starting at 16 in the Mining Industry through to Sales and Installation of Winches and Lifting Equipment, and a strong appreciation of something as simple and clever as a Windmill. I was constantly both fascinated and surprised how the early Mill operators and Engineers cleverly utilised every aspect of wind power. This was not just for turning the sails, but also other functions, like hoists and grain shaking mechanisms.
I had a brief involvement in those early days: I made and installed the three demonstration pulleys on the Bin floor, then, due to increasing work commitments, I had to step back from any further activity.
This situation changed when I took early retirement a couple of years ago and more time became available.  So, along with my wife Jenny, we decided to become volunteers in 2013.  We were made most welcome into the Maintenance Team, our first project being the creation of a wildflower garden.  Since then we have both been involved in and enjoyed many aspects of the myriad tasks required to keep the wheels turning.  We thoroughly enjoy our time spent at the Mill – even when it rains and is blowing a gale – as we have met some very nice and friendly like-minded people.  We are sometimes a little in awe of the dedication of the volunteers.
MEG TARLTON – Secretary to the Friends of Heage Windmill and to the Trust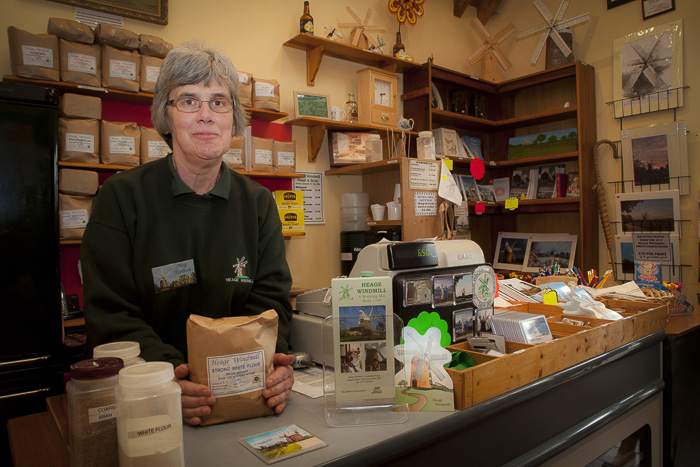 When I retired in 2007, one of the early and very dedicated volunteers at the Mill asked me if I would like to go along. I knew about the Mill and am interested in Industrial history so said I would try the Visitor Centre. I then discovered that working in libraries had given me a lot of transferrable skills and I enjoyed it so much that I am still volunteering in the Visitor Centre. Then, I started doing minutes for meetings followed by being the secretary. I am so glad that I went on that first day because I have made new friends and met a lot of interesting people – both volunteers and visitors.
MONICA COOPER – Guide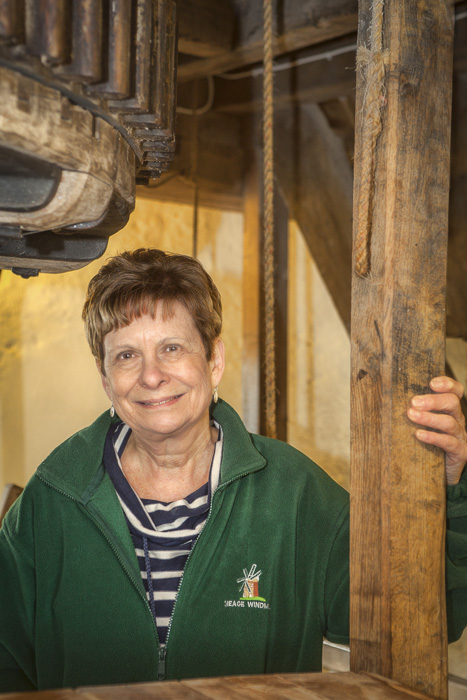 I first volunteered as a Guide at the Mill in 2004.  I'd just moved to Heage, and I thought it would help me to feel part of the village community – which it did.   And working at the Mill is also a wonderful antidote to my stressful weekday occupation – it couldn't be more different.
I love taking people around the Mill and showing it off to visitors, with all its creaks and groans and its interesting tales.  It's such an amazing building too, and when we're milling it feels almost like being on board a ship – though the noise level makes the commentary very hard on the throat!  I love describing the processes too.  They're so ingenious in their simplicity.
I wish I'd been involved in the renovation – it must have been incredible.  But I have been able to see the Mill and its surroundings evolve since I joined, and it seems to get better every year.  And so does the warmth and friendliness of the Mill community.
PETER WHITE – Trainee Miller and Maintenance Volunteer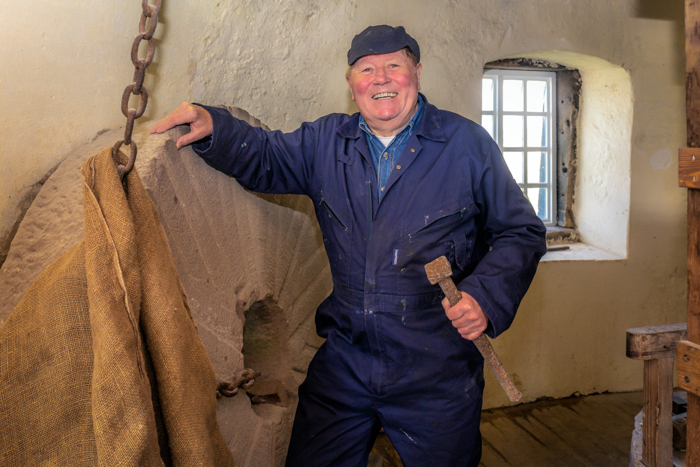 I knew Heage Windmill from the time when I worked at Derbyshire County Planning Department, but only as a beautiful feature of the landscape – with nothing working inside.
Years later, with the windmill beautifully restored, my opportunity to  join the Volunteer Team came through a chance encounter at the Heage Windmill stall at the Belper Food Fair.
Impressed by the massive historic mechanism that had been restored inside the Mill and by the friendly reception I was given by the  Volunteer Team, I immediately signed up as a Trainee Miller and Trainee Guide.
Every time I go to Heage Windmill to help out, I learn more and more from the friendly and talented Volunteer Team.
IAN KENT – Maintenance Volunteer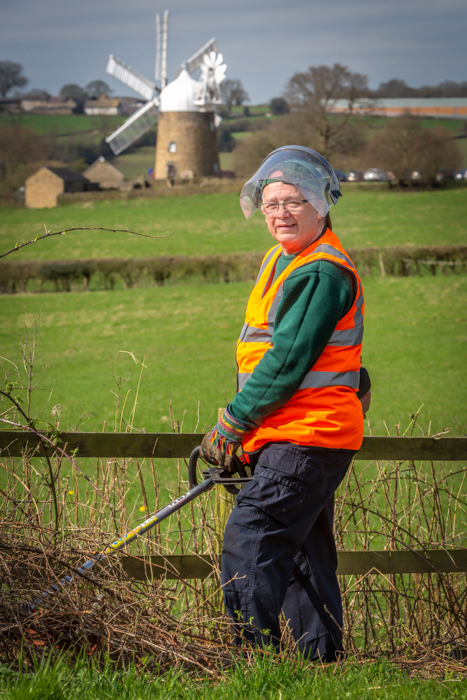 I retired in 2013, and had been thinking about volunteering.
A year later, the Derby Telegraph made an appeal for volunteers on behalf of the windmill so, with my partner Eileen, we made a visit.
After speaking to Lynn and Meg in the visitor centre and viewing the windmill close up, I was hooked.
On the very first day of volunteering, everybody was so helpful and amicable.  My first job was helping David with a board for artefacts which I helped to install and mount the artefacts upon it.
The following year I took to a lot of grass cutting and strimming, and it wasn't long before I was called Mr Strimmer.  I really love it here – it's such such a friendly atmosphere.
SUE HATCHER – Visitor Centre Volunteer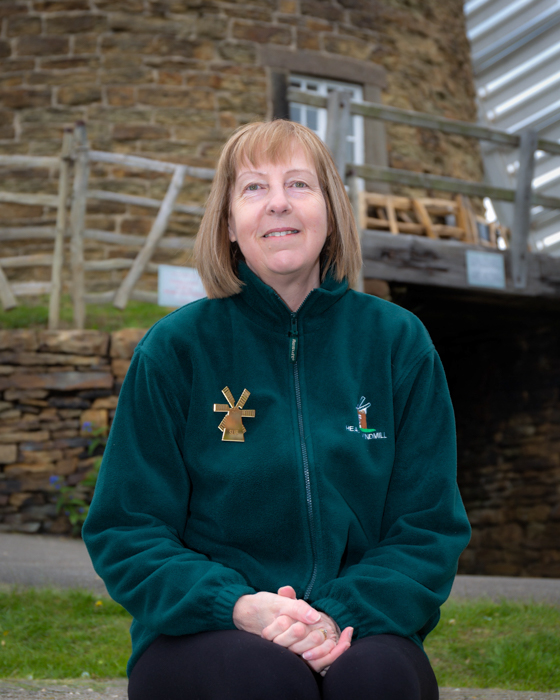 We moved into the village early in 2013. In that summer we were able to see visitors at the mill and to hear the shutters being opened and closed as the sails turned in the wind.
Once we had settled into our new home, we wanted to use our spare time to volunteer and the windmill was an obvious choice.  Since 2015 I have been helping in the Visitor Centre and at events throughout the season.
I now help to edit the Grist newsletter which is distributed to all the Friends of Heage Windmill.
Working with the other windmill volunteers has helped me get to know so much about the mill and the local history. With some of our volunteers having lived locally all of their lives they have many interesting stories to tell. It is also always a pleasure to chat with our friendly visitors who have travelled from near and far.
JANIS WATSON – Visitor Centre Volunteer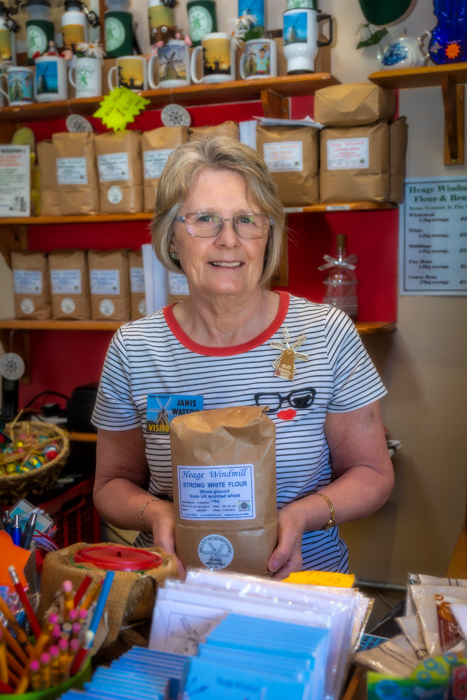 I started as a volunteer at the windmill in 2017 after retiring from a career as a health professional.
On retiring I recalled an article I had read in our local newspaper, 2 years previously, where the windmill was asking for more volunteers.
I can remember thinking at that time that once retired I may like to volunteer, as a complete change would be good.  So, as soon as I could I contacted Lynn, who invited me up to the windmill where I was made really welcome.  I started as a volunteer on the following Saturday, working in the visitors centre and events.
I attended the school opposite the windmill when it was a Secondary school and  remember going to the windmill with the class.  I feel lucky to be part of an extremely dedicated team of volunteers and, having been a part of my growing up years, it's good to come back in my later years of life.