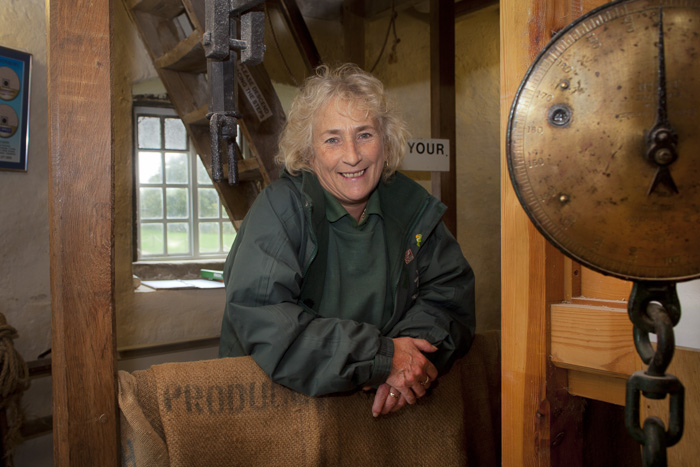 LYNN ALLEN – Events and Volunteer Organiser (and general dogsbody)
I started at the windmill the second week it opened in May 2002.
I saw an article in the Ripley and Heanor about the mill opening the week before, so I popped up to see what it was all about. I was given an A4 sheet on guiding and information regarding the mill and was told to come back next week. I have been there ever since.
Starting as a guide, and then helping with bagging the flour and going to farmers markets. I was then asked to help with events and organising the volunteer rota. That then became organising the midweek visits too.
The windmill is a big part of my life. I love meeting people, and we have great fun too.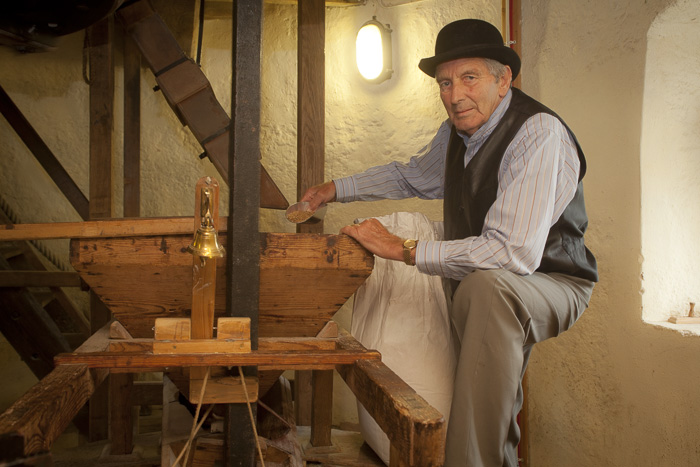 JOHN LEA – Miller
I have had a very varied career and lived in many different places.   Now settled in Crich, I needed something worthwhile  to do.  After replying to the appeal for volunteers, I started as a guide and have been at the windmill for 3 years.  I am now, after much training, a qualified flour miller.  I enjoy the friendship of all at the mill and the regular 'grind'!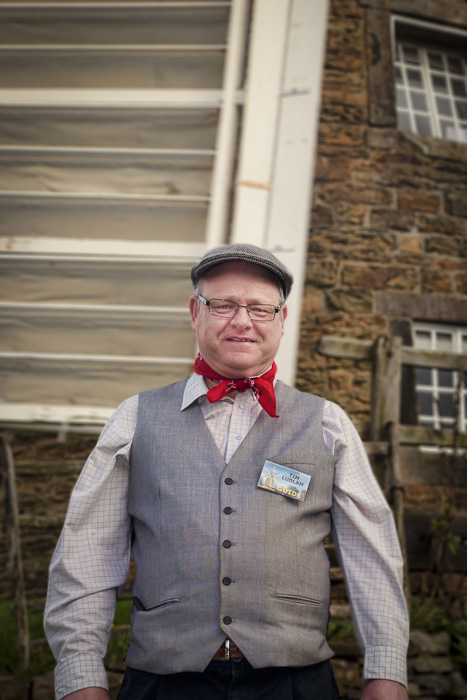 TIM LUDLAM – Guide
For a short time I lived in Nether Heage and saw the windmill every day so when I was told the windmill was looking for volunteers, I went to see what I could do to help.
I am passionate about local history.  From the  age of eight, I would regale stories of my relative Isaac Ludlam, who was a leader in the Pentrich Revolution. And about my great grandfather 'Sinker' Sam who sank pits; his wife was the sister of William Booth, founder of the Salvation Army.
Now I am a guide here, I am able to tell stories of the families who worked and lived in the windmill and, more recently, the volunteers who restored this wonderful windmill.
ALAN ECCLESTON – Miller
When we moved to Nether Heage in 1976, the view out of our back window was up to Heage Windmill. I think I fell in love then with the mill and it has been part of my life ever since.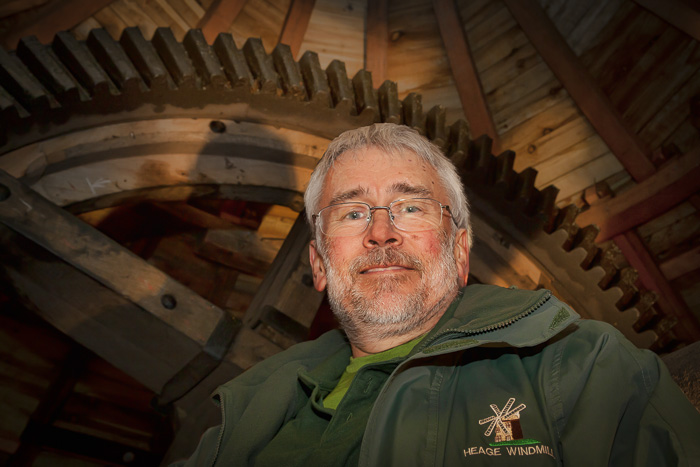 I have spent most of my working life around rotating machines as an engineer at Rolls-Royce and at the windmill you actually get the opportunity to be inside a machine when it is working! I just love the vibrations, sound and smell of the windmill when she is running 'balls out'.  When I retired, I got involved in doing some of the maintenance at the mill, and soon realised I wanted to train to be a miller, to learn to drive this beautiful old machine. So I qualified as a 'freewheeling' miller and have just completed my training as a flour miller.  Where else do you get the chance to work in a 200 year old food factory?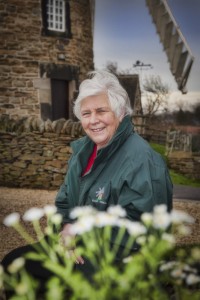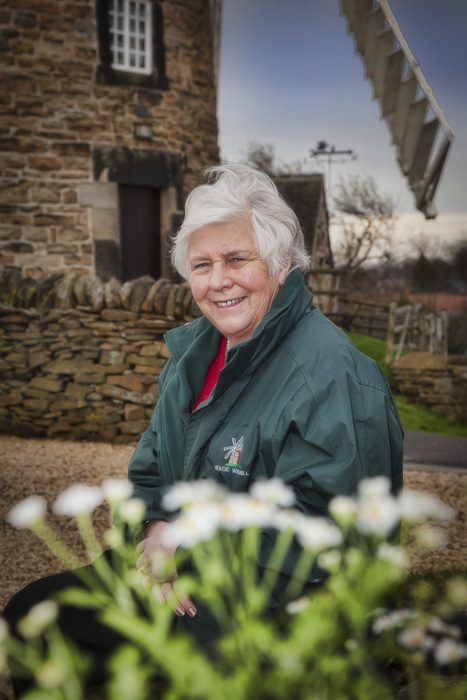 JENNY LAND- Maintenance Team
I joined as an active volunteer, with my husband, David, in February 2013 and I was welcomed into the Maintenance Team.
I was asked to create a garden from a neglected area near to the Mill, which I achieved and thoroughly enjoyed doing.
I enjoy the involvement of generally assisting to keep the Windmill neat and tidy for the benefit of visitors, and this gives me a nice sense of reward and satisfaction.
DAVID LAND- Miller (Freewheeling) / Maintenance Team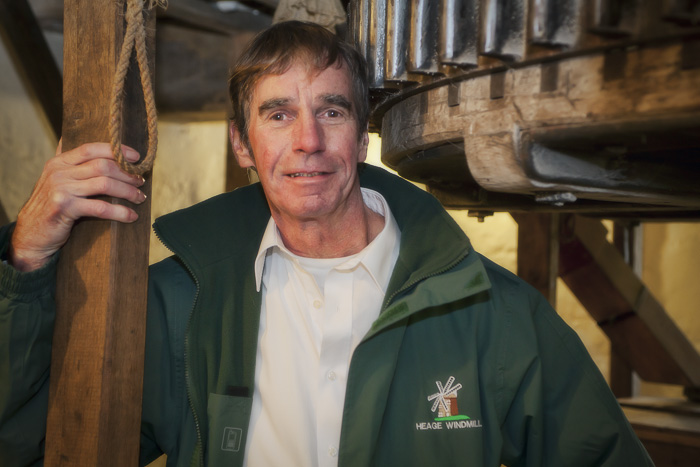 I joined the Friends of Heage Windmill in its early days, in 1997.  This was mainly due to my lifelong involvement in Engineering, starting at 16 in the Mining Industry through to Sales and Installation of Winches and Lifting Equipment, and a strong appreciation of something as simple and clever as a Windmill. I was constantly both fascinated and surprised how the early Mill operators and Engineers cleverly utilised every aspect of wind power. This was not just for turning the sails, but also other functions, like hoists and grain shaking mechanisms.
I had a brief involvement in those early days: I made and installed the three demonstration pulleys on the Bin floor, then, due to increasing work commitments, I had to step back from any further activity.
This situation changed when I took early retirement a couple of years ago and more time became available. So, along with my wife, Jenny, we decided to become volunteers in 2013. We were made most welcome into the Maintenance Team, our first project being the creation of a wildflower garden. Since then we have both been involved in and enjoyed many different aspects of the myriad tasks required to keep the wheels turning. In conclusion, we enjoy our time spent at the Mill, (even when it rains and is  blowing a gale), as we have met some very nice and friendly people who are like minded. We are still sometimes a little in awe of the dedication of the volunteers.
MEG TARLTON – Secretary to the Friends of Heage Windmill and to the Trust.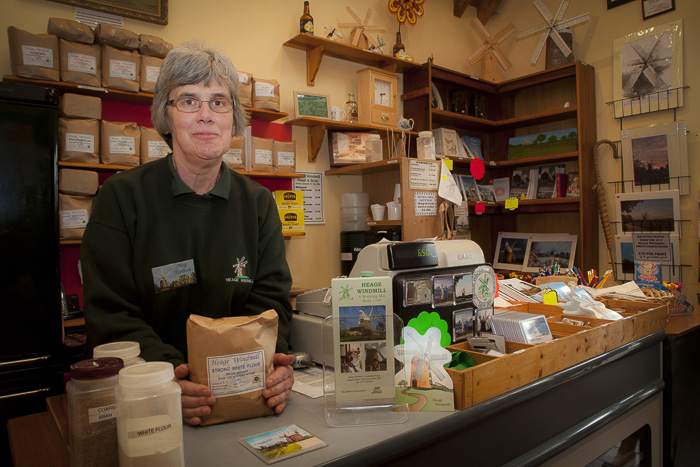 When I retired in 2007, one of the early and very dedicated volunteers at the Mill asked me if I would like to go along. I knew about the Mill and am interested in Industrial history so said I would try the Visitor Centre. I then discovered that working in libraries had given me a lot of transferrable skills and I enjoyed it so much that I am still volunteering in the Visitor Centre. Then, I started doing minutes for meetings followed by being the secretary. I am so glad that I went on that first day because I have made new friends and met a lot of interesting people – both volunteers and visitors.
SAMANTHA WRIGHT – Guide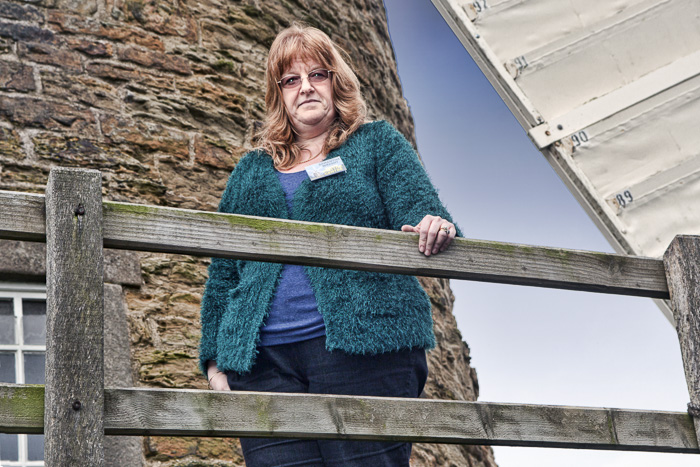 I became a volunteer at Heage Windmill at the end of the 2013 season, as a way of getting myself back amongst people after a 10 year period of being away from work raising my two sons.  As a child I used to love watching Camberwick Green with Windy Miller being my favourite character, and I think that it is from this that I got my love of windmills. As I trained to be a chef I like to use good quality produce and also know where my goods come from, so it is lovely and convenient to be able to pop up to the mill, lend a hand and pick up a bag or two of good quality flour. Heage Windmill, on a lovely sunny day especially, is a very welcoming and beautiful place to be, with just the noise of the sails turning and lovely people who work there.
MONICA COOPER – Guide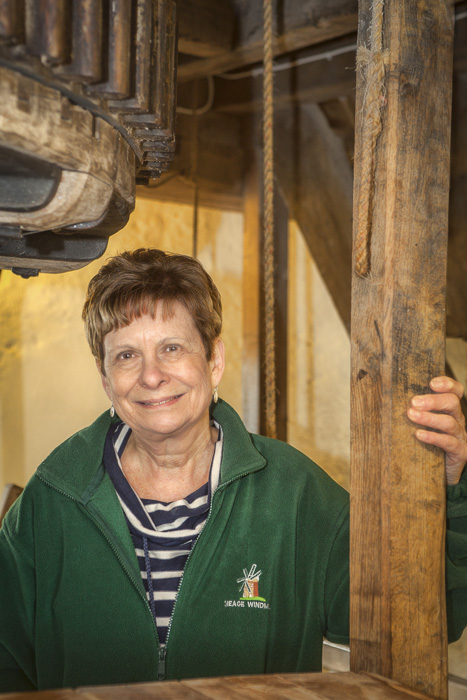 I first volunteered as a Guide at the Mill in 2004.  I'd just moved to Heage, and I thought it would help me to feel part of the village community – which it did.   And working at the Mill is also a wonderful antidote to my stressful weekday occupation – it couldn't be more different.
I love taking people around the Mill and showing it off to visitors, with all its creaks and groans and its interesting tales.  It's such an amazing building too, and when we're milling it feels almost like being on board a ship – though the noise level makes the commentary very hard on the throat!  I love describing the processes too.  They're so ingenious in their simplicity.
I wish I'd been involved in the renovation – it must have been incredible.  But I have been able to see the Mill and its surroundings evolve since I joined, and it seems to get better every year.  And so does the warmth and friendliness of the Mill community.