Millers and other people who were associated with Heage windmill,   pre 1919.
A flour mill without a miller is not very productive, and we thought we ought to carry out some research into both millers and other people who made the windmill  at Heage so successful until she closed due to storm damage, coupled with a poor economic situation, in 1919.
Most of the information on millers pre-1850 has been sourced from trade directories and publications in the press. The following represents the most complete listing we have at present:-
Source                  Date       Name                                                  Entry
Advertisement       1798       James Turton, Crich                           'will let mill'
Advertisement       1802       Joseph Booth (or Rooth)                    occupier
Advertisement       1805       R Ashley                                              occupier
Advertisement       1808       William Norman                                  deceased  miller
Advertisement       1816       J Walters                                             'on the premises'
Advertisement       1816       Mr Whysall                                          'Mare Hay Nr. Ripley'
Parish Register     1820       William Simpson                                   miller
Parish Register     1820       Samuel Argile                                       miller
Parish Register     1823       Abraham Whysall                                 miller
Glover                   1829       Joseph Morrell                                      miller – victualler (at 'Black Boy')
Parish Register     1830       Thomas Renshaw                                 miller
Pigot                      1835       No miller listed
Pigot                      1842       No miller listed
Tithe Award           1843       Samuel Hawkins                                 miller/occupier
Advertisement       1846       William Clark &
Samuel Hawkins:                 roles not clear
Pigot                      1846       Isaac & John Shore                            residents
Bagshawe             1846       William Clark                                       miller – victualler (at 'Black Boy')
Bagshawe             1846       Thomas, Isaac & John Shaw (Shore): millers
Slater                     1850       No miller listed
White                     1857       Clark & Hawkins                                 millers
White                     1857       Edward Gell                                        managing Corn Miller
Harrison Harrod    1860       Isaac Shore & Co                               millers
Harrison Harrod    1870       Shore, Messrs                                     millers
Kelly                      1876       Isaac Shore & Co                               millers
Kelly                      1881       Isaac Shore & Co                               millers & farmers
Kelly                      1891       Joseph & Enoch Shore                       millers
Bulmer                  1895       Shore, Isaac & Co.                             Windmill, Millers & corn factors
(Enoch & Joseph Smith Shore), Over Heage               millers
Kelly                      1895       Shore, Joseph & Enoch,                     millers (steam, water & wind),                                                                                                                                    & farmers.
Kelly                      1900       Shore, Joseph & Enoch,                     millers (steam, water & wind),                                                                                                                                    & farmers & coal owners
Cook                     1903       No miller listed
Kelly                      1908       Joseph & Enoch Shore                       millers & farmers
Kelly                      1912       Shore, Joseph & Enoch                      farmer, Heage Hall
Family data           1919       Thomas Isaac Shore                          miller at closure
Kelly                      1922       No mention of a Shore running a business or the windmill
 (The names – Glover, Pigot, Bagshaw, Slater, White, Harrison Harrod, Kelly, Bulmer all refer to Derbyshire Trade Directories, published in the year shown.)
Unfortunately  little more is known about the millers who worked Heage windmill in its early days but rather more is known about the Shore family who owned and worked the mill for over 60 years.
The Shore Family
Thomas Shore, born in 1883, was the last miller to work the mill until she ceased commercial operations in 1919.
The Shore family has a very long pedigree. Sir John Shore of Derby (1616-1680) was a doctor of medicine and the main streams of the family appear to stem from him with branches in many parts of the country.
The Shores married into various titled aristocratic lines and a John Shore of Heage married Hannah Elliott in Duffield in 1785. Their children were Isaac (b 1788), John and Hannah. Isaac married a Mary Wainwright, of Heage, and they had two boys, Enoch (b 1813) and Thomas (b 1815), later of the Tower House 10, Malthouse Lane, Heage, a miller and grocer, and Isaac (b 1819), possibly a clockmaker.
Thomas was a prolific writer for the Original Methodists' Record, a newsletter, and died in April 1886.
The three brothers bought Heage Windmill in 1850 and later expanded the business to include the water and steam mills at the bottom of Dungeley Hill. It was the only milling business I know in the country (certainly in Derbyshire) to be powered by wind, water or steam, as necessary.  Isaac had two sons, Enoch (b 1844), also a miller, and Joseph Smith Shore of Heage Hall. When he moved from there, he built a bungalow in Slack Lane, Nether Heage and recorded the fact with his initials carved on one of the window lintels as 'JSS 1925'. His son was Thomas Isaac (b 1883) and, as noted above, he was the last miller at Heage Windmill.  A visitor to the mill has reported that she owns a cello which was known to have been made by one on the Shores – so they were quite a versatile family.
It was also interesting to note that a William Shore married into the family of the very rich lead merchant, Peter Nightingale, of nearby Lea Hall, Derbyshire. However, in order to preserve the Nightingale line he adopted the family name and his daughter was the famous Florence Nightingale, of nursing fame – so she really was a Shore too!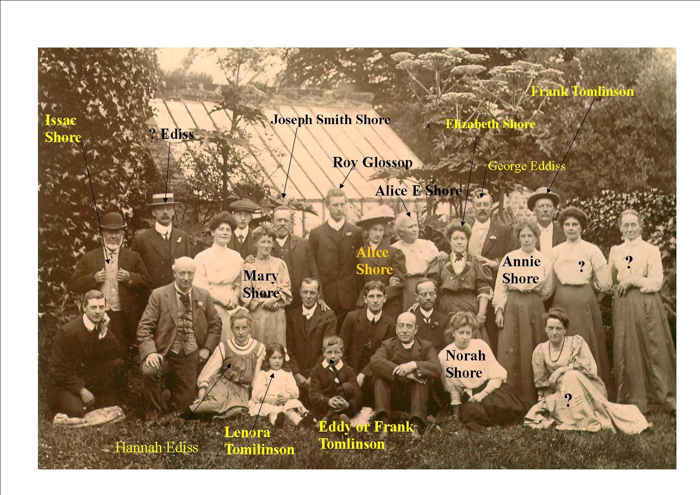 A family group of Shores, taken at Heage Hall in 1905, includes some men who were millers.
The last miller to operate Heage windmill commercially was Thomas Shore.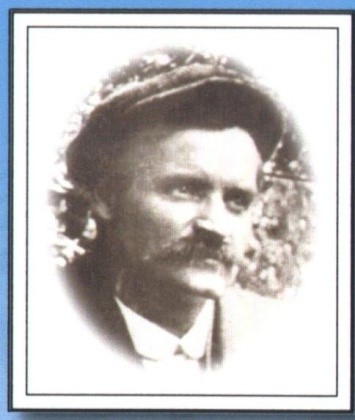 Apart from being a miller Thomas was an artist of some local repute and it is to him we owe this painting of the windmill, viewed over the Miller's cottage and garden.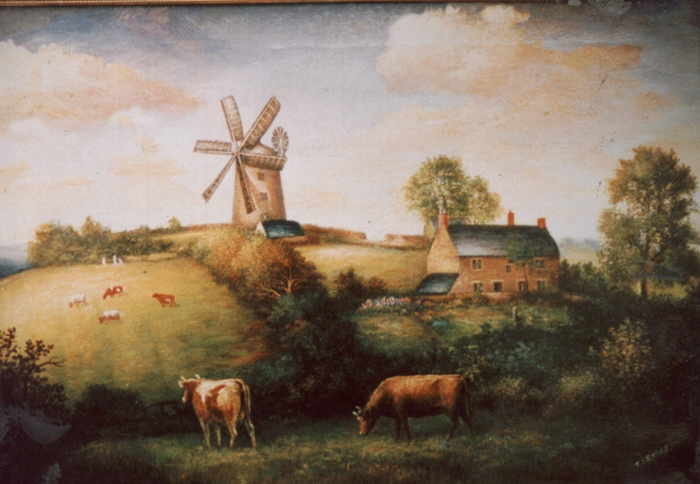 Apart from the millers we cannot ignore two men who played a big part in her repair after she was tail winded in 1894.
George Chell – Millwright
It has been well known locally for many years that George Chell was the millwright who was responsible for the repair of the windmill after she was tail winded in 1894 and that much of his work still remains in the mill to this day. But who was George?
Some more information has emerged thanks to Betty Shillingford, a member of The Friends, who is related to the family.
His father was Benjamin CheIl, born in Derby about 1785 but who, in September 1784, for some reason was christened in Melbourne, Derbyshire. Benjamin worked as a millwright and married Ann Noble, who was born on the 17th May 1810, in nearby Fritchley about 1792, in  Crich. They had five children, four boys and a girl.
Thomas, born in 1812, also became a millwright. Joseph died aged 37, but his occupation is not known. Benjamin followed a year later and also became a millwright whilst Hannah, born in 1820 (although records appear to show she was christened in August 1818!) worked as a framework knitter. George, the youngest, was born in 1821 and married Mary Pryson in Alfreton, on 31st December 1845.
As we know, George was also a millwright so here we had three of the sons and their  father all following the same calling! George lived in Fritchley and had a stone plaque on the side wall of his house announcing his trade. He died in July 1898 and in his will left all his estate to two sons, William Noyser CheIl and Henry Chell.
Joseph Spendlove – Joiner
We know that Joseph Spendlove from Heage made the original ogee cap that figures on photos of the mill before the 1970s partial  restoration work by Derbyshire County Council. The ogee cap he built in about 1894-5, after the gale had tail winded the mill, was typical of many others and had tiled wooden boarding as the outer covering. The cap was constructed on the ground, broken down into component parts and then re-built in situ – no mobile crane in those days! But also no H & S at Work either.
The 1970 replacement initially copied the original tiled wood covering but this proved to leak badly and it was quickly replaced with a rather less attractive cover of a sheet aluminium laid over the shaped plywood ribs. Our present refurbished cap, built on the ground but lifted by a mobile crane,  has more traditional solid wood ribs and is clad with a double layer of larch boards, interspersed with a water proof membrane and further protected by a heavy painted canvas covering.
The one photo we have seen of a Joseph Spendlove showed him to be a smart young man, but unfortunately it was undated. 'Spendlove' we find is a common name in the Turnditch, Crich, Duffield and Long Eaton areas of the county and it has proved difficult to find with any certainty 'our' Joseph, but knowing of his work at the mill post 1894 he had to have, by then, been a mature man. A Joseph Spendlove certainly married Elizabeth Abbott on the 26th December in 1886 in Heage, so this may figure. Probate was granted in respect to the will of a Joseph Spendlove, who died 22nd May 1921. Was this man the repairer of the cap after the 1894 gale?
The grandson (John Spendlove) of Joseph Spendlove, who had repaired the mill after the Great Storm in 1894, advised me that Joseph had lived in Ambergate.  John's father, Joseph, well remembered his own father as the man who had repaired the mill. He had later lived in a house by Heage Church, but he was also the landlord at the White Hart for many years and he was there when he repaired the mill. The grandson said he was told the timber for the sails came from old pit head gear from the coal mine at Stanley Common and that the original tiled wooden roof to the cap was made from oak boards cut from Graves Wood, not far from the mill.
His grandfather was apparently killed, in about 1921 in a field where Bowmer and Kirklands now are located, when a cow he was milking kicked him.
Currrent Millers
It would be remiss of me not to mention our current millers!  They are all volunteers who undergo a rigorous training programme before they are permitted to produce flour. This is in order to ensure that the mill meets all necessary standards and Health & Safety requirements, apart from ensuring the mill itself will not be  damaged. These requirements did not exist when the mill was used commercially!
The information on some the names included in the text above is, in some cases, rather sparse and we would be pleased if any errors, corrections or indeed any new information could be sent to  us. Thank you.
Alan Gifford