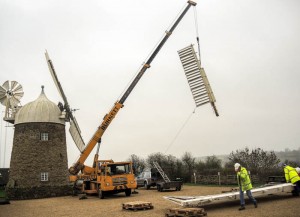 It was a suitably dreary, damp day at 8-00 am on Thursday,26th November when the crane arrived at the windmill to play its part in the removal of the sails – the first stage in repair of the mill following the discovery of wet rot in some key structural components.
Fortunately the wind was negligible, a critical requirement when handling large components designed to catch the wind!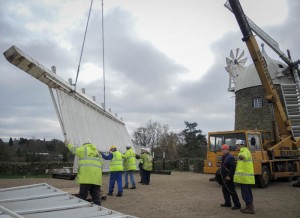 A local contractor, Dave Nicholls and his mate worked hard to release the eleven huge bolts on the first sail which fasten the sails to the iron cross – the largest was about 14" long and 1 ¼" diameter.
The crane supported the sail whilst this was done and by 9-30 the first one was being guided to its initial resting place, laying flat on wooden pallets.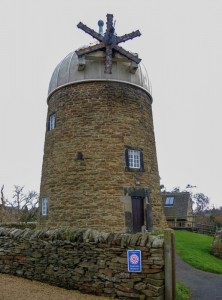 The volunteer team then removed the wooden leader boards from the sails and made the control rod for the shutters secure.
Meanwhile the millwrights started to remove the next sail and the whole process was repeated six times.
All the sails were then repositioned to stand vertically ready for the next stage – transport to a dry workshop where they will be carefully checked and any repairs carried before painting – again by the mill volunteers.
By 1-00 pm all the sails were off and stacked and the workers gathered round to celebrate the successful completion of this phase of the work.
The mill however looked strangely bare without her sails… But the sails WILL turn again.
Here is a gallery of the day the sails were transported from the windmill to the workshop.