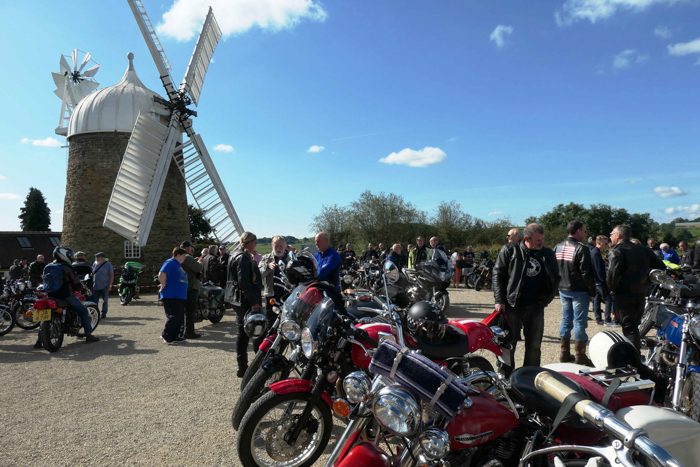 Well over 200 classic motor bikes came to Heage Windmill in what was their second visit of 2019.  The weather was exceptionally kind with lots of bright sunshine and the crowds flocked in to enjoy both the bikes and the mill.
The bikes were of all types, ranging from tourers to out-and-out racers, and included many well known makes such as BSA, Honda, Royal Enfield, Triumph and Kawasaki.
By the time the mill opened at 11-00 am there were already dozens of bikes lined up with their proud owners standing close by to answer any questions posed by the visitors.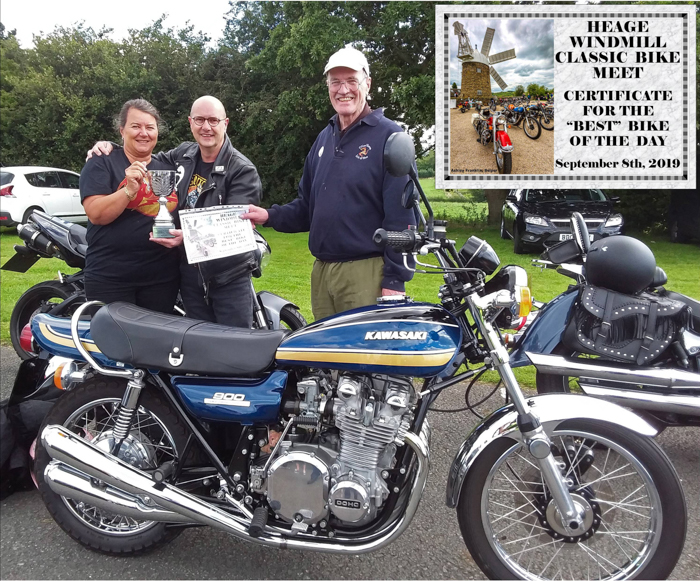 The Best Bike of the Day was judged to be a Kawasaki Z1B 1975 900cc. The proud riders of this bike – Maureen and Neil Warburton from Draycott – were presented with the Dave Cleaver Memorial Trophy plus the certificate for the Best Bike of the Day by Colin Clemens, who organises the bikes coming to the mill. The owner of the bike is Maureen Warburton.
Photo of the winner courtesy of Lynn Allen and other photos by Anthony Sharp.
The ever-popular Bric-a-Brac stall was on site and received a lot of attention.  All in all it was a memorable day.