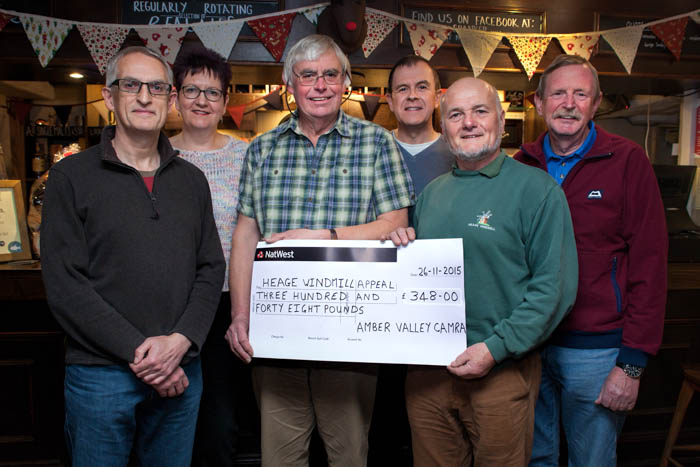 Heage Windmill's Trouble at Mill Appeal (TAMA) is £348 better off thanks to the Amber Valley CAMRA Beer Festival held recently.
Heage Windmill Society Trustee Tony Cooper – himself a CAMRA member – contacted Amber Valley CAMRA to ask if he could shake a tin at their annual beer fest.  The next thing he knew, the Trouble at Mill Appeal had been adopted as the Festival's nominated 'good cause.'
The result was a collection of £348 which was presented to Tony, on behalf of the windmill, at AV CAMRA's branch meeting at the Spanker in Nether Heage.
'AV CAMRA really took the mill's appeal on board,' says Tony.  'As well as having a display desk at the festival, we had a whole page in the free festival programme where our appeal was explained, and the CAMRA cash desk volunteers were collecting cash from departing drinkers throughout the four-day festival.'
As Tony continues: 'Thanks to the generosity of local people and the goodwill and support from groups like AV CAMRA, we now have sufficient funds to get started with the majority of the work involved in repairing the sails.'