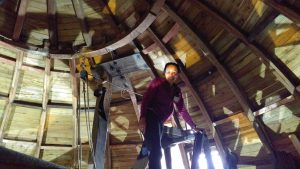 Aimee Bedward from Birmingham – a dedicated mill enthusiast – was given the ideal birthday gift by her friend Phil: a 'Miller for the Day' experience.
This enabled Aimee to enjoy a day's  training and activity at Heage Windmill, including milling some grain.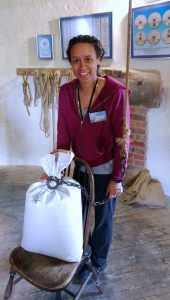 Under the supervision and guidance of millers  Anthony Sharp and Tim Castledine, Aimee first started the sails turning, to the delight of watching  visitors.
The sails turned for about an hour requiring her to make frequent adjustments in a variable wind.  It was then decided to introduce Aimee to the process of milling.  She successfully milled 20 Kg of excellent quality Wholemeal Flour.
Later Aimee was in the cap (at the top) of the mill to close the Mill down or, as we say, 'put the old lady to bed'.
Aimee said she had had 'a simply amazing day'.
Fancy being a Miller for the Day or gifting someone that experience?  Click here to find out more…