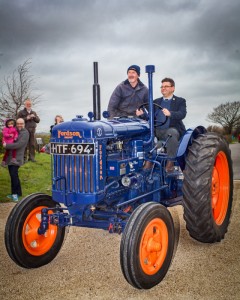 On a cold, blustery morning at Heage Windmill, Heage Windmill's 2016 season opener Adrian Farmer warmed the cockles by praising the volunteers of the mill for their 'astounding' efforts in not only creating a great visitor attraction but also raising in excess of £40,000 towards the restoration of the sails and cap structure, only eight months after launching the appeal.
'You should all be very proud' declared Adrian, who knows all about volunteering, having been Highly Commended in Visit England's 2012 Tourism Superstar Awards.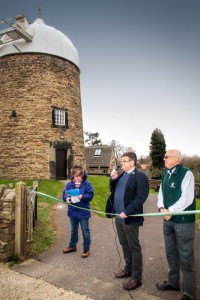 Adrian, coordinator of the Derwent Valley Mills World Heritage Site, arrived at the windmill in style, driving a vintage tractor kindly provided by John Allsop of Belper.
Chair of Trustees Piers Bostock welcomed the gathering of volunteers, friends, visitors and guests – including the High Sheriff of Derbyshire Oliver Stephenson and his wife Fiona.
The Chair of the Friends of Heage Windmill, Angela Ward (wearing a fetching furry hat), then introduced Adrian, listing his multifarious achievements, including his several books about Belper and the Derwent Valley and his close association with Belper, which began when he joined the Belper News as a 23 year-old, making him the youngest newspaper editor in the country.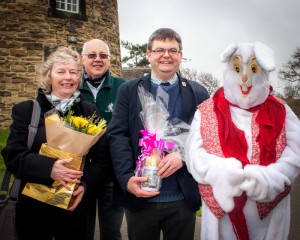 After cutting the ribbon and declaring the season open, Adrian and his wife Mary were presented gifts by Heage Windmill's very own Easter bunny Wosemary Wabbit.
It's usual to present the guest opener with a bag of Heage Windmill flour.  However, with the sails having been removed last summer for urgent repairs, founder Trustee Alan Gifford handed Adrian an empty brown paper bag but which bore a label promising to fill it with flour once the millers start milling again.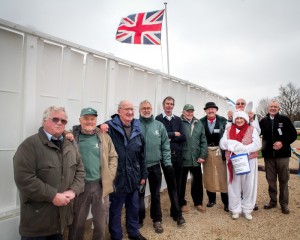 Ironically, in spite of the wind, one miller said that it was actually too windy to turn the sails!
The sails should be turning again at the end of April.  In the meantime, the windmill is open for visits every weekend plus Bank Holidays through until October.
Visitors have a chance to view the sails close up as they are now on site.
Pictured left are some of the volunteers who all helped with the restoration of the sails.
Here are more photos from the opening.