The mill officially opened for the 2012 season on Saturday, April 7th. See all the photos…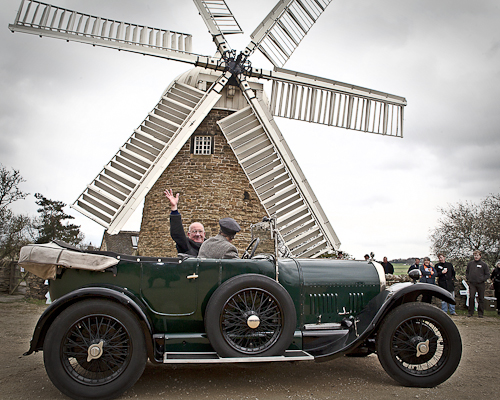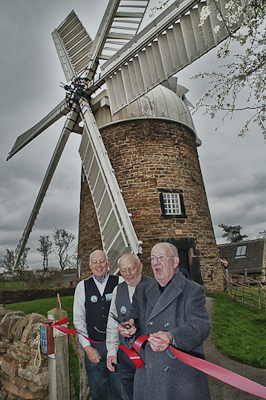 Heage Windmill was opened for its 11th season by Mr Alan Gifford, Trustee, Volunteer and Visit Peak Excel Volunteer of the Year 2011.
Alan was driven  to the windmill in an open-topped, 1926 vintage, 3.5litre  Bentley and was welcomed by the Belper Town Crier and a retired Royal Marines Bugler, as well as fellow Trustees, Friends and other Volunteers, members of Midlands Mills Group, members of the Shore family and many other visitors to Heage Windmill.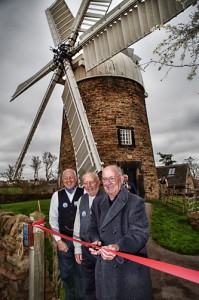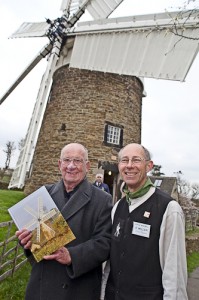 Alan was first asked to unfurl the Derbyshire flag to open the site and then to cut a ribbon to open the mill doors for the season. Alan spoke of the journey that both he and the windmill had travelled during his 30 years of involvement, including the immense despairs and great triumphs that occurred during the restoration.
He was then presented with a specially made book recording his involvement working for Heage, and other mills, over the last 35 years.
The Chairman, Piers Bostock, spoke of Alan's constant presence over the years and likened him to a post mill, as it is "the post round which the whole mill revolves".
Alan then led the planting of a Hornbeam tree, from which it is hoped, eventually,  cogs which fit into the mill's stone nut, will be made. Many volunteers assisted with the planting.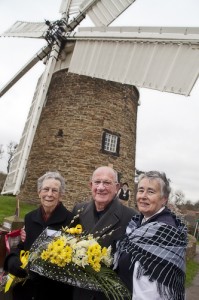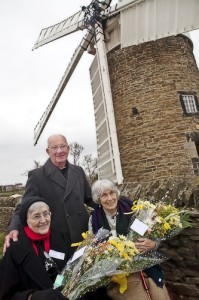 Alan was accompanied by his wife, Judith, his son Ian and daughter Anita and grandson Elliott Staley. Judith was presented with flowers from the Friends and Alan also presented flowers to two long standing volunteers, Margaret Bonsall and and Margaret Tomkins, who are recovering from illness,. Both were warmly greeted by all the Friends.
The Shore family, several descendants of whom were present today, had been owners, and millers,  at Heage Windmill between 1850 and 1919.