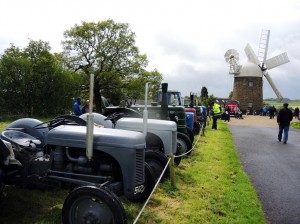 Heage Windmill celebrated National Mills weekend by welcoming vintage tractors, 'superior' motorbikes and a radio club.  In spite of the showers, visitors turned up in their numbers to enjoy the vintage transport.
The vintage tractors are a popular annual attraction and it was a pleasure for visitors to see such gleaming, beautifully restored tractors on display alongside their proud owners.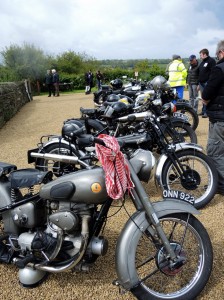 We also had a first-time visit from the Brough Superior Bikes Group, based in Winster. On display were some of the few Brough Superiors remaining in this country.  Some of them have been known to fetch up to £250,000.
These vintage bikes, which were manufactured in the East Midlands between 1919 and 1940, were dubbed the 'Rolls-Royce of Motorcycles.'  One famous owner – he had 7 – was Lawrence of Arabia.
We are delighted to learn that some of the Brough Superior Bikes Group hope to return for our Classic Bike Event on Sunday, July 27th.
We also enjoyed a visit from the Nunsfield Radio Club who set up portable transmitters over the weekend so they could contact similar groups at mills all over the UK.  Ouor thanks to the Group for donation to the windmill.
Below is a gallery of photos taken by Anthony Sharp.  Click on any image to view it larger.