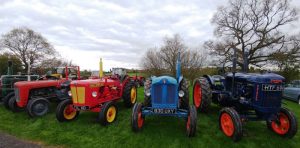 In spite of the grey, cold day, around 30 vintage tractors came to Heage Windmill with many people braving the conditions to come along and admire them.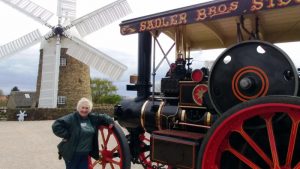 The oldest conventional tractor was thought to be a gleaming, dark green 1948 'Field Marshall' Diesel tractor; but this was a mere youngster compared to the 1923 Garrett Steam Traction engine Queen Mary, which had been beautifully restored.
It was initially owned by Sadler Bros of Stourbridge and used for hauling timber from local woods.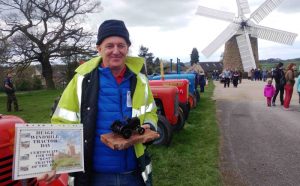 The current owner Dave Bosworth, of Smalley, has worked on her since 1991.
A 'Best Tractor Certificate' (as judged by the previous winner) was awarded to Dave Hornsey for his beautifully restored David Brown Task Master machine, dating back to 1948.
As well as a certificate he was presented with a model tractor mounted on a plaque.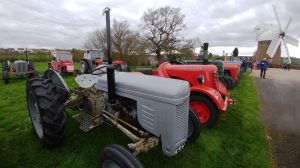 This beautiful trophy – composed of scrap pieces of tractor – was made by Chris Stout who won the certificate for the best tractor in September 2017.
This trophy will be returned and presented to the winner of the best tractor at the mill on 23rd September.
Many visitors, apart from admiring the tractors and pump engines which were also on show, took guided tours round the windmill, or picked out 'something they had been seeking for ages', which was on sale at our popular  Bric a Brac stand.