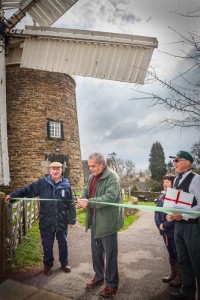 Our windmill is now open for 2015, with the opening ceremony ribbon being cut by John Boucher, a former Heage Windmill volunteer who played a vital role in bringing the windmill to life.
Prior to the opening, John drove down to the mill  on a 1948 Fordson Tractor, loaned for the occasion by John Allsop of Heage. Mr Boucher, who was the Project manager  for the restoration of the windmill in 2002, was welcomed by the Town Crier of Belper; Piers Bostock, Chair of Heage Windmill Society; and Angela Ward, Chair of the Friends of the Mill. Angela spoke at length of the debt the mill owed to John for his expertise in the bringing the mill back to life, and becoming a major Tourist attraction in Amber Valley. She also thanked the diminishing band of volunteers who keep the mill open, appealing for any potential new recruits to come and join  in the good work.
John was presented with a specially made book by John Hunter of the Friends to mark the occasion, illustrating his work over a 50 year span in working on various mills, including Heage.  In 2003, John was responsible for producing the first flour at the windmill for almost a 100 years and, in front of a sizeable gathering of supporters, said he was immensely proud and delighted to be invited to declare the mill open for its 14th season.
See Gallery below for more photos.  See photos here from the Derby Telegraph.