Major maintenance has now been completed at Heage Windmill. The mill was restored, with the aid of various grants, and much voluntary work, to enable it to open as a working windmill in 2002, producing stone ground flour in the traditional manner. For the first time since then, major work has been undertaken to ensure the secure operation of the mill in the future.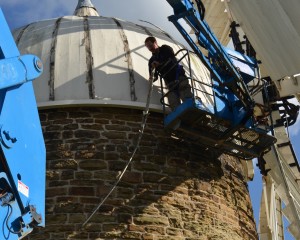 Neil, working from the 'cherry picker'  and removing the sealing laths from the cap.
There are currently few millwrights in the UK able to undertaken the task of recovering the movable top of the  mill (the cap) with heavy duty canvas and then repainting it to ensure a durable covering . We have been able to secure the services of Neil Medcalf, who is based in Farlesthorpe,  in Lincolnshire and who, despite adverse weather conditions, has now completed the task. He has also modified the mechanism which opens and closes the shutters, enabling a tighter seal when closed and thus improving the available power we can obtain  from the wind.
We hope that this work , which has been 100% funded from mill funds, will enable the mill to operate successfully for many years to come, maintaining its position as one of the most popular tourist attractions in the Amber Valley district.