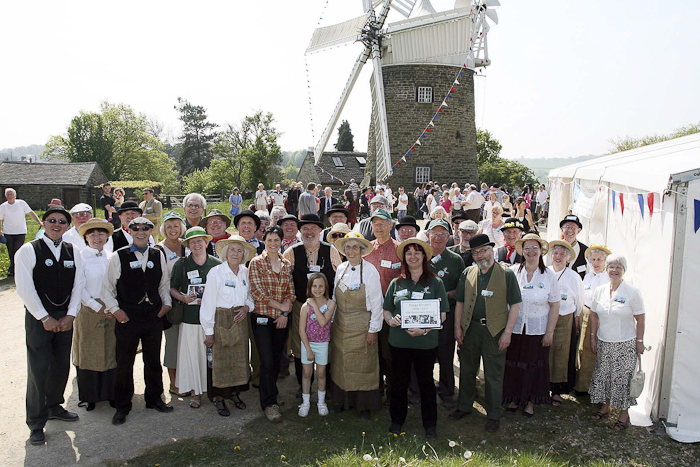 Heage Windmill cannot operate without volunteers, so why not Volunteer at the Mill? There are many different ways you can help – as a miller, guide, working in the shop or helping out at the farmers' markets. Read on… and, if you are interested, contact details are below.
Be A Miller 
The miller at Heage Windmill has overall responsibility for the mill during opening times. As a miller you will learn all about the mill mechanisms, how to prepare the mill so the sails can turn and generally how to look after the mill.  Once familiar with the basic operation of the windmill it will take a minimum of 4 formal training sessions before you are ready for your assessment and to become a qualified miller. Once you gain more experience you will be able to achieve the status of Flour Miller and mill flour for sale in the mill shop and at local farmers' markets
Be A Guide
Take a group of eager visitors on a guided tour of Heage Windmill. Explain the history, the story of the restoration, and demonstrate how the mill works. Guides at Heage Windmill always enjoy tailoring their tour to the group involved, whether it is adults wanting to know about the mill, or children eager to get their hands on the working displays!
Help at the Shop
The Visitor Centre and Shop at Heage Windmill are the first places that visitors go to. In the shop, visitors buy tickets for their tour, and a small range of refreshments is also available. You will not need any previous shop experience for this – just a friendly and outgoing personality! The shop is a good place for new volunteers to get involved with the mill.
Help at the Farmers' Markets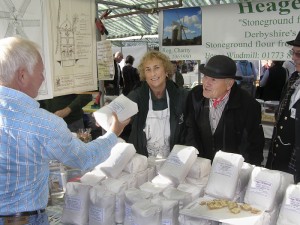 Volunters are very welcome to help out on our stalls at the Farmers' Markets at Belper and Bakewell. Mostly our stall sells flour, with some regular customers coming back for repeat orders! There is a high degree of interaction with the public who not only like to shop for our flour, but also like to ask about the mill itself. We always have at least two people on the stall so you will always have a more experienced volunteer there to help you out.
Contact Us
No previous experience is necessary. Interested? If so you will be made most welcome; please contact Meg Tarlton on 07970 710041 or email h.secretary.w@gmail.com