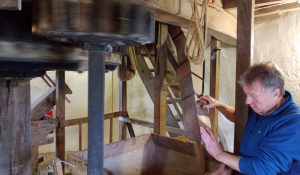 How would you like the unique, exciting experience of being 'Miller for the Day' at our Derbyshire Attraction and working directly with a skilled miller?  Here's how…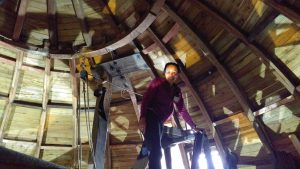 If you are interested – whether male or female – you need to be reasonably fit and able to climb the steep mill stairs many times during the day.
You will need to be at the mill from about 10.15 am to 5.00 pm so you can learn how to set up, operate, and close down the mill.
In so doing, you will become familiar with parts of the mill not normally open to visitors.  If the wind is blowing, we may even be milling flour!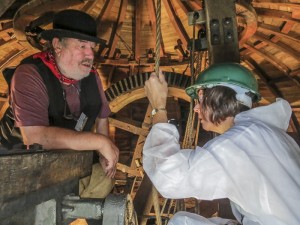 Here is a summary of the day:
Opportunity to go behind scenes at the windmill
Learn how the windmill is made safe and then freed before use
Discover the lubrication points
Examine* and check all mechanisms in cap and fan tail
Learn how sack hoist operates
Examine and check model dresser
Examine and use the Hand Quern
Examine and check the mill stone set up
Examine and check the dresser
Shown how flour is controlled and bagged up.
Shown how to start and stop the mill.  You will even get to have a go!
Shown how to control speed of mill
If sufficient wind (and with flour miller on site), mill a small amount of grain
Help close mill down at the end of the day
Receive certificate to record event
*in each case full explanation given as to how various parts help make the entire tower into a milling machine.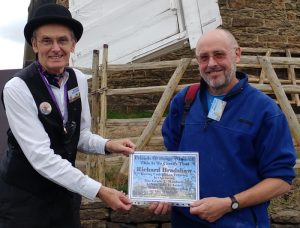 If you are interested, please contact Lynn Allen on 01773 715 177 (mob 07973 548 551) email lynnallen31@hotmail.com. or fill out a registration form by clicking here – HWP-026D-M4-Miller-for-Day-Registration-2 v2-December 2020
We make a moderate charge of £60 for the experience, the proceeds going into the mill maintenance fund.