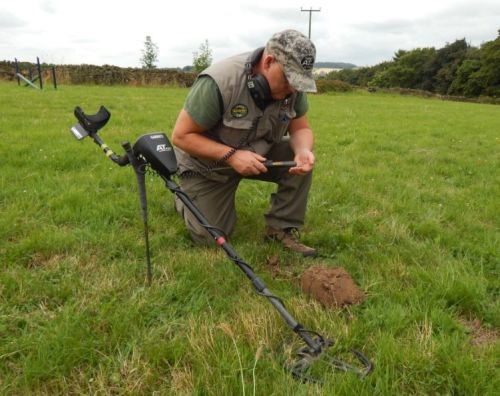 My name is Rob Johnson and over the past six years I have been looking at the History of Nether Heage & the main village of Heage, but from a different point of view. I was asked some time ago if I class myself as a historian or metal detectorist? My answer was both: I'm a "physical historian". I locate metal items from the past and find out the history and where they belong.  To physically hold a piece of history in your hand leads to many questions. What is its story? Who lost or put it there? How long has it been there? What I did not know at that time was how one phone call would lead me on a quest, taking me all over Nether Heage and into some of its the neighbouring village of Heage.
How it all began                                                                           
I was born in Lincolnshire and my family moved to Morley (near Derby) when I was 6 years old. When I was about nine or ten years old I buried a metal savings tin with some copper coins inside it in our cottage garden. In 1970 we moved again, to Kilburn a few miles away. Over the next 42 years I occasionally wondered if the tin was still there and vowed one day to go and look for it.
One Father's Day, my sons bought me a basic metal detector. This was the time to see if I could get permission to retrieve the tin.
My eldest sons, Karl and Chris, came with me to find out who now owned the garden. It was the Priory which had some time earlier been taken over and made into a hotel and golf course.  As the garden was now a disused piece of land (and over grown) I went to speak to the head person at the Priory and explained.  Permission was granted to look for the tin as long as we did not leave any holes or mess. I agreed and we started work. I knew roughly where to look.
After a lot of digging we found the remains of the tin. A few inches lower there was a coin, a 1963 penny. No more coins were found on looking around. The detector also picked a signal under a bush;         it was a WW2 ARP warden's badge in fair condition. This got me hooked on metal detecting as a hobby.
In 2008 I went to work as a sub-contracted security guard for a factory in Nether Heage. Whilst there I discovered that a large part of the site was once a World War Two Italian Prisoner of War camp, 'Camp 58'.  One Saturday morning an old gentleman called at the security office. He told me all about the camp and its relation to the village. He pointed out how the camp was set out. The old building that borders the road with its external staircase to the first floor was the camp Commandants office.
In 2011 I returned to work for the NHS and had more free time. I treated myself to a better detector and decided to turn my spare time into a regular hobby. My thoughts returned to the Prisoner of War camp. Was there any remaining evidence of the camp and its occupants, inmates or guards, other than the usual printed word or photograph?
I made a phone call to a farmer in Nether Heage, as I was told by a friend that he owned the field.
He told me that he did not own that field but only rented it from a neighbour. He invited me to look in the fields on his farm.  I did so and over the next few months visited the farm making some interesting finds.
One Tuesday morning in August 2011 I got a good signal in the field not too far from the house.  I dug down to around 5" depth. As I lifted back the plug there sat in the bottom of the hole, a buckle. I picked it out although it was stuck to some of the soil. As I carefully removed it, I could see some stones in it were missing and the soil was imprinted where the original stones had been.  This meant that they had been removed or had fallen out before it had been lost or discarded. I knew it was an old buckle, the style suggesting 1550 -1650. However I had not seen one like this with stones in, and what were the stones? I contacted Derby museum and spoke to the Finds Liaison Officer for the Portable Antiquities Scheme (PAS). She had a look at it and confirmed it looked 1550-1650 in date. The stones were examined by a jeweller who thought they were rough diamonds but on second inspection and test by another jeweller showed that they were white sapphires. A date of 1600-1720 was put forward and the buckle was recorded on the PAS database.  This led me to look at the whole village and to write a book about what I had found.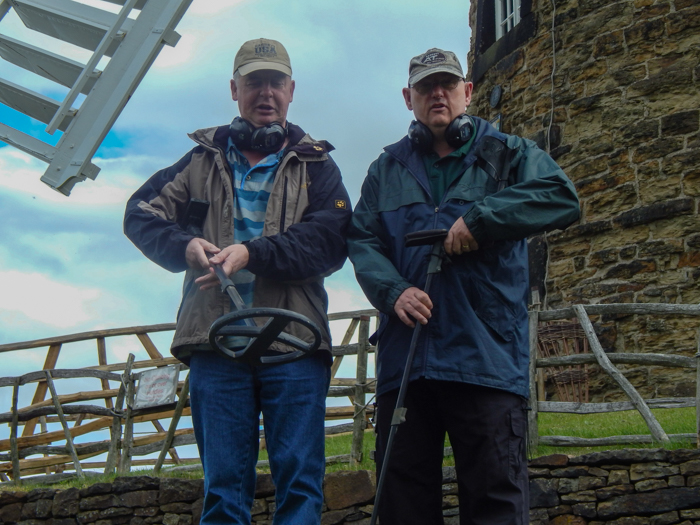 I found 3 books all telling the history of the area from the 1600s. Having read these, I visited and searched many farms and surrounding areas to see if I could find and recover items lost or discarded and link them to the time periods spoken about using a metal detector. In 2015 I gained permission to search the fields around Heage Windmill. I managed to find many items from the Roman/Saxon period onward. A good friend and fellow detectorist from Yorkshire, John Leary, was invited for a day's detecting at the Windmill. Over the past few years, John and I have visited each other's permissions for a day's detecting. John has found some amazing items on his own permissions. It was on this visit John found the medieval pilgrim's ampulla. The mill was built not far from the village church (St. Luke's) and Heage Hall which is believed to be the oldest building in the area. Both buildings were believed to be there around the time period of the ampulla. I gave a talk to the Windmill Society one evening in Oct 2015 where I presented all the items found to their chairman, Mr Piers Bostock, so they could be displayed at the mill for all to see. The job of displaying all the items was taken on over the winter of 2015 by Roger and Sue Hatcher, members of the Friends of Heage Windmill.
I am a member of the National Council for Metal Detecting and a member of the UK and European Metal Detecting Forum. I have appeared in the American Garrett Searcher magazine many times. The UK magazine "The Searcher" printed an article on the Heage evening talk and the finds. Many of the finds have been recorded on the PAS database by the Finds Liaison Officer based at Derby museum. Some of the finds have been taken into schools for children to see and experience.
I have my own web site (www.roamingrob.co.uk) where you will find parts one & two of the book I am currently writing about the village history and the finds that I have made. The book is available to download for free (A Physical Historian in Nether Heage) along with other information. Meeting and making friends with some members of the community gave me the opportunity to discover items going back many hundreds of years.
Rob Johnson