Babbling Vagabonds, a story-telling theatre arts company, are coming to Heage Windmill in the summer holidays – Tuesday July 30th, Thursday, August 1st and Friday, August 2nd – to present Here Be Dragons.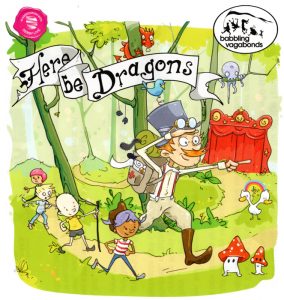 The whole family is invited to join some zany zoologists – the Creature Carers – in their special 'pop-up' monster camp.  Discover their world of the wonderfully weird and woolly, slimy and smelly, shy beasties and timid thingamabobs.
You can help conjure up a new story to help them soothe the magical monsters in their midst.
There are six performances overall, two each day – at 11 am and 2 pm.  It takes about an hour and involves a bit of walking, and it's all in the outdoors, so you're advised to bring sensible shoes, raincoat, sunscreen, snack – things to help whatever the weather!
To find out more and buy tickets, go to www.babblingvagabonds.co.uk