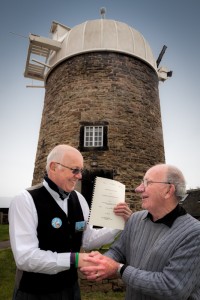 It was a red letter day for Heage Windmill just days before the opening of a new season.
Friends of supporters of the windmill gathered to welcome Cllr Dean Collins of Derbyshire CC who presented a cheque for £10,000 to Heage Windmill's Trouble At Mill Appeal.
Cllr Collins said it was important to get this popular tourist attraction, which is run entirely by volunteers, back in action as soon as possible.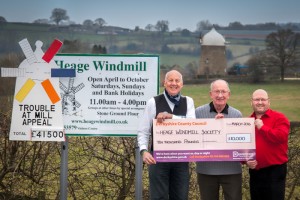 He also delivered to the Trust a formal 99 year lease for the mill, which helps ensure the long term future of the mill.
During the morning the sails, which had been re-furbished and painted by mill volunteers, were brought back to mill site on a special lorry, loaned by local company J.C Balls.
They will be hoisted into position as soon as the millwrights have completed their work.  It is expected the mill will be in action again before the end of April.