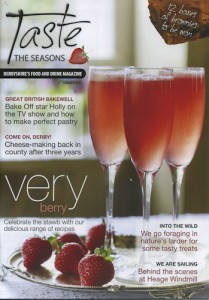 The windmill has been featured in the first ever issue of Taste The Seasons, Derbyshire's Food & Drink Magazine.  Under the title Flour Power, Andy Darlington pays a visit on Pat and Dave Hunter – 'two of a 25-strong group of volunteers who keep the old girl looking her best and producing high quality flour.'
'These volunteers have worked wonders,' declares Andy.
To read the full article online, click here
Taste The Seasons Summer 2012 is free and widely available.  As well as the feature on the mill, you can read about how cheese making has returned to Derbyshire.