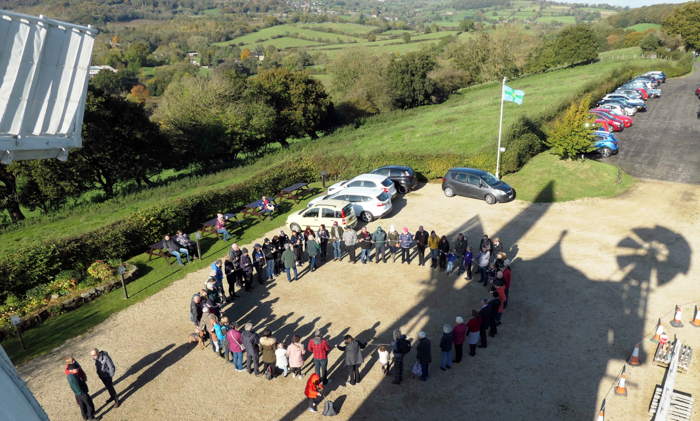 Heage Windmill has now been put to bed following the ceremonial cobweb spinning.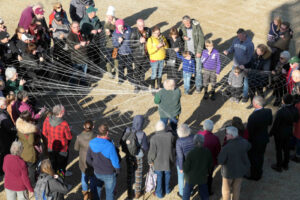 A large cobweb is slowly spun in the apron in front of the mill, its size being determined entirely by the number of people, both grown-ups and youngsters, who take part in the spinning operation.
Under the guidance and tuition of our 'head spider' Lynn Allen, the cobweb – made from stretchy elastic – slowly emerges and then is gently laid close to the mill to 'put her to sleep' for the winter.
After appalling weather on the previous day 'Cobweb day' dawned fine and sunny and just over 50 people, of all ages, took part in weaving the web this year.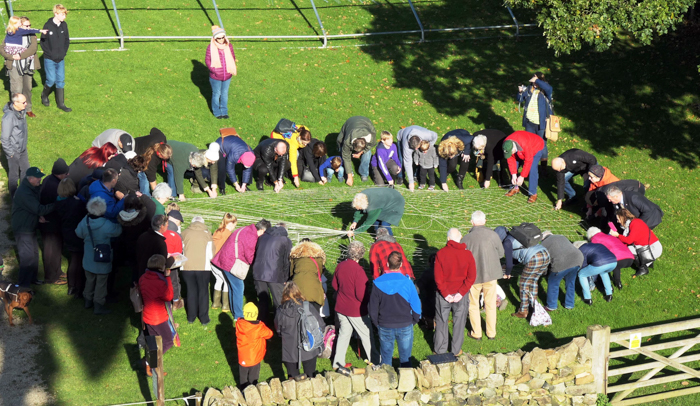 A web some 30 feet in diameter (one of our largest) slowly emerged, watched over by numerous onlookers on the mill apron. When completed,  the web was carried and gently laid on the nearby grass, where it gleamed in the sunshine.
Some people had been at previous web making events and we were pleased to welcome members from the 'Coffee N Cars' group of American car owners who visited the mill earlier in the season.  Hot drinks were popular and there were a large number who then enjoyed guided tours of the windmill.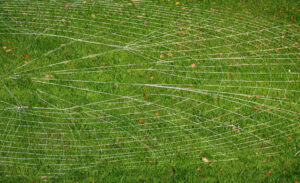 Heage Windmill will reopen on the first weekend of April 2020 and our 222 year 'Old Lady' can now enjoy some peace and quiet.
However, the mill will open throughout the winter months on the second Saturday of each month for the sale of flour only (no  tours) from 10 am  to 1-00 pm and of course, Santa is coming on Sunday December 1st and will be with us from 11 am until 3-00 pm.  More information on this nearer the time.