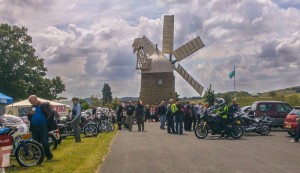 Heage Windmill had a hugely successful Classic Motor Bike Day on the first Sunday in July.
Exceeding all expectations, we had a massive turnout of British, Italian and Japanese Road and Racing motor bikes.
The apron area in front of the mill was full of bikes, and included a great assortment of bikes carefully restored to their original gleaming condition by their owners.
It was estimated that at one time there were between 300 and 400  bikes on show  included a BSA Rocket, a Kawasaki 750 Dragster,  Suzuki T20 , dating from 1967, along with more well known models such as  Matchless, Royal Enfield and Triumph.
The bikes were supported by various stalls and food outlets and the decent weather was enjoyed by all.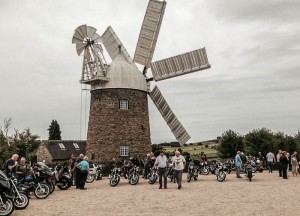 Lynn Allen, who organised the event, assisted  by Simon Bartlett representing the various bike  clubs,  said: ' Today was easily the most successful bike event we have run at the mill.  There were so many people on site that we actually ran out of visitor badges.'
It goes without saying that we look forward to welcoming the bikes back again next season!