A wonderfully generous donation of £10,000 by Bowmer & Kirkland has helped Heage Windmill Society achieve a challenging fundraising target to repair the 220-year-old mill.
When hidden wet rot was discovered in the windmill last August it seemed that the mill would be out of action for a very long time.
The Trust funds couldn't match the initial estimates of about £90,000 for the repairs and other essential routine maintenance jobs from its own resources.
Time was of the essence, as the Trustees wanted to get the repairs completed for the 2016 season. They quickly realised there was no fast track route to obtaining support from major funding bodies and, together with the full support of  the mill volunteers from 'The Friends of Heage Windmill', they decided to go it alone.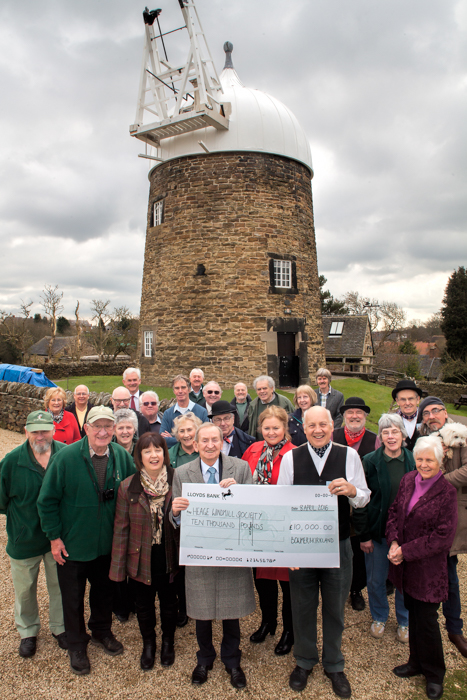 Certain work could only be done by a professional millwright, but other work could be done be the volunteers, particularly servicing and painting the six sails and the cap – so they set about doing this. As a result of 500 hours of volunteer work on the sails alone over almost 16 weeks through the winter this has indeed been accomplished.
At the same time traditional millwrights, from Lincolnshire were tasked with the major repairs to the cap sub structure and with making a new fan tail assembly, both of which are still going on.
To fund all the repairs, the Trustees launched a web appeal, ran concerts, sales of donated goods, functions etc… anything they could think of.  Slowly the new established target for costs of £60,000 was being reached – but had somewhat stalled around at £42,000.
The fundraising effort needed a huge push and it came in the form of a donation from Heage-based construction firm Bowmer & Kirkland.
Chairman John Kirkland is the Patron of  Heage Windmill and his office looks over the site. He has supported the work at the mill from its initial restoration in 2002 up to the present time and felt that he could help further with the funding efforts.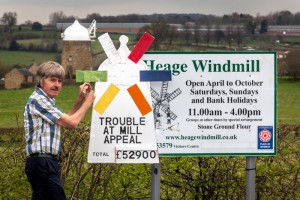 He presented a cheque for £10,000 to Piers Bostock, Chairman of the Heage Windmill Trust, to boost the funding of the repairs, in front of a small gathering of those who had worked so hard to date to get mill repaired.
John Kirkland said: 'I have always loved seeing the mill and it has been part of my life in Heage- I want to see her working again'.
Piers Bostock replied: 'This magnificent contribution brings the funding target within the resources of the Trust to complete the repairs and they and the volunteers together will have her turning again as quickly as possible'.