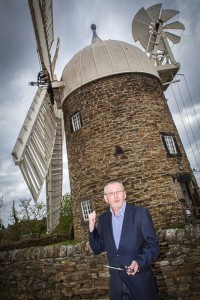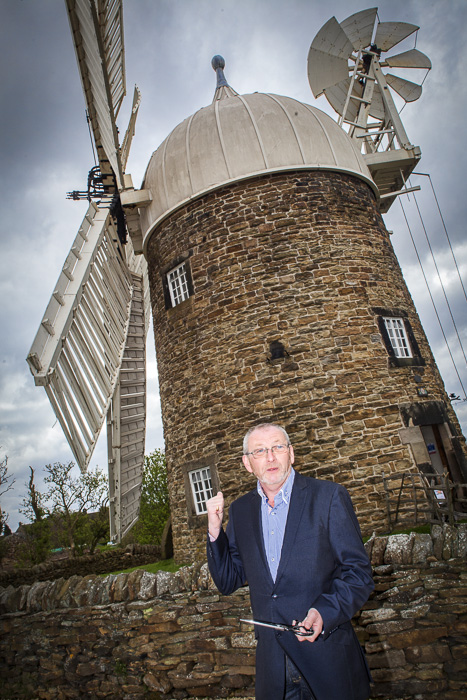 Radio Derby's Andy Potter praised Heage's 'glorious windmill' in officially opening the 2014 season on Easter Saturday.  Driving himself up to the windmill on a vintage tractor.  Andy was then welcomed by Brian Naylor, Vice Chairman of the Friends of the mill.
Andy amused everyone present when he demonstrated the boundless knowledge he had gained on a reconnaissance visit earlier in the week! He regaled the crowd with just some of the facts he learnt about the mill – such as there were 126 shutters in the six sails! In cutting the tape he wished the mill a great season and a nice steady breeze such that flour could regularly  be milled.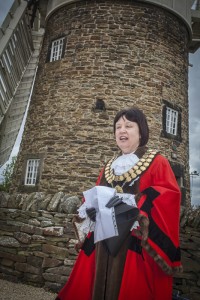 The Mayor of Amber Valley BC , Cllr Angela Ward, who is also the Chair of Heage Windmill Society, was attired in her full regalia and spoke of  the urgent need for some new volunteers to help keep the 200 year old mill working and open to the public. Anyone interested was invited to come to mill and make themselves known. They could be assured of a warm welcome.
Also present was  John Kirkland, Chairman of Bowmer and Kirkland, who is a Patron of the Windmill. He spoke at length of the considerable efforts and commitment shown by the retiring Chairman of Friends, Peter Straw, who had been in office ever since the mill opened in 2002. Mr Kirkland presented Peter with a scroll which recorded him as the first ever Honorary Life Member of Friends.  
The gallery below shows more pictures from the opening, including: the presentation of a scroll to retiring Friends Chairman Peter Straw; a presentation of flowers to John Kirkland's wife Sheila; the unveiling of a plaque to commemorate the planting two years ago of a Hornbeam tree (hornbeam timber is traditionally used to make the cogs for the mechanism inside the windmill); and the unveiling of a plaque to show that the windmill's new garden plot is dedicated to the memory of Margaret Bonsall – 'Artist and tireless supporter of Heage Windmill.'  The photo below shows Bryan Bonsall flanked by sons Justin and David.