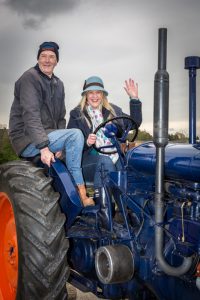 BBC Radio Derby presenter Aleena Naylor, accompanied by husband Paul and daughter Unity, officially opened Heage Windmill's 2017 season.
As is usual at our windmill openings, our guest of honour made a grand entrance driving a vintage tractor kindly provided by John Allsop of Belper.
Amidst the celebration was poignancy at the sight of the Derbyshire flag flying at half-mast in memory of Andy Potter, the last Radio Derby presenter to open the windmill in 2014.  Andy died only a few months ago.
Opening proceedings, Trustees Chairman Piers Bostock, welcomed volunteers, friends and visitors and spoke of Andy Potter as a great friend and supporter of the windmill.  Aleena said she was 'very moved' to see the flag, then wished the windmill well for the season ahead and cut the ribbon – with a bit of help from Unity.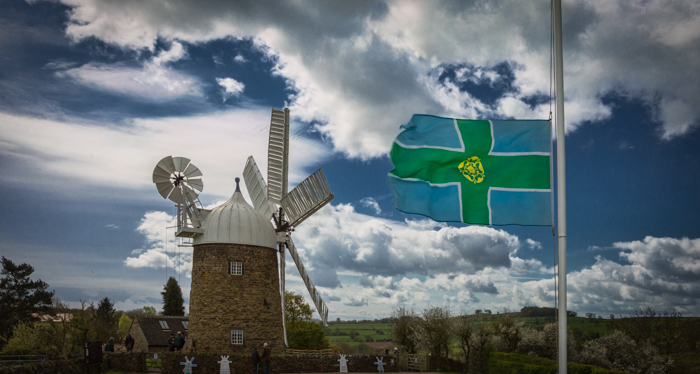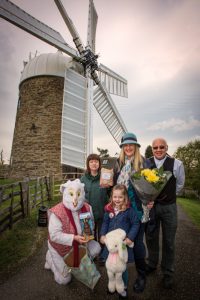 Angela Ward, Chair of the Friends of Heage Windmill, thanked all the volunteers for their support and then made an impassioned appeal for more volunteers to help keep the sails turning.
Following a presentation of flowers to Aleena – and a cuddly rabbit and Easter Egg for Unity presented by our own Easter bunny Wosemary Rabbit – Aleena's family went on a tour inside the windmill, conducted by miller Danny Ashley.  The photos below show what a great family day out can be had visiting the windmill.
The Bank Holiday celebrations continue on Monday when Wosemary Rabbit will lead an Easter Egg Hunt.