The weather was not the best, but a great time was had by good crowds at both the sheep shearing and visit of the vintage tractors on the weekend of May 12/13 which also coincided with National Mills weekend.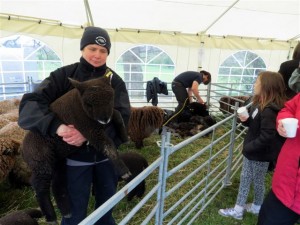 Debbie Bostock , who  lives in Heage adjacent to the windmill, brought her herd of Coloured Ryeland sheep to the mill to be sheared by professional shearer Phillip Fisher, from South  Yorkshire. One huge ram, (who liked to sit on his haunches and view the crowd) looked very much more normal sized when shorn and his huge fleece was displayed for all to see. Phillip then sheared all rest of the flock  whilst their lambs watched apprehensively! Some of the wool was then spun by hand into thread on a number of  treadle spinning wheels by members of Phillip's family, a process which the watching crowd found fascinating.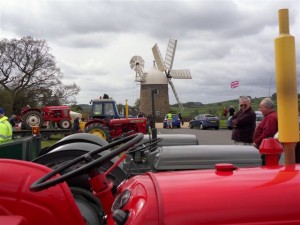 On the Sunday a large number of visitors gathered to examine a large collection of vintage tractors, an event organised by John Allsop of Heage. The old machines had been carefully restored by their owners, and shone, despite the sometimes inclement weather. One Mum said 'My two year old was thrilled to sit on the tractor seats– thank you owners!'  – and so say all who were there………..
Here are more photos from the day…